We are big fans of tissue paper in our house and we have used it for many art projects. We have combined it with coffee filters to make some Spring
flowers. You will love how the colors from the tissue paper transfer when wet to create these paper flowers. These
coffee filter flowers made with tissue paper
are simple enough for even young children to make. If you are looking for more flower activities, check out
Pressing Flowers with Kids
.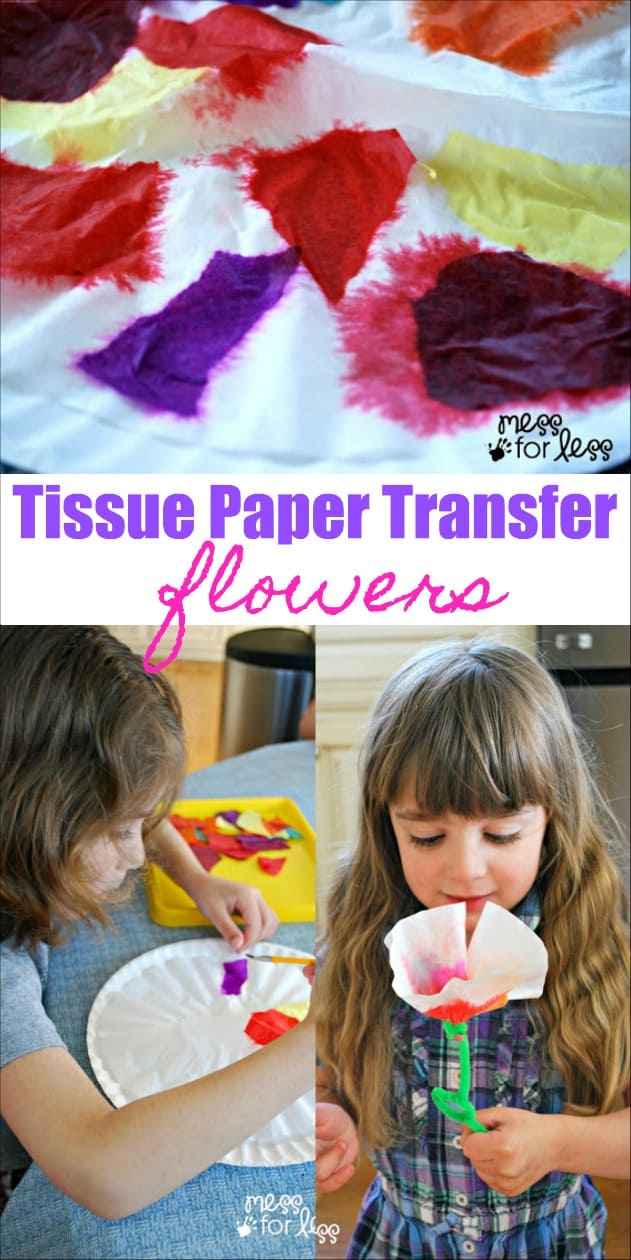 Coffee Filter Flowers made with Tissue Paper
You will need:
Torn tissue paper in various colors
Green pipe cleaner
Brush
Water in a cup
Paper plate
For these coffee filter flowers made with tissue paper, you will not be gluing the tissue paper to the coffee filters. This confused my daughters at first who kept asking how the tissue paper would stick to the coffee filter. You will just be transfer the color of the tissue paper to the coffee filter using a brush with water.
Have your child place the torn tissue paper on the coffee filter and "paint" over it with the brush and water.
When they do this, the color from the tissue paper will start to bleed on to the coffee filter.
Let the coffee filter dry.
When it has dried, peel off the tissue paper to reveal a beautiful color pattern.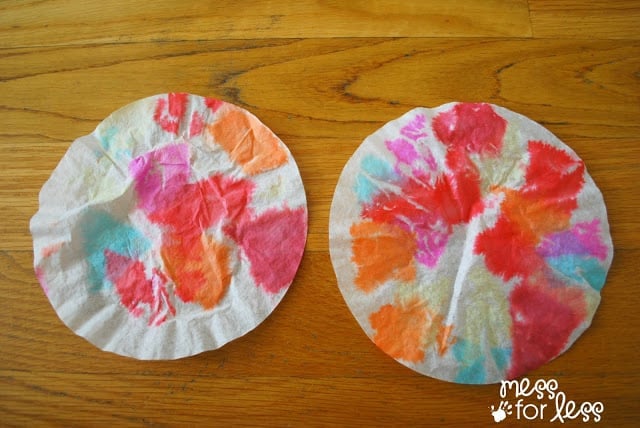 Gather the coffee filter to make a flower shape and attach a green pipe cleaner to make the flower stem. There you have it! You can make one or an entire bouquet! Check out Fun A Day for another take on
coffee filter flowers
. They are so eye catching!
If you are looking for more fun ways to engage your kids, I highly recommend
KiwiCo
. As a former teacher, I was really impressed with the quality of materials found in KiwiCo. Some moms have told me that they want to do activities like I do on Mess For Less with their kids, but they just don't have to the time to go buy all the supplies and prepare them for the activity. KiwiCo is the perfect solution. Every month your
KiwiCo
will focus on a particular theme like Colors, Dinosaurs or Gardening. KiwiCo offer a variety of projects ranging from crafts, imaginative play, science experiments and more.
If you liked these Coffee Filter Flowers made with Tissue Paper, check out: