Creating art with kids doesn't need to be intimidating. You'd be surprised at the art they can make using their imaginations and some interesting supplies. I like to keep a few 5x7 canvases around because you never know when inspiration will strike. This Tissue Paper Square Collage art project came about when I was thinking of fun and unexpected ways to use tissue paper. It was a favorite craft for my kids and I hope it will be for you as well. For more tissue paper ideas check out our Coffee Filter Flowers Made with Tissue Paper and Paper Plate Ladybug Craft.

Please supervise children during all activities.
Tissue Paper Square Collage
You will need:
Start off by cutting squares of out various colors of tissue paper. You can also just buy pre-cut squares which you can use for a variety of projects. Mix equal parts white glue and water in a cup to create the glue mixture.
I explained to the kids how they would be placing glue on the canvas and sticking on the tissue paper squares. I wanted them to have the freedom to make their collage however they wanted, so I didn't give them much more instructions than that. I was curious to see what they would come up with.
They certainly had different techniques in creating their tissue paper square collage. One daughter spread a layer of glue over the entire canvas and then proceeded to stick on her squares while another daughter glued one square on at a time.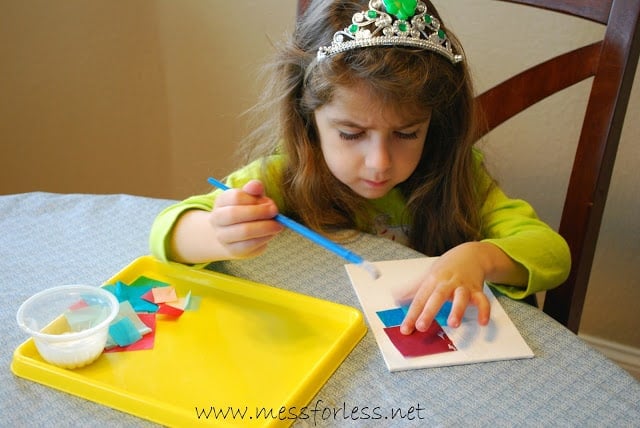 My third daughter worked hard not to overlap her squares.
This was great fine motor practice for my youngest as she carefully lifted each square and placed it exactly where she wanted it on the canvas.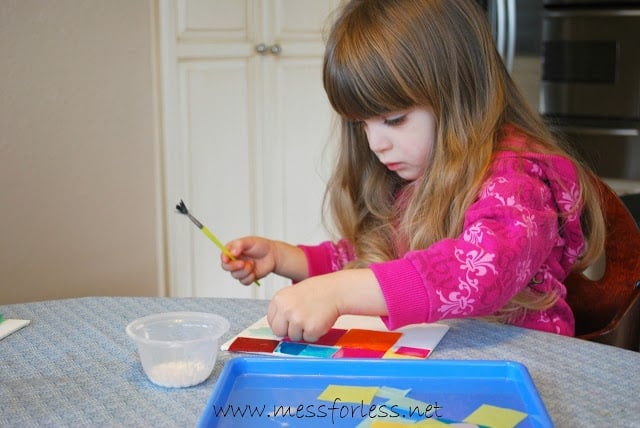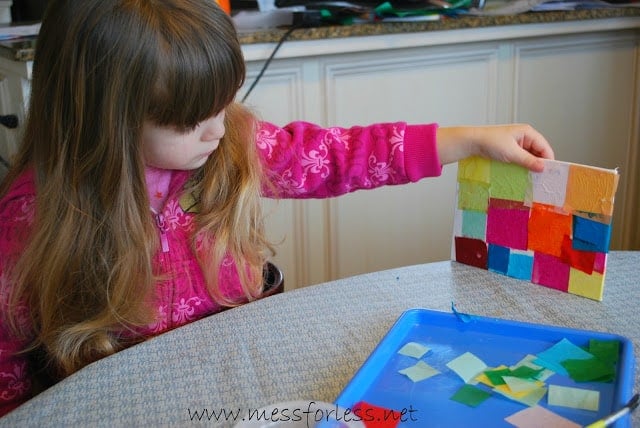 When the kids were finished with their tissue paper square collage, the canvases looked like this.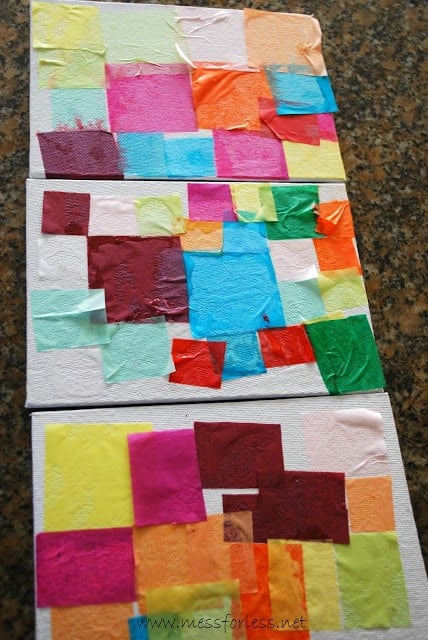 When they were dry, I spread a thin layer of the glue mixture over the top of the tissue paper covered canvas. If you have older kids then they can do this step themselves, but little kids might have a hard time making a thin layer and not tearing the tissue paper. Let this dry overnight.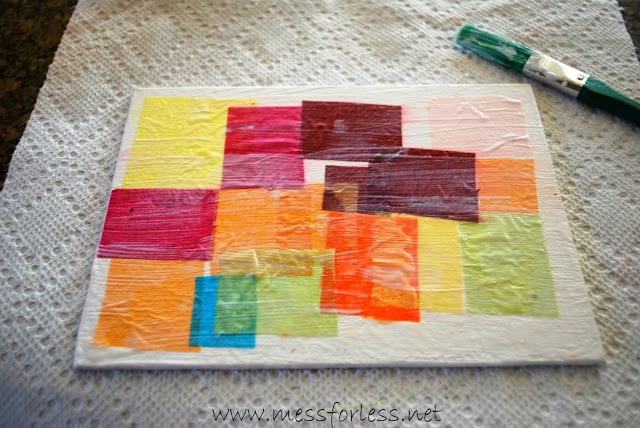 Now they are ready for framing! I am very pleased with how these came out and the kids are so proud to see their artwork displayed in frames. It really made them feel like artists. Next time you get some tissue paper with a present, save it for some fun tissue paper activities.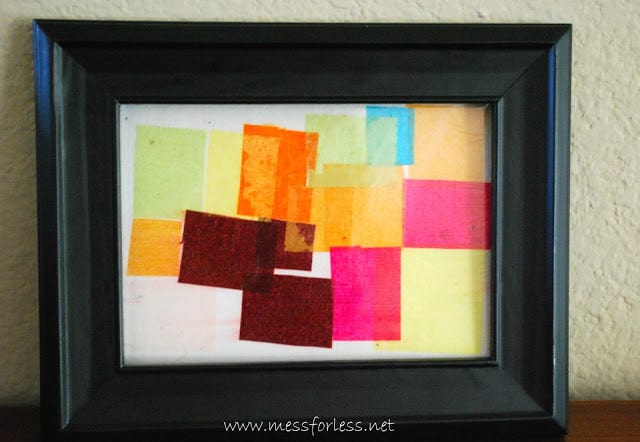 GOT A CRAFTY KID?
The folks at Annie's know crafting, so you know they have put together some amazing kits for your kids.
For girls:
The Creative Girls Club subscription box will get your girl's creative juices flowing. Girls get two kits each month full of crafting fun. Best of all, the crafting can be done with minimal adult supervision. While she is creating, she will be learning valuable skills such as painting, beading, stitching, paper crafting, and much more!
For boys and girls:
These Young Woodworkers Kits have everything your little builder needs to create crafts and toys they can enjoy, while learning important woodworking skills along the way. Your child's first three kits will include 5 kid-sized, high-quality tools they'll use again and again. A new woodworking project is delivered every four weeks, with a new and exciting skill to master. Each project teaches a real world skill that kids will use for years to come.
If you liked this Tissue Paper Square Collage, you'll love:
Tissue Paper Crafts