We love open ended art projects here at Mess For Less. It's so much fun for a child to sit down and create without any pressure or expectation of how something will turn out. I wanted to share a simple art activity that uses supplies most of you probably already have at home. We made a colorful square collage using construction paper and glue. If you are looking for more fun art ideas, you might enjoy this Watercolor Art Tape Resist.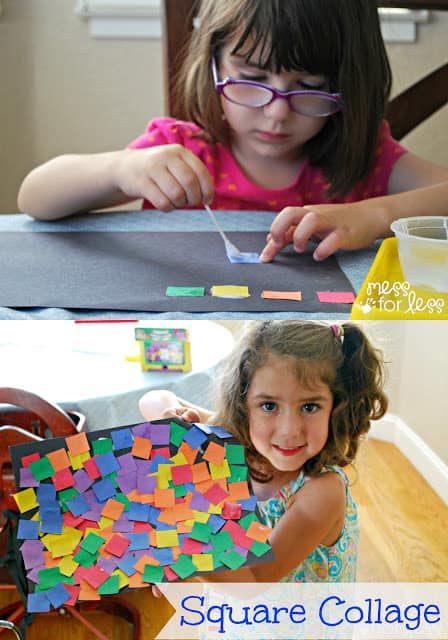 You will need:
Construction paper
Ruler
Glue
Q-tips
Small cup
Scissors
Pencil
You can cut whatever size squares you want. We did 1" x 1" inch squares. I used 9" x 12" paper and cut it in half and then drew a grid of 1 x 1 squares on it using a ruler and pencil. I just cup the paper in half to make it easier to cut. You can certainly make your grid on the full size paper. Cut out the squares.
Once you have the squares cut out, provide an assortment of them to your child along with a cup of glue and a q-tip. If you have an older child who can squeeze glue out of a bottle, you can just use that.
I used black construction paper as the background since I think all the colors really pop off of it.
Now your child can let their creativity shine.
You can see how my daughter is getting in some fine motor practice while she carefully applies glue to her square.
My youngest experimented with a different method of applying glue. She spread some glue on the black paper first and then stuck her squares on top.
I loved watching the different ways my kids approached making art with the squares. My daughter made one piece where she glued the squares in a straight line.
For her second piece, she decided to try and use the squares to make a picture.
You can see how she made a flower with some green grass on the bottom, the blue sky, and a yellow sun. Notice how she turned her green and yellow squares to make a diamond when creating the sun and grass. Such a great detail!
One of my girls was determined to cover every square inch (pun intended) of her paper with colorful squares. She kept running out of squares and I had to keep cutting more.
No matter what kind of artwork your child creates, there is much to be learned in the process. In this square collage activity, kids will work on the following skills - fine motor, sensory, spatial relations, sequencing, and problem solving. This would be a great project to work on if you are learning about shapes.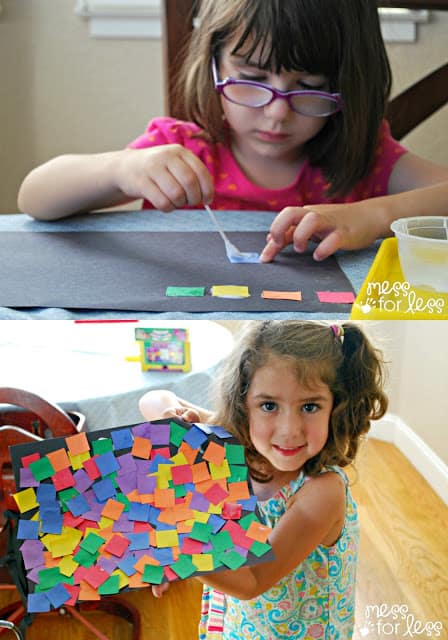 What are some of your favorite simple ways to be creative with your kids?
For more fun art activities check out: