Our recycling bin is usually filled with boxes, containers and bottles. I confess that I often raid it to find materials for crafting with the kids. Yup, nothing but the best for my kids. When I was visiting another blog and saw
Flower Prints From Soda Bottles
I knew I wanted to try it and add my own spin to it. And I knew just where to look for some free art supplies. These
Bottle Print Flowers
are a great way to more use of a plastic bottle.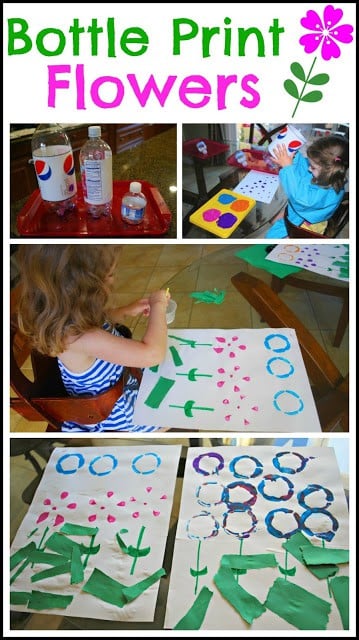 Bottle Print Flowers
You will need:
Empty plastic bottles (we used one liter, two liter and pint bottles)
Green construction paper
Glue
I squirted 4 colors of paint on a tray (you could use less or more, but my girls sometimes get overwhelmed with too many choices).
I showed the kids how they could hold a bottle and dip it in the paint so that the bottom of the bottle would get thoroughly coated. Then we pressed the bottles onto the paper to make our bottle print flowers. I liked that I used the different bottles because each one had a different bottom which resulted in a nice variety of flowers.
We are big Disney theme park fans in our house and A already sees hidden Mickeys everywhere. Maybe the brainwashing is working! I had to laugh when she made some prints and said "look, it's a Mickey head!" That's my girl!
They did many, many bottle print flowers and I almost ran out of places to put all the drying pictures. This ended up being a 2 day project since I got the idea that it would be cute to add some stems and grass to our paintings when they had dried. So the next day, I taped another piece of paper to their finished paintings and drew some stems on the flowers. If you have an older child you could have them draw the stems. I think pipe cleaners glued on the paper would make adorable stems too. For the grass I gave the girls some green construction paper to tear.
I then provided the girls with some recycled applesauce cups filled with Elmer's glue and a water color paint brush. They carefully glued the torn "grass" on the bottom of the paper.
See how careful they are being? Well that lasted about 3 minutes and then they started being un-careful and just putting the grass wherever they darn well pleased. Luckily they ran out of green paper before they could cover up the all the prints. Maybe the grass had just been mowed and a strong wind came along and blew it everywhere. Yes! Now that I think about it that must be what they were trying to convey. My daughters are geniuses!
If you are looking for more fun ways to engage your kids, I highly recommend
KiwiCo
. As a former teacher, I was really impressed with the quality of materials found in KiwiCo. Some moms have told me that they want to do activities like I do on Mess For Less with their kids, but they just don't have to the time to go buy all the supplies and prepare them for the activity. KiwiCo is the perfect solution. Every month your
KiwiCo
will focus on a particular theme like Colors, Dinosaurs or Gardening. KiwiCo offer a variety of projects ranging from crafts, imaginative play, science experiments and more.
For more flower activities check out: