Who doesn't love lazy summer days? No more school, early mornings, or homework. That is something I can get behind. By the time summer rolls around, kids and moms alike can use a break. In our family, we love to spend our summers playing, crafting and enjoying time outdoors. Things just move at a slower pace and we are free to enjoy our days. We recently took advantage of the extra time we had and made some Popsicle Stick Flowers. These are simple to make and don't require watering, which is a big plus if you weren't born with a green thumb. For more fun with Popsicle sticks check out Popsicle Stick Patterns and 20 Popsicle Stick Crafts and Activities. Post sponsored by The Original Brand Popsicle® but all opinions are my own.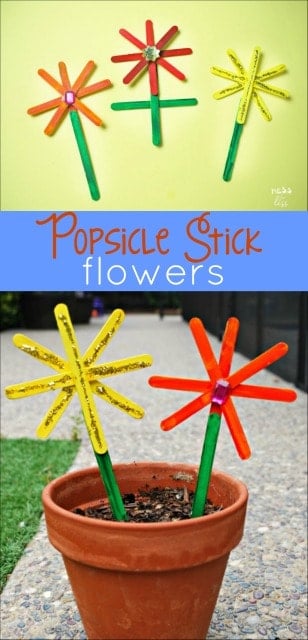 Bringing the fun since 1905, the Original Brand Popsicle® is America's favorite ice pop, loved by kids and parents alike. During the summertime we enjoy one every day. They are a fantastic way to beat the heat. With their icy-cool refreshing taste, bold flavors and fun shapes, Popsicle® pops come in the iconic yellow box and are available in more than 20 unique flavors including the childhood favorites Orange, Cherry and Grape! These bring back so many memories for me and now I get to share them with my kids.
To celebrate National Grape Popsicle Day, we of course had to enjoy a refreshing grape Popsicle. You might be able to tell that my daughter loves purple. The bold color and flavor of these Popsicles are sure to please any grape fan!
I was so excited to see Popsicle® – the original summertime treat – with three new varieties that inspire summertime fun at any age.
Popsicle® Tropical Paradise comes in four refreshing tropical flavors, including Mango, Strawberry-Banana, Island Punch and Pineapple.
Popsicle® Teenage Mutant Ninja Turtles™, complete with Michelangelo™, Donatello™, Raphael™ and Leonardo™, includes four action-packed flavors: Orange Fury, Cherry Crush, Blue Raspberry Blast and Smashing Grape.
Popsicle® Sugar Free Red Classics offers all your favorite red flavors, including Cherry, Raspberry, and Strawberry as a sugar-free option.
Don't ask me to pick a favorite from the Popsicle® Sugar Free Red Classics. I just can't do it. Some days I am feeling like a raspberry girl and other days I am all about cherry.
My daughters couldn't pick a favorite either, but luckily they don't have to. Each box comes with 6 of each flavor so everyone will have a chance to sample each variety.
Whether you enjoy a grape Popsicle for National Grape Popsicle Day, or another variety, you can reuse the stick when you are done. We like to save our Popsicle sticks for crafts, like these Popsicle stick flowers, but you can also buy sticks to make the flowers.
Popsicle Stick Flowers
You will need:
Tempera paint in various colors (green for stems)
Paintbrush
Popsicle sticks (each flower requires 5-6 sticks depending on if you want petals on the stem)
Glue
Jewels
Glitter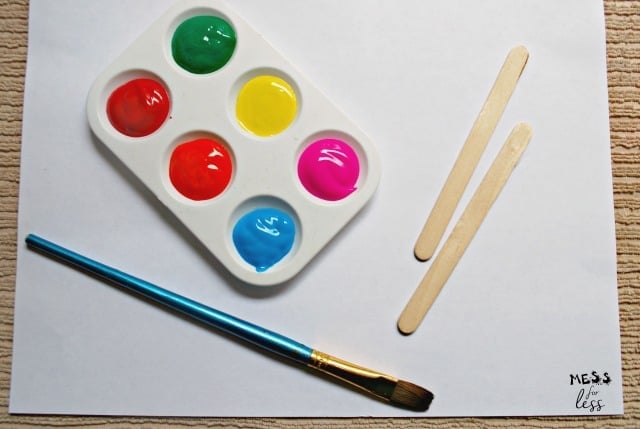 Paint four Popsicle sticks in the color you want your flower to be.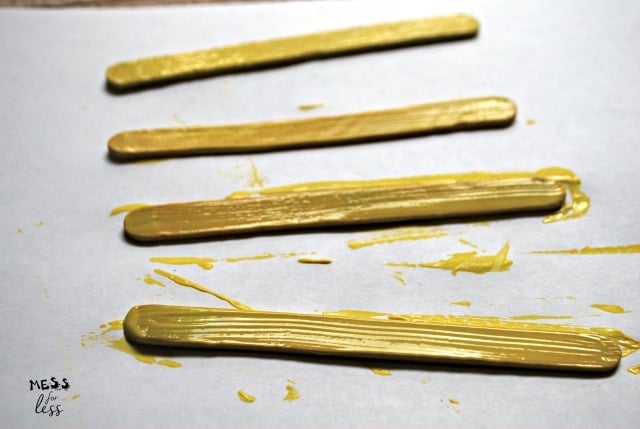 Paint one side first and when it dries, turn it over and paint the other side.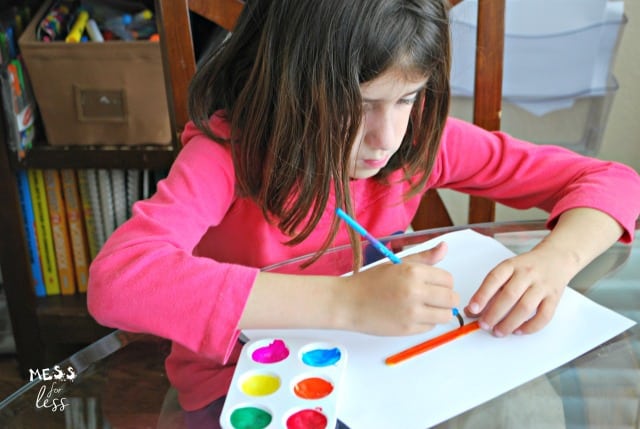 When the paint on the sticks has dried, glue them together to make a flower. Start by placing a dot of glue in the center of one stick and pushing another stick on top so it makes an x.
Then you will glue one stick on top of that but pointing left and glue another stick on top of that, but pointing right.
When the glue dries, you can glue on a stem with a green Popsicle stick. At this point you can also glue a second green Popsicle stick so that it make a "T" on the stem. My kids thought this made it look like our flower had petals.
We decided to glue some jewels to the center of the flowers to make them a bit more festive. We just added jewels to the center, but I could totally see placing them all over the flowers for a very sparkly effect.
Glitter will also work on these popsicle stick flowers. Simply draw a line of glue on the sticks and sprinkle on the glitter. I thought the flowers looked really cute in pots, but I wouldn't leave them outdoors since I don't think they would hold up too well under the elements.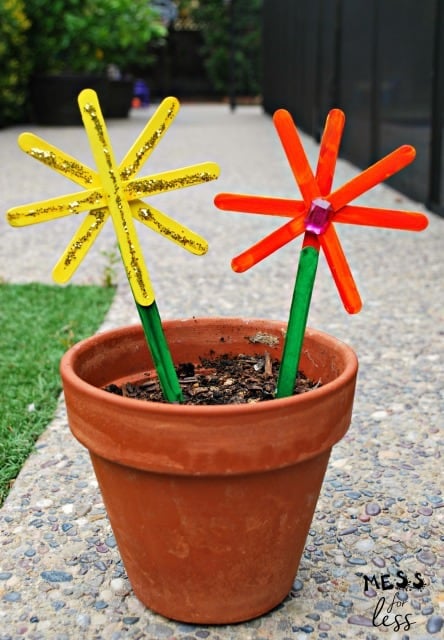 There you have it! An easy summer craft to pass the hours on those summer days. What is your favorite Original Brand Popsicle® flavor?
This is a sponsored conversation written by me on behalf of Popsicle. The opinions and text are all mine.