With the weather becoming colder and colder, I am getting more in the mood for some winter crafts. My kids and I have been having a lot of fun making various winter crafts such as Winter Shaving Cream Paint, but this cute snowman, might just be my favorite. This pinecone snowman craft is easy to make, and can be used in so many different ways. Check out how easy it is to transform an ordinary pinecone into an adorable winter snowman.
Pinecone Snowmen Craft
Supplies needed for this pinecone snowman craft:
3 medium size pinecones
6-9 cotton balls
6 small pom poms (assorted colors)
9 mini black poms
6 Googly Eyes
Brown & Orange Pipe Cleaners
White Felt
How to make a pinecone snowman craft:
You can combine the fun craft activity with an outdoor scavenger hunt. Simply bundle up and head outdoors to search for pinecones to use with this projects. Kids will have so much fun looking for just the perfect pinecone to make a snowman craft.
You are going to start by making the snowman's head. Cut three 1-inch circles out of the white felt. Then, take the brown pipe cleaner and cut six 2-inch pieces and six ½-inch pieces. Fold the ½-inch pieces around the ends of the 2-inch pieces to make arms. Then cut three ½-inch pieces of the orange pipe cleaner for the carrot nose.

On the felt circle heads, glue 2 eyes, a nose, and 3 mini black poms to form the mouth. Set the heads aside.

Pull the cotton balls apart to make snow and tuck and push the pieces of cotton into the pinecones.

Glue one of the felt heads to the top front of the pinecone. Then glue on 2 colored pom poms for buttons and 2 arms. You can use whatever colors you want for the buttons.

Now your snowmen are ready to be displayed. Set then up in a group on a table, fireplace mantel, or window sill. These would be fun for kids to use to decorate their rooms.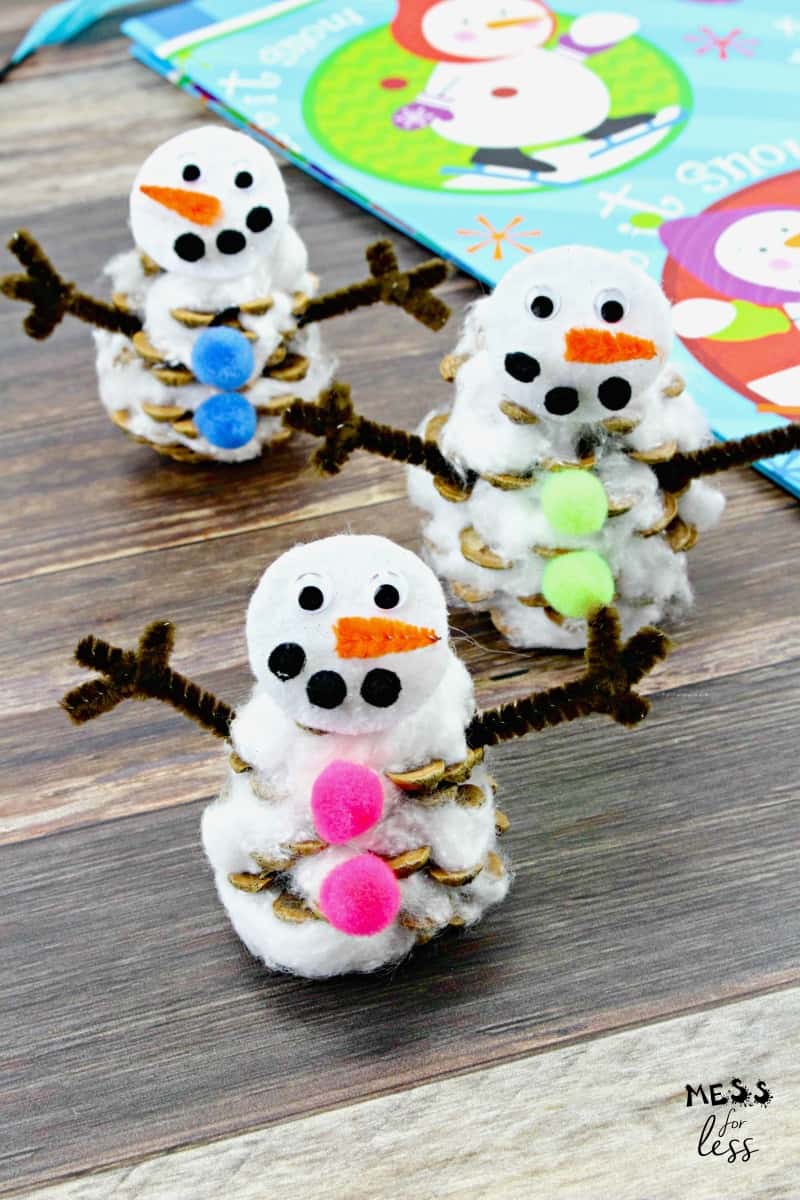 You can turn these adorable snowmen into Christmas ornaments by adding string and hanging them on a Christmas tree!

Another fun idea for this pinecone snowman craft is to hot glue some ribbon on the back and tape them to Christmas presents.
I love this craft because while it is perfect to make for Christmas, you could really use it all winter long. As long as there is a chill in the air, this snowman craft will be popular with kids.
Check out The Creative Girls Club subscription box if you're searching for more entertaining projects. Girls receive two kits each month that are full of creative delight. The nicest feature of the craft is that it can be done with little adult supervision.