It was a cold, gloomy day here and I thought that called for some winter art. Since my kids love puffy paint, we decided to make some using some items we already had at home. This Winter Shaving Cream Paint feels and smells great when dry. Kids can use brushes or their hands to have a fun sensory experience. You just need two ingredients to make this paint, so let's get started! You might also enjoy these 10 Shaving Cream Activities for Kids.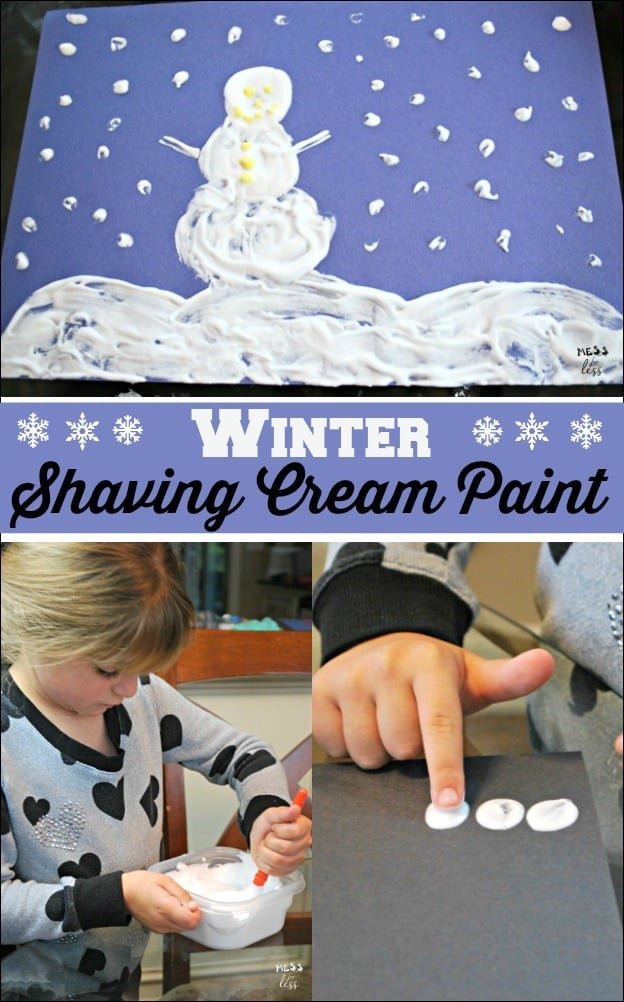 Shaving Cream Paint
You will need:
Paintbrushes
Container for making paint
In a medium container mix equal parts shaving cream and white glue.
Stir until thoroughly combined.
Use the paint on dark colored paper to make a snowy winter scene. I had given my daughter some different sized paint brushes, but she ignored them at first and started to paint using her fingers.
She made a snow scene with some snowmen and falling snow.
I couldn't let her have all the fun, so I made a snow scene too.
My daughter decided that she wanted to add a sledder to her scene so we added some yellow food coloring to the paint.
I used the yellow shaving cream paint to make a face and buttons on my snowman.
If you liked this recipe for shaving cream paint, you'll enjoy:
If you are looking more fun ways to engage your kids, I highly recommend KiwiCo. As a former teacher, I was really impressed with the quality of materials found in KiwiCo. Some moms have told me that they want to do activities like I do on Mess For Less with their kids, but they just don't have to the time to go buy all the supplies and prepare them for the activity. KiwiCo is the perfect solution.
Every month your KiwiCo will focus on a particular theme like Colors, Dinosaurs or Gardening. KiwiCo offer a variety of projects ranging from crafts, imaginative play, science experiments and more.