A new year is almost upon us and many of us will be making new year's resolutions. Since my kids are working on many personal skills they would like to improve I thought it would be fun to have them pick an area to focus on and use it as their resolution. To help cement the experience and help to remind them of their resolution, I decided to celebrate the experience by making a fun craft.
New Year's Resolutions for Kids
can be simple or more detailed, but it is great exercise for kids to come up with their own. If you are looking for resolutions for the whole family, check out these
Positive New Year's Resolutions
. Another fun new year's activity is to make these
Hot Chocolate Spoons
.
New Year's Resolutions for Kids
My have been excited about the new year, so I explained the concept of a new year's resolution for kids. I asked them if there was something they wanted to do better and this is what they came up with. My daughter who is a picky eater said she resolved to try everything at dinner. My sassy daughter said she would not have an attitude, and little rebellious daughter said she would listen to Mommy and Daddy. I wanted them to remember these resolutions so I decided we would make some simple frames where they could display their resolutions.
You will need:
Glue
Scissors
Decorations for the frame
Paper with resolution written on it
Ribbon
Have the kids choose four Popsicle sticks for their frame and then assemble the frame using some glue on each end of the sticks.
We let these dry for a few minutes. They don't need to be completely dry to move on to the next step, just make sure to move the frame carefully. The kids can now glue the decorations onto the frame. We used paper shape cutouts, but buttons or jewels would be cute as well. I put some glue in a cup and gave my kids a brush. Much easier for them and less waste than giving them a glue bottle.
When the frames are decorated, let them dry.
When dry, cut a piece of felt to fit over the back of the frame and glue it on.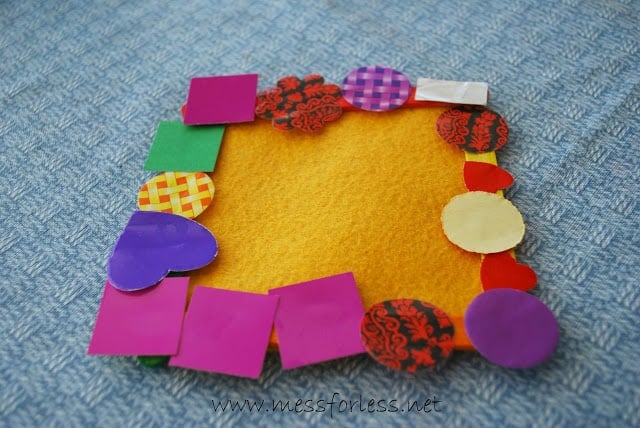 Print out the resolutions, cut them, and glue them to the felt. Attach some ribbon to the back for hanging. I used hot glue for this step.
Display the frames so the kids remember their resolutions. You may be wondering if I made a resolution frame too. Heck no! I don't need to be reminded of my broken resolution in March. Happy New Year!
If you are looking more fun ways to engage your kids, I highly recommend KiwiCo. As a former teacher, I was really impressed with the quality of materials found in KiwiCo. Some moms have told me that they want to do activities like I do on Mess For Less with their kids, but they just don't have to the time to go buy all the supplies and prepare them for the activity. KiwiCo is the perfect solution.
Every month your KiwiCo will focus on a particular theme like Colors, Dinosaurs or Gardening. KiwiCo offer a variety of projects ranging from crafts, imaginative play, science experiments and more.
If you enjoyed New Year's Resolutions for Kids, check out: