I love this DIY Seed Starter for Kids because it uses recycled items to create a seed starter greenhouse. This is a great way to get kids started with gardening as they can be involved in the process every step of the way.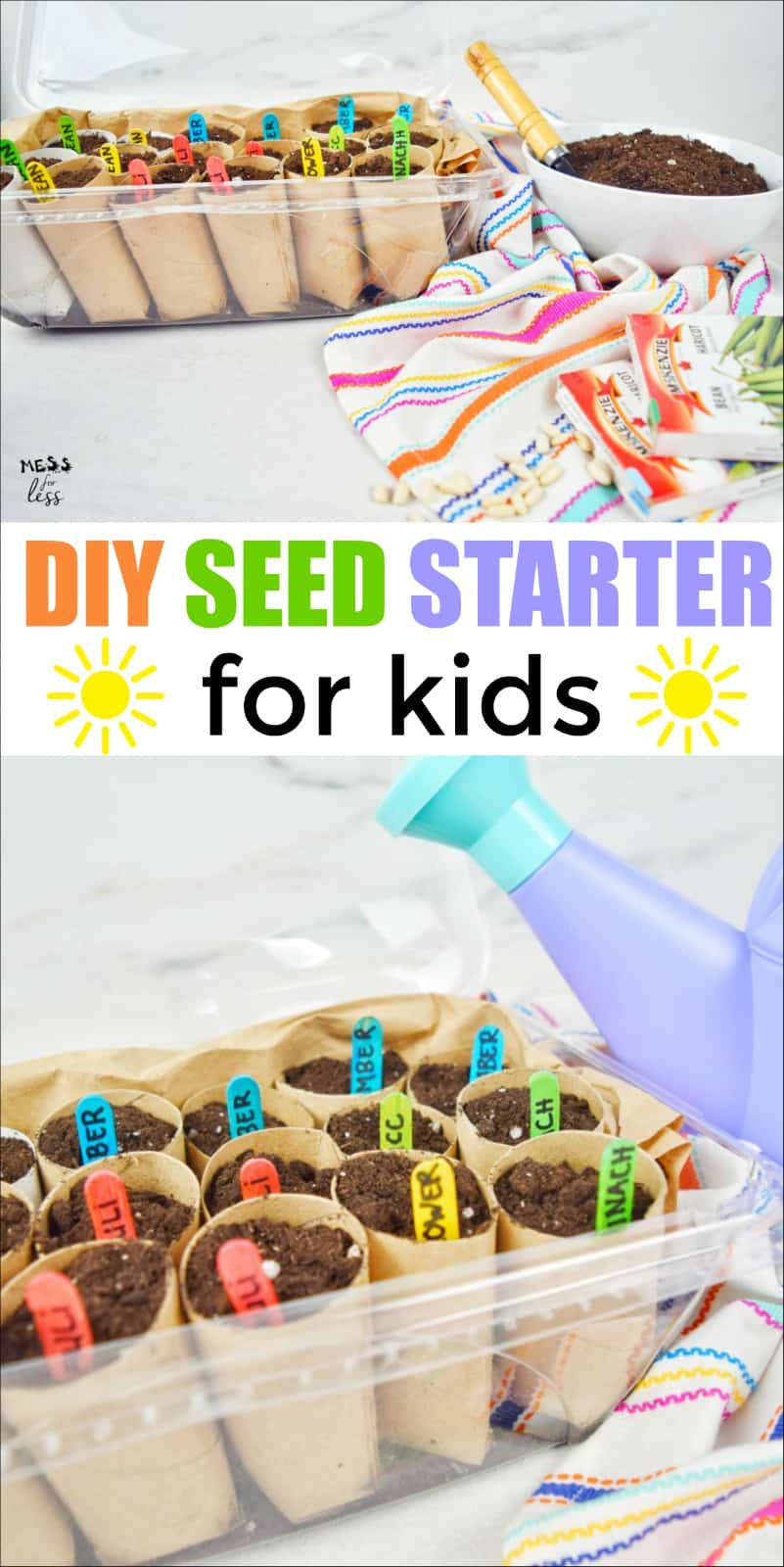 Jump to:
Why you need to make this seed starter
Instead of buying seed starters, why not make your own. This easy project provides all the information you need to start your seeds right.
Seed starting with children is an ideal way to enjoy the natural world and practical work. Keep small hands busy and help them learn about growing with this easy seed starter.
Growing a plant from a seed is a fascinating project that gives a child a chance to get an understanding of nature and also helps to develop their creativity. Here are some tips on how to make seed starters with toilet paper rolls.
Supplies needed
Clear plastic spinach/lettuce container/trays
18 toilet paper rolls
Scissors
Marker (sharpie black)
How to make a DIY seed starter for kids
A seed growing kit does not have to be expensive. Here are simple directions to make your own seed growing kit for your kids using items found around the house.
At the bottom of each toilet paper roll, make two ¾ inch cuts across from each other, then one cut in the center of each of the halves you created. Basically, you will be dividing the bottom of each roll into four equal parts.

Fold the 4 flaps as you would fold the flaps of a moving box. This will be the bottom of your container.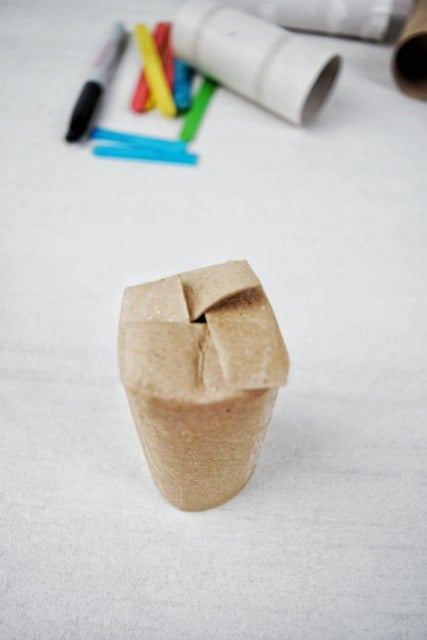 Place the toilet paper rolls folded side down into your plastic container. Fill each paper roll with garden soil.

Next, cut each Popsicle stick in half using your scissors.

Use your black Sharpie marker to write the names of the plants on the colored Popsicle sticks.

Put in your seeds, one plant per roll and water. Cover with a small amount of soil.

Insert the Popsicle sticks in the correct seed pots.

Now you have all your seeds labeled and lined up in your plastic container. Put your greenhouse seed starter near a light source to allow it to grow until your garden is ready to receive the plants. You can close the lid to create condensation in this DIY greenhouse.

Make sure to water your seeds regularly.
You may need to use a piece of folded up scrap paper to help stabilize the paper rolls in the container. You could also use newspaper or any recycled paper of your choosing.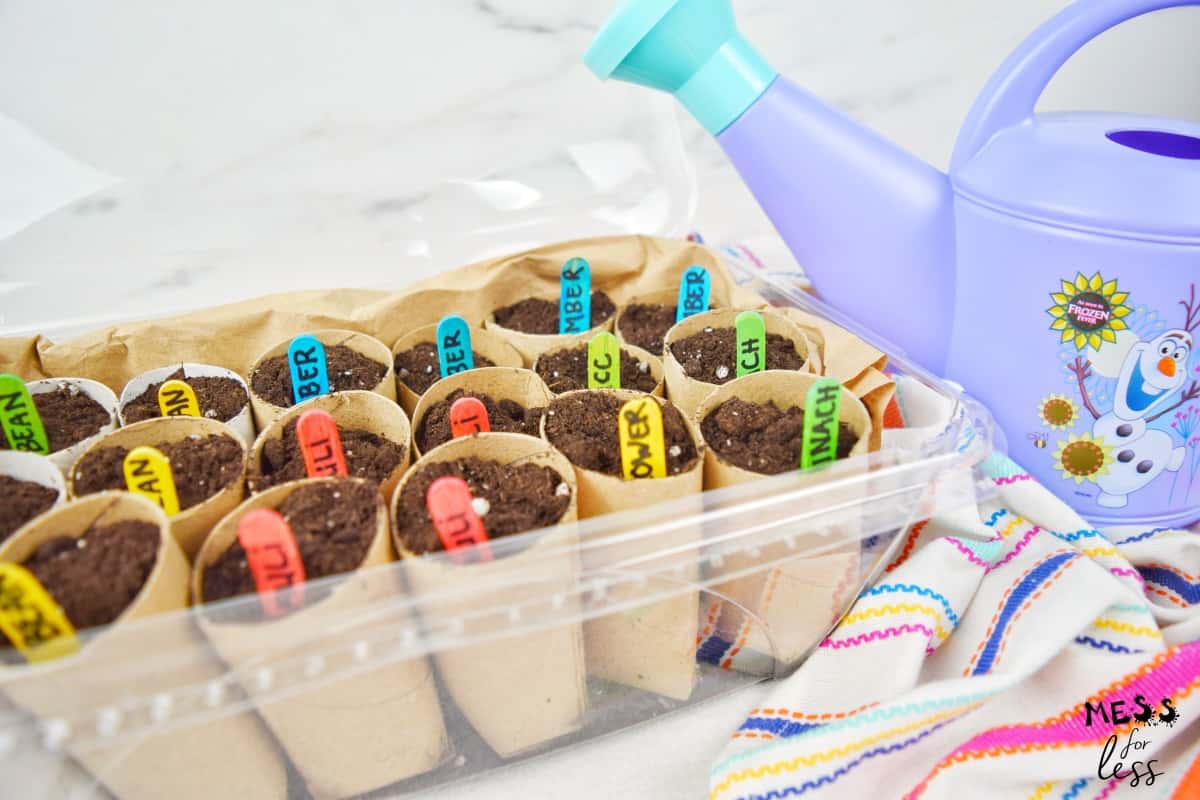 Planting the seedlings outdoors is also a wonderful activity for kids. They get to observe the growing process and help take the seeds to the next stage in their development.
The Spangler Science Club brings wonderful hands-on science to your door every month if you're looking for some additional simple experiments. Join Now!
Frequently asked questions
How do I move the seedlings outdoors?
When you're ready to move your seedlings outdoors, simply remove the rolls from the container and unfold the bottom and plant the whole thing into the ground. The cardboard will decompose into the soil.
Related posts