So we decided to take the plunge and sell our house. It hit the market a few days ago. We are staying in the same town, just looking to move to an area with a little more land. If you have sold a house with young children then I have lots of admiration for you. Moving anytime is a stressful experience, but when you add 3 little ones to the mix, it can be insane. Here are some tips for Selling Your House When You Have Kids. To see how to survive a move with kids check out Moving with Young Children.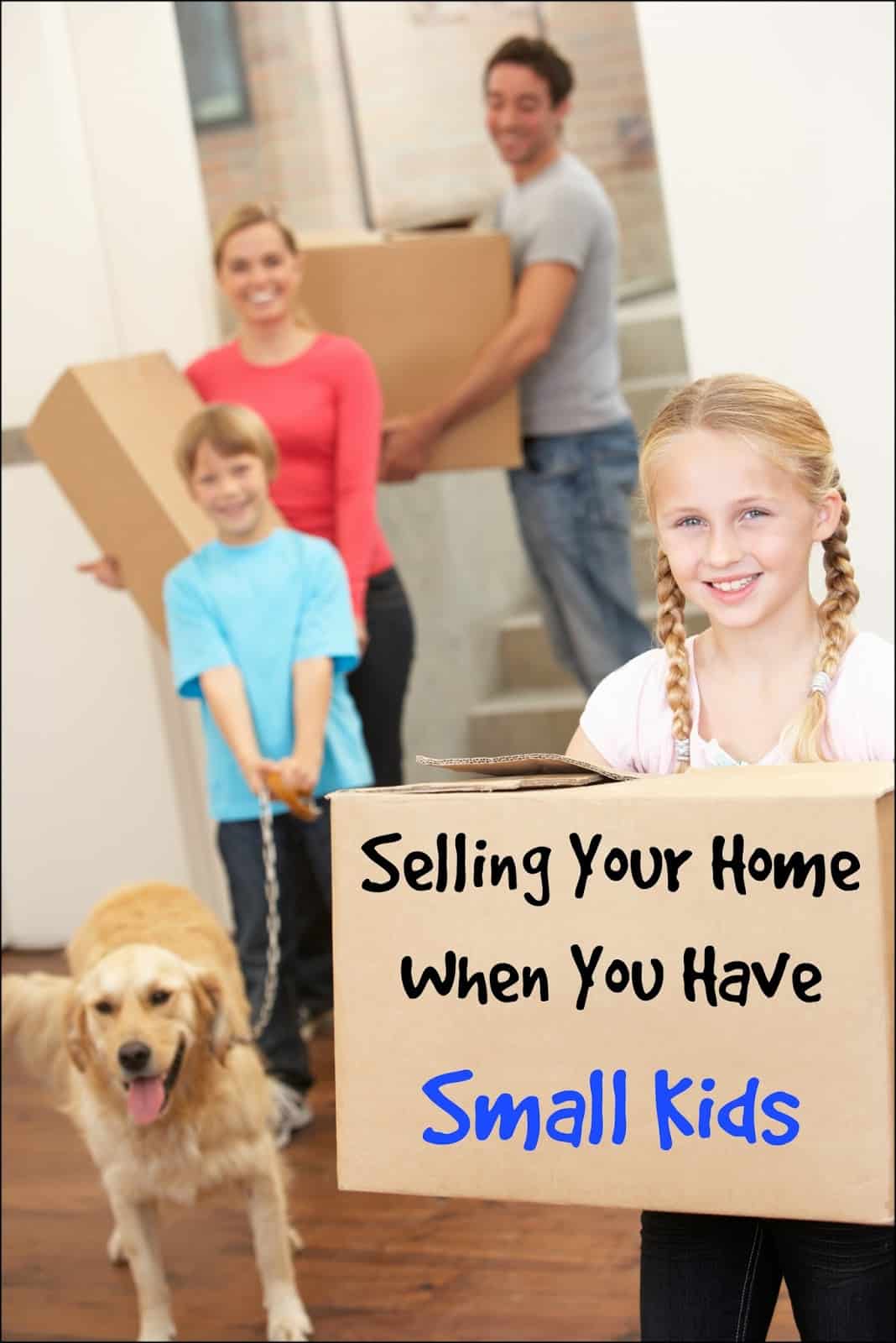 Selling Your House When You Have Kids
One of the more difficult things about selling your house when you have kids, is having the house ready for showings. This wouldn't be that big a deal if it was just my husband and I, but kids have a lot of stuff and no potential buyer wants to see all that stuff. I have figured out some strategies for making this whole process a little easier while retaining your sanity (mostly).
Scheduling Showings
I requested that I needed 3 hours notice before I can show the place. The house is already the cleanest it will ever be, so 3 hours is a good amount of time to put away clutter and get the kids out. If someone is a serious buyer they will want to see your house and make the time to see it. Are there rare exceptions where someone can only see the house right away? Of course, but most potential buyers will understand.
Have a Place to Store the Kid's Stuff
Any extra space in our garage is packed with boxes, bags of packing paper and any extra clutter that used to be in our house.
We are lucky enough to have a great deep closet off the family room. This is the closet where I kept all my crafting stuff and supplies. I cleaned it out and packed a lot of stuff away that I knew we wouldn't be using anytime soon. Now this is the closet where I store all the toys and things I want out of the way when we have a showing. Here it is, packed to the gills.
Boxes, Bins and Containers, Oh My!
Where did all the stuff in our closet come from? Mostly our family room and kitchen area. Our family room is typically littered with toys. I purged a bunch and packed them away but there are still a number out that my kids play with regularly. I put them in bins and containers so that they would be easy to transport to the closet. The girls have some armchairs that they like to sit in as well as high chairs and booster seats. It takes me less than 10 minutes to load all the kids things into the closet. When the showing is done and we return, I only pull out a few bins of toys instead of everything and that keeps them pretty happy.
Places To Go
So you got a call that a realtor wants to show your place in a few hours. Great! But what do you do with the kids? Luckily showings are pretty short. Usually just 30 minutes. So it's pretty easy to find something to do with the kids. Honestly, the hard part is preparing the house and getting the kids out of there. Some suggestions for places to go: library, park, grocery store, friend's house, walk around the neighborhood, drive around the neighborhood... The key for me is going somewhere that is free or nearly free.
Involve the Kids
This is somewhat harder with little ones. My twins are three and a half and my youngest is two. They do try to help me bring things to the closet, but there isn't much they can do. Older kids can definitely help keep the place tidy. We are very open with the kids about how we will be moving. We have been going to open houses for a few months so they are used to that process. Now that we have the house on the market they have been very good in dealing with all the changes going on. I think the fact that we have kept them in the loop helps.
If you liked reading Selling Your House When You Have Kids, check out:
Best Subscription Boxes for Kids