Moving with kids can be stressful under the best of circumstances. When we moved a few years back I had twins in preschool and tried my best to get them involved and excited about the process. We toured homes together and did some fun activities to help prepare for the move. To help build excitement for a move and quell any moving anxiety, I created some fun moving preschool worksheets. These free preschool worksheets are perfect to use with your preschool or kindergarten aged child and even work well for a house or neighborhood study. Be sure to also check out Selling Your Home When You Have Kids.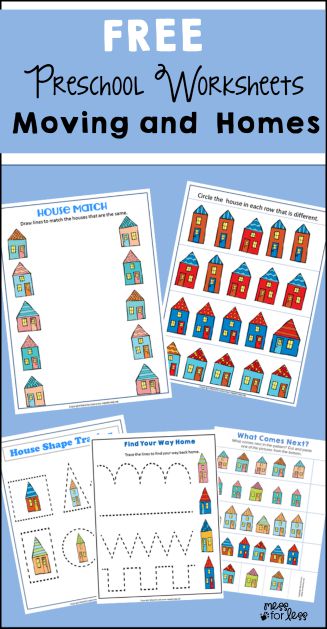 This moving and homes worksheet set includes Shape Tracing, Matching Activity, Pre-writing Activity, Visual Discrimination Activity and What Comes Next Pattern Making.
Terms of use
These free worksheets may not be copied and sold or reproduced in any way. They cannot be changed or altered by you in any way and then sold as your own. If you are sharing these printables, you must direct people to my website and not to a link for the PDF. Do not store these on your website, on a file sharing website or on Facebook or Dropbox. These free worksheets are copyright Mess for Less.
You can get the moving and homes worksheets by clicking here.
When we were looking for our home we turned to Trulia. Trulia makes finding that perfect home easy, whether you are searching for real estate listings or rental properties. I loved how Trulia gave me unique information about properties and neighborhoods such as school information, crimes, and commute times. Trulia knows how important it is to find a home where you can be you.