Moving with kids can be stressful under the best of circumstances. When we moved a few years back I had twins in preschool and tried my best to get them involved and excited about the process. We toured homes together and did some fun activities to help prepare for the move. To help build excitement for a move and quell any moving anxiety, I created some fun moving preschool worksheets. These free preschool worksheets are perfect to use with your preschool or kindergarten aged child and even work well for a house or neighborhood study. I have been compensated for this post as part of a promotional program with Trulia and MomSelect, but all opinions are my own.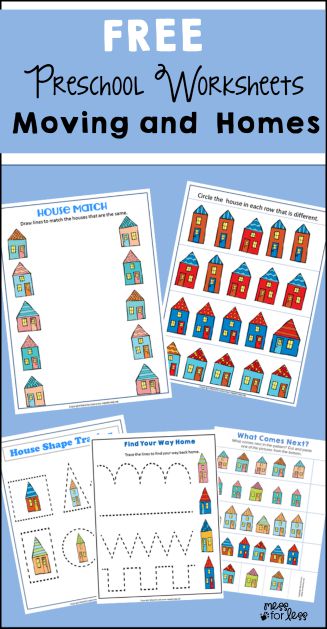 This moving and homes worksheet set includes Shape Tracing, Matching Activity, Pre-writing Activity, Visual Discrimination Activity and What Comes Next Pattern Making.
Terms of use (read before downloading)
These free worksheets may not be copied and sold or reproduced in any way. They cannot be changed or altered by you in any way and then sold as your own. If you are sharing these printables, you must direct people to my website and not to a link for the PDF. Do not store these on your website, on a file sharing website or on Facebook or Dropbox. These free worksheets are copyright Mess for Less.
You can download the moving and homes worksheets here.
When we were looking for our home we turned to Trulia. Trulia makes finding that perfect home easy, whether you are searching for real estate listings or rental properties. I loved how Trulia gave me unique information about properties and neighborhoods such as school information, crimes, and commute times. Trulia knows how important it is to find a home where you can be you. They know that sometimes when you are home you do some quirky things. What is my quirky home thing? I wear shoes. All the time. I know lots of people don't like shoes in the house for various reasons, but because I have foot issues, I need to wear shoes from the moment I get up until I get into bed. So, no kicking off my shoes for me.
Now that you know my quirky home secret, Trulia wants to hear about the wild, weird and absurd things you do at home. The #TruliHome $25K Giveaway began this week and will run through 10/31/15. Entry is simple. Head to #TruliHome and enter your email address for a chance to win. To kick-off the #TruliHome giveaway, Trulia created some funny videos that showcase the quirky things home buyers and renters are looking for in their quest for the perfect place. I loved the acoustics video that you can see below. You can check out the rest of the videos along with confessional videos from your favorite YouTube personalities here. Which video was your favorite and what quirky thing do you do when you are at home?
Want more Mess?