I don't know about you, but I love getting Mother's Day gifts from my kids that they have made at school. I have a whole collection of them from preschool to the present day. A potholder, a pencil holder, a decorated frame, a bookmark…I'm sure you have them too. I decided to share some thoughtful DIY Mother's Day Gifts that kids can make with dad or with a sitter. These would also be awesome Mother's Day gifts for a grandma or neighbor. When your kids are done crafting, enjoy some of these Mother's Day Brunch Recipes.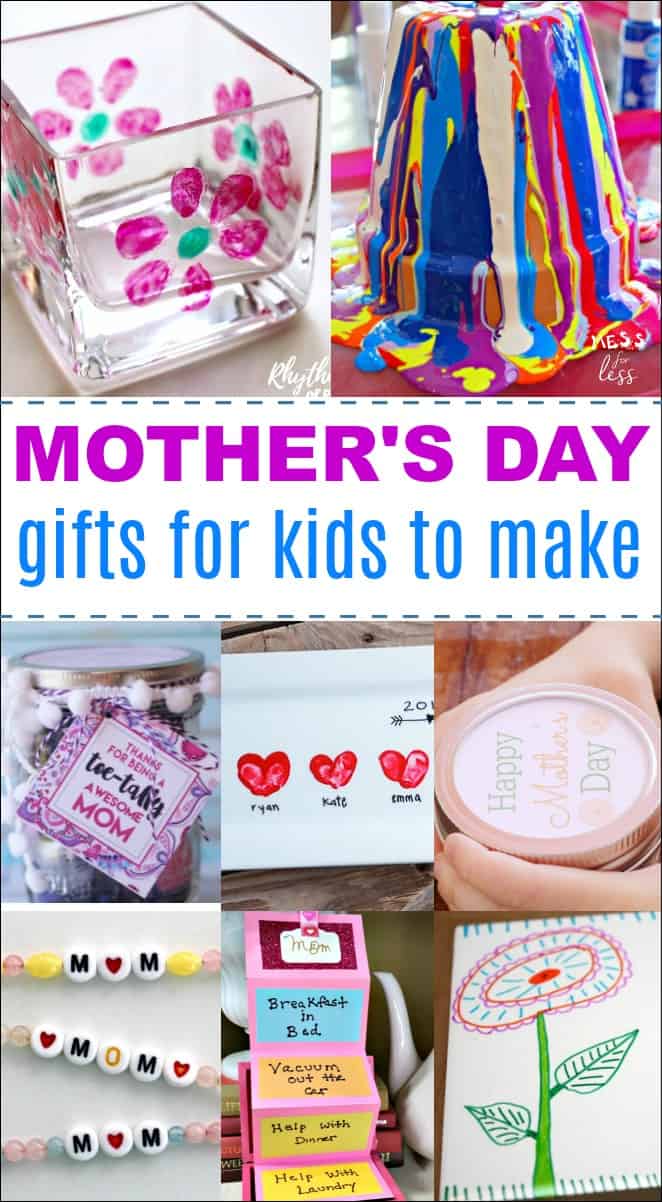 DIY Mother's Day Gifts
Drip Painted Flower Pots from Mess for Less – If mom loves gardening, this is the perfect gift for her. She will love this brightly colored pot. Buy some flowers and plant them as an extra bonus before giving mom the pot.
DIY Heart Notebook from Easy Peasy and Fun – This sweet little notebook is simple enough to be great for preschoolers and can be good cutting practice too. Any mom would love to receive this from their little one.
DIY Flower Painted Votives from Rhythm of Play – Gifts that are displays of children's artistic expression are some of the very best. Kids will enjoy the process of making these decorative votives.
Homemade Sugar Scrub from Pre-K Pages – Measuring and mixing will make this DIY gift a fun one for the kids and the way it feels and smells will make it wonderful for the moms.
DIY Mom Necklace from Rhythms of Play – This necklace might be best made by a little bit older kids, but it will definitely be a favorite of moms of any age.
Kid Made Lego Photo Pen Holder from Laly Mom – So many kids enjoy playing with and creating with LEGOs, and now they can use LEGOs to create a practical gift to help Mom keep all those pens and pencils in a safe place.
Mason Jar Craft for Kids to Make from Fun-A-Day – These painted Mason jars could have multiple purposes, but the process of painting them and making the handprints on them will be a joy to the kids as much as it is to their mom.
Heart Thumbprint Platter from Simply Kierste Design – What a wonderful keepsake this handmade gift will be as Mom will forever have a record of the thumb prints of her little ones at the stage they are at right now!
Pedicure Jar Mother's Day Gift from The Girl Creative – This sweet gift is perfect for the mom who enjoys pampering herself with a pedicure. This would be a perfect gift for children and Dad to put together for Mom.
DIY Handprint Dish Towels from Canary Street Crafts – Moms love seeing handprints of their kids and these adorable dish towels with handprints made into flowers are just perfect.
Painted Flower Pot from The Country Chic Cottage – Making the gift will only be half the fun of this sweet gift for Mom. The kids will enjoy decorating and drawing art on these clay pots and then everyone can watch the plants that will grow in them.
How to Create a Unique Mother's Day Coupon Book from Diva of DIY – Give Mom the gift of acts of service by creating coupons for helping her out. The presentation on this gift can be customized so easily!
DIY Tile Coasters from Slap Dash Mom – This would be a great gift idea for all of the kids to collaborate on for Mom. Each child can decorate their own coaster however they want. What a special and unique gift.
Scrabble Tiles Picture Frame from Buggy and Buddy – This is one of the DIY Mother's Day Gifts that would be perfect for the crafty dad to make with his kids or for the tweens who enjoy getting crafty and creative.
If you love cooking with your kids, you'll enjoy kidstir. When you sign up for kidstir your child will receive a monthly kit that will provide fun food adventures for them. You'll get tasty recipes and fun new cooking tools that will spark a love of cooking in kids. This is such a great way to create memories with kids in the kitchen.
If you enjoyed these DIY Mother's Day Gifts you'll love these other crafts: