This post brought to you by Disney Junior. The content and opinions expressed below are that of Mess For Less.
I was asked a lot about what I wanted for Mother's Day. My answer is usually the same, "just to spend time with my family." I am blessed with three girls and some of my favorite moments are the times when we get to share mommy and me moments. Recently, I got to spend some special one on one time with my youngest daughter inspired by Minnie Mouse. We played, laughed and created. If you are looking for some fun ways to enjoy time with your child, check out what we did and learn how to make a Minnie Mouse Craft.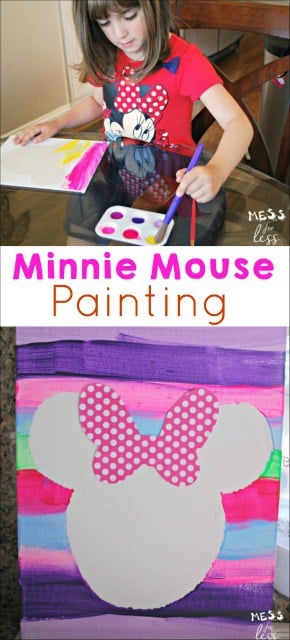 My daughter is a little fashionista. She loves dressing up and dresses and skirts are her absolute favorite things to wear. Lucky for her, we live in California so the weather allows her lots of opportunities to wear them. So you can imagine how thrilled she was to get some Minnie Mouse outfits from Walmart. Minnie plus pretty clothes are a win in our house. Walmart carries a number of Disney Jr. Minnie Mouse items

. From toys to accessories to stylish outfits, they have everything your child could possibly want.
Walmart also sells some fun dress up clothes for little ones. This Minnie Bow-Tique Fancy Bows Dress with Headband with Headband is perfect for playtime, costume parties or just a fun tea party with mom.
My daughter just enjoys wearing it around the house for no particular reason. Isn't it fun to be a kid?
The dress is designed for kids sizes 4-6x but my 7 ½ year old couldn't resist getting in on the Minnie fun. So if you are getting this for a younger child, they will be able to enjoy it for years to come.
One of my favorite ways to spend time with my daughter is by cooking together. That is why I love the Disney Minnie Bowtastic Kitchen Playset from Walmart so much. We got to do some pretend cooking and eating and there were no dishes to clean up afterwards.
This Minnie Bowtastic Kitchen Playset is compact so it won't take up lots of room in your house. It stores easily and can be carried to various locations, indoors and out, for play.
My daughter and I baked, laughed, played and created memories. The stove on the playset makes realistic cooking sounds and the faucet has fun sounds as well. We discovered that the oven lights up too!
With the beautiful Minnie Mouse clothes and the Minnie Bowtastic Kitchen Playset, I had Minnie on the mind. I came up with a fun Minnie craft to make with my daughter to give to my mom for Mother's day. This Minnie craft is perfect for anyone you know who is a Disney lover.
You will need:
8 x 10 art canvas
Paintbrushes
Acrylic paint in various colors
Contact paper
Marker
Scissors
Red and white or pink and white polka dotted scrapbook paper
Minnie Mouse head and bow template (free printable below)
White glue
To get the free Minnie template click here.
Print and cut out the Minnie Mouse head pattern. Trace it onto the side of contact paper where you can see the writing. Cut the Minnie Mouse head out from the contact paper and peel the backing off.
Stick the contact paper Minnie onto the canvas, a little lower than center. Make sure the edges of the contact paper are securely pressed down so paint will not seep underneath. I did this by running my fingernail over the edges.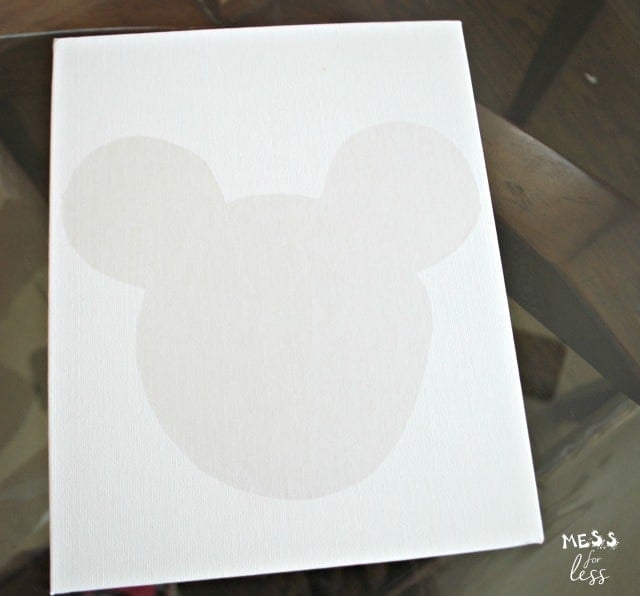 Set up some paints and brushes for your child. My daughter was very specific about the colors she wanted to use. She made sure to pick colors that Grandma would like.
Paint the canvas as you wish. There is no wrong way to do this. You can paint over the contact paper too and when it dries and is peeled off, you can use it as a sticker.
When the paint is dry (ours took 2 hours to dry) carefully peel off the contact paper from the canvas. My older daughter made a Minnie Mouse craft too.
Now it's time to choose a bow for Minnie. I found some red and white and pink and white polka dotted scrapbook paper at my local craft store and used it to make some of Minnie's signature bows. You have already gotten the template for the bow. Simply print it, cut it out and trace onto the scrapbook paper. Cut out the scrapbook paper bow. Glue it on Minnie's head to complete your Minnie Mouse craft.
Don't you just love how the bow on her Minnie Mouse craft matches the bow on her dress?