I was asked a lot about what I wanted for Mother's Day. My answer is usually the same, "just to spend time with my family." I am blessed with three girls and some of my favorite moments are the times when we get to share mommy and me moments. Recently, I got to spend some special one on one time with my youngest daughter inspired by Minnie Mouse. We played, laughed and created. If you are looking for some fun ways to enjoy time with your child, check out what we did and learn how to make a Minnie Mouse Craft.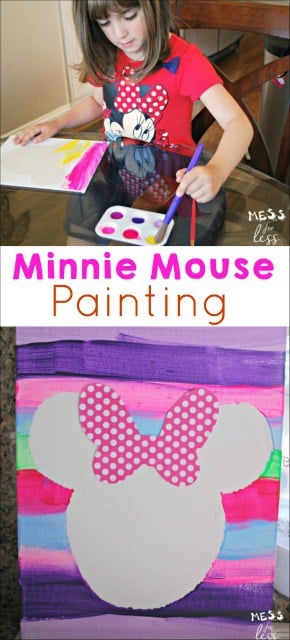 I came up with a fun Minnie craft to make with my daughter to give to my mom for Mother's day. This Minnie craft is perfect for anyone you know who is a Disney lover.
You will need:
8 x 10 art canvas
Paintbrushes
Acrylic paint in various colors
Contact paper
Marker
Scissors
Red and white or pink and white polka dotted scrapbook paper
Minnie Mouse head and bow template (free printable below)
White glue
To get the free Minnie template click here.
Print and cut out the Minnie Mouse head pattern. Trace it onto the side of contact paper where you can see the writing. Cut the Minnie Mouse head out from the contact paper and peel the backing off.
Stick the contact paper Minnie onto the canvas, a little lower than center. Make sure the edges of the contact paper are securely pressed down so paint will not seep underneath. I did this by running my fingernail over the edges.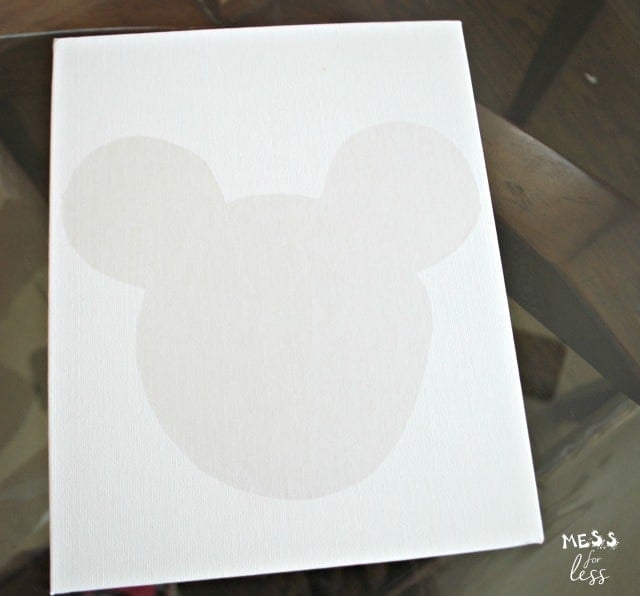 Set up some paints and brushes for your child. My daughter was very specific about the colors she wanted to use. She made sure to pick colors that Grandma would like.
Paint the canvas as you wish. There is no wrong way to do this. You can paint over the contact paper too and when it dries and is peeled off, you can use it as a sticker.
When the paint is dry (ours took 2 hours to dry) carefully peel off the contact paper from the canvas. My older daughter made a Minnie Mouse craft too.
Now it's time to choose a bow for Minnie. I found some red and white and pink and white polka dotted scrapbook paper at my local craft store and used it to make some of Minnie's signature bows. You have already gotten the template for the bow. Simply print it, cut it out and trace onto the scrapbook paper. Cut out the scrapbook paper bow. Glue it on Minnie's head to complete your Minnie Mouse craft.
Don't you just love how the bow on her Minnie Mouse craft matches the bow on her dress?