Most of the country has been experiencing a heat wave and few things help us beat the heat more than water. My kids love swimming and running through a sprinkler, but water balloons are an extra special treat for them. We have had fun learning and playing with a Water Balloon Phonics game. They sell water balloons at the dollar store but I don't use them a lot because they just take forever to fill up and are tossed and broken before you know it. So I devised the idea of having a water balloon hunt.
I wanted to do a water balloon hunt. I decided to assign each child a shape and then draw that shape on some of the balloons. The kids could only pick up balloons that had their shape on it.
If I did not have this blog, I would have just written their names on the balloons, but I try to keep my kids names off of here so shapes seemed like a good idea. It also reinforces shape recognition!
You will need:
Water balloons
Water
Buckets
Permanent Marker
Paper
Tape
I decided to use a circle, square and triangle as the three shapes. I drew each onto a piece of paper and used some packing tape to tape it on the kids' buckets. This would help them remember what shape they were looking for and check their balloons to make sure they had the right shape.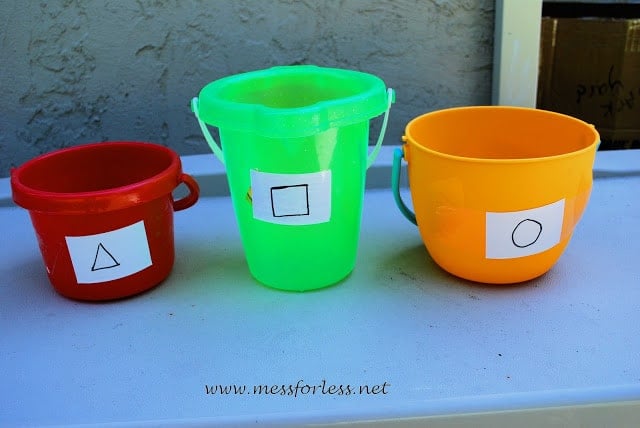 Now comes my least favorite part - filling the balloons with water. Thirty minutes and twenty one balloons later, I was done.
Next, I took the filled water balloons, dried them with a towel and drew corresponding shapes on them. I did 7 balloons of each shape.
Hiding the balloons was a little tricky because they needed to be in locations where there was nothing around that could make them pop.
It was super hot out and the few balloons I had hid that were sitting in direct sunlight popped before we started our hunt. I put them out a few hours before the hunt which given the extreme heat was too long. Keep that in mind when hiding your balloons on a super hot day.
Let the balloon hunt begin!
Once the kids collected their 7 balloons they were free to play with them as they wished. They had plenty of fun throwing those balloons, getting wet and cooling off on a hot summer day. Best of all there were plenty of balloons left for each child to find!
For more fun water activities check out:
Water Table Play Props