It is summer which means pool time! Whether you have you own pool or use a community pool you will love these 10 pool games for kids. So many fun ways to cool off!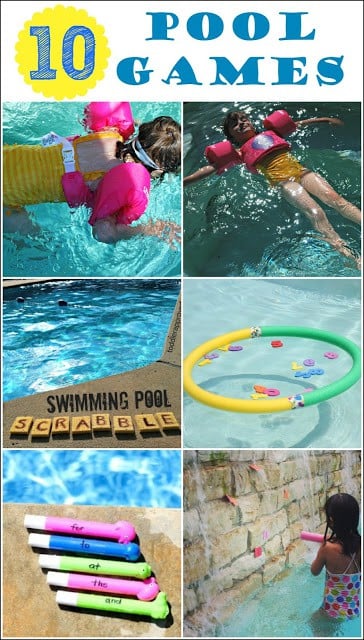 Pool Games for Kids
We love to play in the pool and these diving rings are always a hit! You can incorporate them in lots of the games below.
Sight Word Dive from I Can Teach My Child - Create a learning pool game using inexpensive items.
Swimming Pool Scrabble from Toddler Approved - If your kids love board games they will love the chance to play a fun word game in the water.
Marco Polo Pool Game from Coffee Cups and Crayons - Do your kids know how to play this classic pool game? This will bring back memories for sure!
DIY Pool Games from Parenting Chaos - Such a fun way to learn letters as kids get to squirt them with a water shooter.
Pool Party Games from Beauty Through Imperfection - These fun ideas are great for a group of kids.
Pool Games from Kids Activities Blog - Learn how to make sensory bags for little ones that they can enjoy in the pool.
Floating Numbers from Paging Fun Mums - This is a great games for kids who are learning their numbers.
Math Fun in a Pool from Toddler Approved - Kids can practice math skills they will be using in school in this fun pool game.
Making a Water Scope for the Pool from Kids Activities Blog - Kids can use this water scope to find toys and other items in the pool.
Sight Word Swim Game from Coffee Cups and Crayons - Kids will learn to spell and read with this entertaining pool game.
If you enjoyed these pool games for kids, you'll love:
Summer Art Activities for Kids