When the weather turns warm, my kids want to spend more and more time outdoors, which is fine by me since they get to be out in the fresh air and burn off some energy. To add some variety, we like to add learning fun to our outdoor play. Learning outdoors is a great way to engage kids who might not be as excited about traditional paper and pencil learning. With these 20 Outdoor Learning Games kids will be jumping, running, throwing and having so much fun that they won't realize that they are learning about things such as math, reading and science. If you will be spending lots of time outdoors be sure to check out our 20 Best Outdoor Toys for Summer.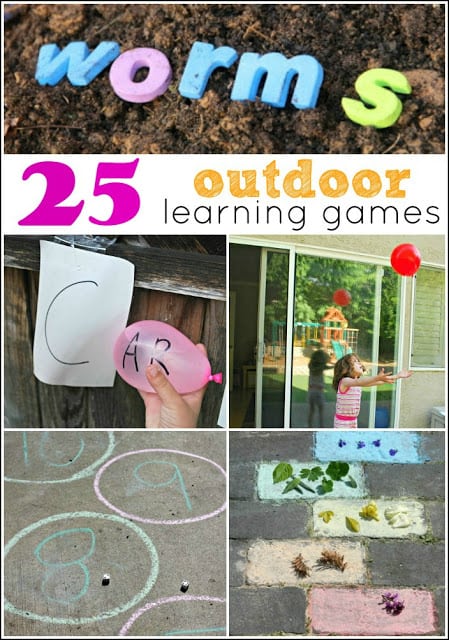 Sidewalk Chalk Learning Games from Teach Beside Me
So many ways to learn with chalk!
Alphabet Ball from Hands On As We Grow
Lots of fun variations on this learning game. You can use it with rhyming words, opposites or the alphabet.
Water Balloon Phonics from Mess for Less
The most fun a kid can have learning phonics!
Water Balloon Math from No Time for Flashcards
Put those hula hoops and water balloons to good use.
Gross Motor Addition Game from Learn Play Imagine
Burn off some energy outdoors while brushing up on math skills.
Sight Word Basketball Activity from Coffee Cups and Crayons
If you have a sports lover in your house then they will flip for this outdoor learning activity.
Learning About Attributes in Nature from Childhood 101
I love how this game uses items found in nature to help kids learn.
Alphabet Game for Kids from Kids Activities Blog
A simple way to play and learn with little ones.
Bird Nest Letter Matching Game from Fantastic Fun and Learning
A great way to use all those leftover Easter eggs. What kid doesn't love a scavenger hunt?
How to Make an Easy Solar Oven from Science Sparks
Make this oven and make outdoor s'mores. What a yummy way to learn!
Learning Outside with Chalk and Water from Learn with Play at Home
Some simple activities that can be done with toddlers and preschoolers. I love that these activities require little setup and use chalk and water.
Bubbling Addition Kindergarten Math Game from Mess for Less
This Kindergarten math game will help kids learn and review addition facts in a fun, hands-on way.
Alphabet Jump and Write on the Trampoline from The Imagination Tree
I cannot think of a more fun way to learn letters. Plus, the kids will be worn out when they are done.
Telling Time Activity for Kids from Coffee Cups and Crayons
This giant clock is simple to make and can help kids learn time in a hands on way.
Nature Color Hunt from Nurture Store
Kids can learn colors while enjoying nature.
Digging for Letters from Sugar Aunts at Mom to 2 Posh Lil Divas
Get your hands dirty with some outdoor letter play.
Dinosaur Toss from Mess for Less
Kids learn about the size of dinosaurs while playing this outdoor gross motor game.
Rhyme Toss Outdoor Play from Fantastic Fun and Learning
This is such a fun way to practice rhyming in the great outdoors!
Outdoor Acorn Math Activities from Living Montessori Now
Such a clever way to use those acorns you find all over your yard.
Playing Outside with Chalk from JDaniel4's Mom
Some great ideas from making giant letters to creating a number line.
Count to Ten with Nature from Rain or Shine Mama
I love how these activities use items found in nature to help kids learn.
Science Experiments with Balloons from Mess for Less
Kids love balloons so use them to explore some scientific concepts outdoors.
Using Old Bottle Caps - Preschool Summer Science from ALLterNATIVE Learning
This is a great to explore scientific concepts with preschoolers. I love how you will be using items you already have at home.
Sensory Sight Word Games from Mess for Less
Kids can learn their sight words outdoors in this fun sensory game.
For more outdoor learning activities check out:
Number Hunt