Let's face it, finding a gift for a girl can be a challenge. What is she into? What does she already have? What will she use again and again? Whether you are doing some holiday shopping or looking for a birthday gift for that special girl in your life, these questions race through your mind as you search for the perfect present. One of my favorite gifts to give are subscription boxes. They are great for the girl who has everything because they typically provide hands-on experiences. Here are the best subscription boxes for girls that I have found. For special subscription boxes for all the kids on your list, be sure to check out Best Subscription Boxes for Kids. You might also enjoy 10 Fun Activities for Girls.
UPDATED MAY 2020 Prices are subject to change.
Subscription Boxes for Girls
Do your kids love cooking? I have long been a proponent of cooking with kids. There are so many things kids learn helping out in the kitchen. Math, reading, chemistry and cooperation and more are used while following a recipe.
​Raddish is a monthly subscription box for kids that is a cooking club, culinary lesson, and mealtime solution all-in-one. Young children get to work with an adult, while older kids and teens independently indulge their culinary curiosity! And it's perfect for picky eaters — kids who cook, eat!
​A new kit is delivered to your doorstep every month​! Each kit features a new culinary theme! You'll also get a shopping list emailed to you prior to delivery so you will be ready to cook. These kits are a great way for kids to develop new cooking skills and confidence in the kitchen while the entire family builds memories together.
My kids love the variety of recipes, the cook patch and recipe cards and most of all the cooking tool they received!
Subscription options:
Raddish Kids offers a number of subscription options. Monthly subscriptions are $24 per month. A 6 month subscription is $22 per month and a 12 month subscription is $20 per month.
Subscribe here.
Green Kid Crafts is an earth friendly monthly craft subscription box that sparks creativity while teaching girls a respect and love for the environment. These boxes are themed and each month will be filled with fun projects and creative activities than can be enjoyed by girls from ages 3-10.
Since Green Kid Crafts is an earth friendly company, they use sustainable, safe materials in all of their products. They also give a portion from each sale to environmental non-profits.
Subscription Options
A monthly subscription is $17.95 per month.

These boxes are presented in partnership with Popular Mechanics so you know you'll be getting some great stuff each month. Kids will love Groovy Lab in a Box because it contains everything they need to do experiments focused on science, technology, engineering and math (STEM). Kids will get all the supplies they need to complete the activities in addition to a cool lab book.
Subscription Options
Monthly subscriptions are $29.95 a month, a prepaid 3 month subscription is $28.95 and a 6 month prepaid subscription is $27.95 per month.
Subscribe here.
This subscription box takes the intimidation out of doing science with kids. The Spangler Science Club delivers amazing hands-on science to your door every month. These make great STEM gifts for budding scientists. Each month, your child will receive the most amazing science experiments delivered to your door. A new theme will be explored every month such as kitchen chemistry, the power of air or bubbling potions. Ideal for kids in grades K-6.
Subscription Options
The Spangler Science Club offers a variety of subscription options.
You can get a $14.99 per month box that includes 1 STEM experience.
At $19.99 a month you'll get up to 5 STEM experiences per month.
For $29.99 a month you'll get up to 10 STEM experiences per month.
Subscribe here.
It can be hard to know what to get for a tween girl, but The Creative Girls Club solves all that. These boxes are created for girls ages 7-12. Girls get two kits each month full of crafting fun. Best of all, the crafting can be done with minimal adult supervision. While she is creating, she will be learning valuable skills such as painting, beading, stitching, paper crafting, and much more!
Subscription Options
19.98 for 2 kits per month plus shipping.
Subscribe here.
I love these boxes because every three months your girl will get a subscription box that comes with 4-6 items. You'll know that at least one item in the box is there to help creative some quality moments between you and your child. All items in the box are kid tested and mom approved.
Subscription Options
$37.59 per month.
$135.35 for an annual subscription
Subscribe here.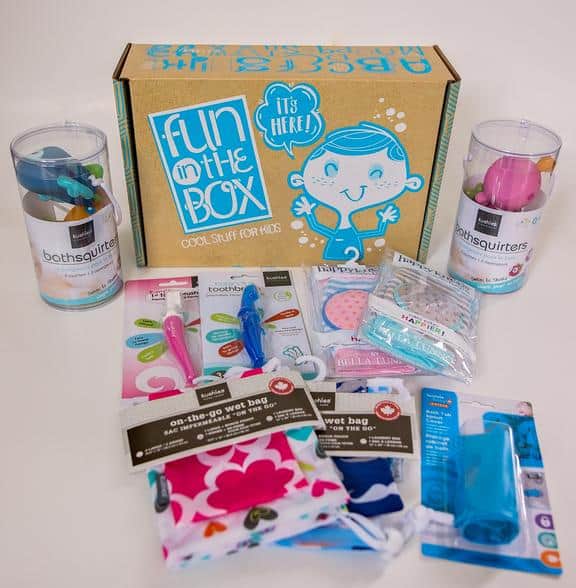 Give the gift of reading! With Reading Bug Box, each month your child will receive beautiful books that have been handpicked for your child's age and interests. With books that range in age from newborn to independent readers, there is something for every kid. In addition to the books, your child will receive gifts and extras that have been matched to the theme of the box.
Subscription Options
Reading Bug Box personalized for a child ages 0-13 - $29.99 monthly, $28.50 6 month prepay, $27.00 12 month prepay.
Baby Bug Box curated for ages from $18 per month.
Subscribe here.
I love how this subscription box can inspire girls ages 4-8 to do things they may not have thought possible. Each month, girls will be introduced to women who changed the world. Each box includes a 20 page activity book with an inspirational story, 2-3 STEAM activities, play props and a character trait for girls to work on.
Subscription options:
Boxes are $29.95 per month.
Subscribe here.
Does your girl love stickers? Pipsticks delivers a package to your child every month. Girls will get 15+ sheets of Stickers, 1 pre-stamped postcard/coloring page combo, 1 subscription to Little Pippy mini magazine, 5% off the sticker shop, exclusive coupons & printables, and super fun reusable packaging! My kids love creating art using stickers so this box can really unleash a child's creativity.
Subscription Options:
Kid's Club Classic from $14.95 per month
Subscribe here.
This box is the perfect gift for any little girl! Each month's box will be centered around a monthly theme and include 4-6 high quality full sized items such as beauty products, accessories, crafts, and more! There will also be two sheets of custom stationery included. This encourages letter writing and picture drawing.
The Em and Liz box is for girls ages 3-10.
Subscription Options:
$25.00 per month.
Subscribe here.
Boti stands for beauty on the inside and the items in this box are designed for tween girls ages 8-12. Each month, the items in the box are chosen with a new theme of strength and empowerment in mind. Girls will get health & beauty products, inspiration, jewelry and other fun stuff.
Subscription options:
$30.00 per month.
Subscribe here.
If you liked this learning about the best subscription boxes for girls, check out:
Best Subscription Boxes for Boys