Let's face it, finding a gift for a girl can be a challenge. What is she into? What does she already have? What will she use again and again? Whether you are doing some holiday shopping or looking for a birthday gift for that special girl in your life, these questions race through your mind as you search for the perfect present. One of my favorite gifts to give are subscription boxes. They are great for the girl who has everything because they typically provide hands-on experiences. Here are the best subscription boxes for girls that I have found. For special subscription boxes for all the kids on your list, be sure to check out Best Subscription Boxes for Kids.
UPDATED NOVEMBER 2018
Subscription Boxes for Girls
KiwiCo were the first subscription boxes for kids that my girls ever received. As a former teacher, I was really impressed with the quality of materials found in KiwiCo. These kid tested activities were designed by a community of parents. They are perfect for busy or working moms. Some moms have told me that they want to do activities like I do on Mess For Less with their kids, but they just don't have to the time to go buy all the supplies and prepare them for the activity. KiwiCo is the perfect solution.
Every month your KiwiCo will focus on a particular theme like Colors, Dinosaurs or Gardening. KiwiCo offers a variety of projects ranging from crafts, imaginative play, science experiments and more.
Subscription Options
KiwiCo offers a number of subscription options. Monthly subscriptions are $19.95 per month. A 6 month subscription is $18.50 a month.
Subscribe here.
This subscription box takes the intimidation out of doing science with kids. The Spangler Science Club delivers amazing hands-on science to your door every month. These make great STEM gifts for budding scientists. Each month, your child will receive the most amazing science experiments delivered to your door. A new theme will be explored every month such as kitchen chemistry, the power of air or bubbling potions. Ideal for kids in grades K-6.
Subscription Options
The Spangler Science Club offers a variety of subscription options.
You can get a $14.99 per month box that includes 1 STEM experience.
At $19.99 a month you'll get up to 5 STEM experiences per month.
For $29.99 a month you'll get up to 10 STEM experiences per month.
Subscribe here.
Specifically designed with kids ages 3-6 in mind, these magical, imaginative play boxes are perfect for the child who loves to create, learn and explore through dramatic play! Each box includes over 4 educational crafts and activities. They have fun themes such as Crime Stoppers, Junior Chef and Mad Scientist.
Subscription options:
$30 per month.
Subscribe here.
These boxes are presented in partnership with Popular Mechanics so you know you'll be getting some great stuff each month. Kids will love Groovy Lab in a Box because it contains everything they need to do experiments focused on science, technology, engineering and math (STEM). Kids will get all the supplies they need to complete the activities in addition to a cool lab book.
Subscription Options
Monthly subscriptions are $29.95 a month, a prepaid 3 month subscription is $28.95 and a 6 month prepaid subscription is $27.95 per month.
Subscribe here.
This isn't your traditional subscription box. Does your girl have a heart for philanthropy or do you want to encourage that spirit? Every Little Loving Hands box contains craft materials designed to help your child learn about charitable giving. Each box focuses on a different charitable cause that your child can support by making fun crafts and donating them as gifts. It even comes with a prepaid return envelope to mail the finished craft to those in need.
Includes educational content about the organization in need, certificate of achievement, collectible button, and more!
Subscription Options
You will actually go to the website and select the box you want for your child. Boxes are $28 and current boxes include Military Gratitude, Happy Doll Box, Puppy Love Box, and Monkey Business Box.
Subscribe here.
Give the gift of reading! With Reading Bug Box, each month your child will receive beauitfuikl books that have been handpicked for your child's age and interests. With books that range in age from newborn to independent readers, there is something for every kid. In addition to the books, your child will receive gifts and extras that have been matched to the theme of the box.
Subscription Options
Reading Bug Box personalized for a child ages 0-13 – $29.99 monthly, $28.50 6 month prepay, $27.00 12 month prepay.
Baby Bug Box curated for ages from $18 per month.
Subscribe here.
Green Kid Crafts is an earth friendly monthly craft subscription box that sparks creativity while teaching girls a respect and love for the environment. These boxes are themed and each month will be filled with fun projects and creative activities than can be enjoyed by girls from ages 3-10.
Since Green Kid Crafts is an earth friendly company, they use sustainable, safe materials in all of their products. They also give a portion from each sale to environmental non-profits.
Subscription Options
A monthly subscription is $17.95 per month.
Pley offers boxes that contain quality, name brand toys and activities that kids will love. If your girl loves Disney Princesses, there is a subscription box specifically for that. These boxes are filled with items that portray magical stories for little girls. For ages 4-9, these boxes deliver Disney Princess toys every two months. These subscription boxes for girls keeps kids busy and off of screens.
Subscription Options
1 box is $24.99, 6 months of boxes are $143.94 and 12 months of boxes are $275.88.
Subscribe here.
I love how this subscription box can inspire girls ages 4-8 to do things they may not have thought possible. Each month, girls will be introduced to women who changed the world. Each box includes a 20 page activity book with an inspirational story, 2-3 STEAM activities, play props and a character trait for girls to work on.
Boxes are $29.95 per month.
Does your girl love stickers? Pipsticks delivers a package to your child every month. Girls will get 15+ sheets of Stickers, 1 pre-stamped postcard/coloring page combo, 1 subscription to Little Pippy mini magazine, 5% off the sticker shop, exclusive coupons & printables, and super fun reusable packaging! My kids love creating art using stickers so this box can really unleash a child's creativity.
Subscription Options:
Kid's Club Classic from $14.95 per month
Subscribe here.
This box is the perfect gift for any little girl! Each month's box will be centered around a monthly theme and include 4-6 high quality full sized items such as beauty products, accessories, crafts, and more! There will also be two sheets of custom stationery included. This encourages letter writing and picture drawing.
The Em and Liz box is for girls ages 3-10.
Subscription Options:
$25.00 per month.
Subscribe here.
Does your little girl love playing dress up and wearing jewelry? Then the Fairy Bag is the perfect monthly box for her. young girls to start collecting age-appropriate jewelry, small gifts & glitter. This box includes 4-5 high quality accessories in each box. There are two types of boxes, the Fairy Bag for ages 4 to 6 and the Pixie Bag for ages 7-10.
for ages 4-6 $12.99 per month
for ages 7-10 $14.99 per month
Subscribe here.
Boti stands for beauty on the inside and the items in this box are designed for tween girls ages 8-12. Each month, the items in the box are chosen with a new theme of strength and empowerment in mind. Girls will get health & beauty products, inspiration, jewelry and other fun stuff.
Subscription options:
$30.00 per month.
Subscribe here.
If you liked this learning about the best subscription boxes for girls, check out:
Best Subscription Boxes for Boys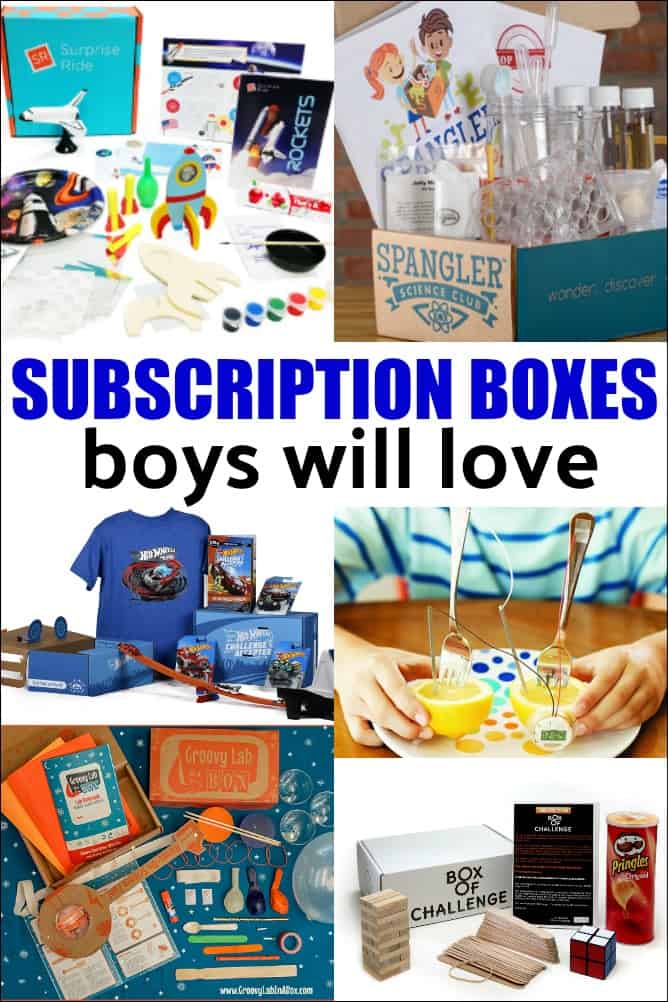 WANT MORE MESS?