If you have been reading Mess for Less for any length of time, then you know that I have three girls. While they love mess, dirt and slime, they can turn into girly girls quicker than you can imagine. Some days they are just in the mood to do some girly crafts and activities and the ones below always make them smile. Do you have a girl who loves girly activities too? Then they will enjoy these 10 Fun Activities for Girls. I should mention that boys will also enjoy these activities. There is nothing here that I can't imagine a boy doing. If you are raising girls be sure to check out my series, The ABC's of Raising Girls.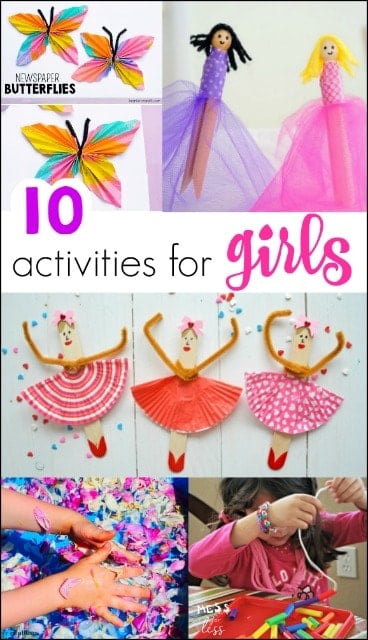 THE BEST ACTIVITIES FOR GIRLS
Bathing Dolls -Water Sensory Play from Mess for Less - If your girls love playing with babies, it is only natural that they would need to bathe them. You can do this activity in the tub or outdoors.
Pony Bead Crown Craft from Where Imagination Grows - Kids will work on their fine motor skills while they make this crown. My girls would love using this in their pretend play.
Water Play with Flower Petals from Wildflower Ramblings - Flower petals in a kiddie pool create a pretty and fragrant sensory experience, not to mention, it will keep your girls entertained.
Fine Motor Straw Necklace from Mess for Less - You can use whatever color straws you want on this necklace to personalize it. This is also a great fine motor activity for little hands. If the weather outside is not great, this is the perfect indoor activity.
Princess Sensory Tub from No Time for Flashcards - If you have a girl obsessed with princesses, then she will love this sensory experience. Have her dress up like a princess for some added fun.
Start Your Own Fairy Garden from Rhythms of Play - Combine gardening with creativity and create a land where kids can play and imagine.
Clothespin Fairies from Wildflower Ramblings - This would be a great craft for older girls. They can make the dolls and then use them for imaginative play.
Popsicle Stick Ballerinas from Glued to My Crafts - If you have a tiny dancer at home, she will love making this cute craft.
Craft Stick Yarn Dolls from Happy Hooligans - I love that this activity helps girls practice their fine motor skills while making a doll.
Newspaper Butterfly Craft from I Heart Arts and Crafts - Teach kids about recycling while they create these eye catching butterflies. This is a perfect activity to do when you girl says she is bored.
If you're looking for more entertaining kid-friendly activities, take a look at Green Kid Crafts, a monthly kid-friendly craft subscription box that fosters creativity while instilling a love and respect for the natural world.