Did you happen to catch the Pumpkin Activities guest post from Michelle at Learning to be a Mom? If so, then you remember the adorable pumpkins she made out of balloons filled with flour. I was inspired by those pumpkins to make this Halloween Game Ghost Toss which would be great for a Halloween party or for playing with your kids. The game was pretty easy to make and cost less than $2! When you are done try our Candy Corn Math game for more Halloween fun!
You will need:
Flour
Black permanent marker
Empty water bottle
Large sheet or foam or cardboard
First I started by filling some orange balloons with flour. I happened to have orange balloons leftover from my twins rainbow party so I used those.
To fill them with flour you will need an empty water bottle and some flour. Use a funnel to pour some flour into an empty water bottle.
Stretch a balloon over the top of the bottle.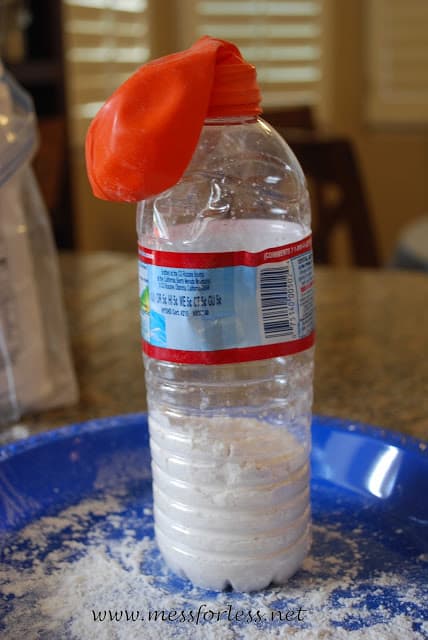 Squeeze the bottle to get some air in the balloon.
Once you have air in the balloon turn the bottle over and shake some flour into the balloon until the balloon gets full. You may need to squeeze the bottle a few times to get more flour into the balloon.
Pull the balloon off the bottle and tie the end. Use your permanent marker to draw a jack-o-lantern face on the balloon.
I made 7 balloons. You can make however many you wish.
I bought a sheet of foam at the dollar store. I found it in the school supply section.
I drew a ghost on it and used an exacto knife to cut it out and cut a big hole in the center for the mouth. I also drew some ghostly eyes.
I cut some pieces from the leftover foam to attach to the back of the ghost to make it stand up. Then I attached them using packing tape.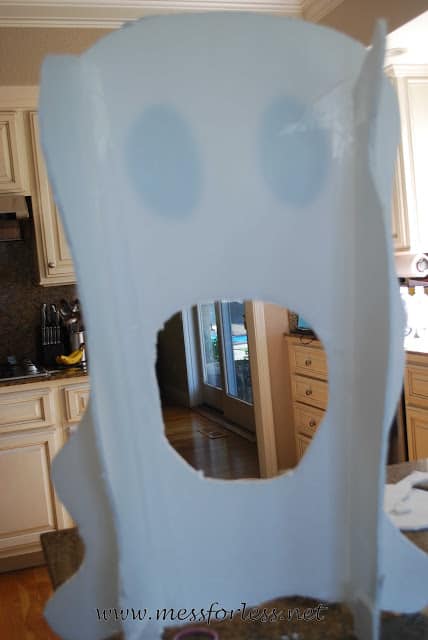 When the game was done we took it outside so we could play with it. The kids loved Ghost Toss! It took them a while to get the hang of tossing the ball through the ghost's mouth. The poor guy kept getting hit everywhere but his mouth.
They played this game non-stop. They took turns throwing the 7 balloons into the ghost's mouth and after a while they figured out hot to aim the balloon better.
This simple Halloween activity was easy and cheap to create and has become a favorite that the kids ask to play again and again.
That's not to say there was no cheating...
GET THESE HALLOWEEN PRINTABLES
Kids will love these Halloween I Spy printables. This printable I Spy is fun for kids of all ages. Kids will look and find each Halloween item and then write down how many of each item they find. This helps them with visual discrimination skills as well as writing and counting. So many skills to practice with these kids printables. Great for the classroom or for home use. Kids will love doing these to celebrate Halloween.
For more fun Halloween ideas check out: