Do you or your kids ever feel stressed? Well, have I got the solution for you - DIY Stress Balls! Okay, so maybe my solution won't remove all stress from your life, but it should help you lower your stress levels a bit. And hey, every little bit helps, right? These stress balls are super fun to make with kids and there are many options to personalize them. Best of all, they feel amazing when squeezed and they make a great fidget toy.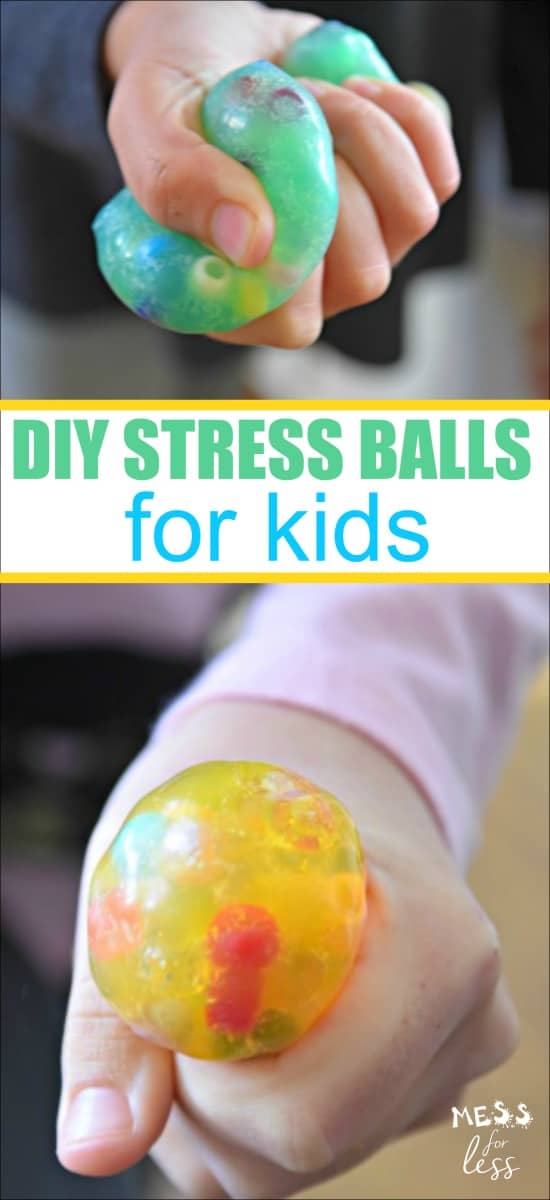 Jump to:
Why these DIY Stress Balls are awesome
I was inspired to make these DIY stress balls after my daughter got a stress ball making kit for her birthday. I had no idea how easy it was to make our own stress balls, and once we ran out of materials from her kit, we bought our own so we could make some at home.
These DIY stress balls with balloons are easy to make with some basic supplies, many of which you probably already have at home.
Supplies needed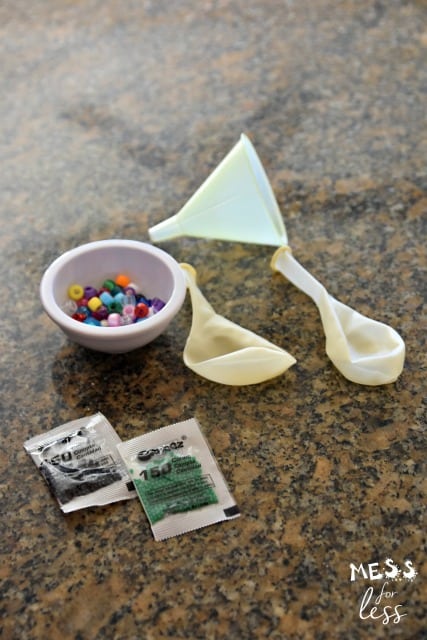 How to make a stress ball
Kids can easily make these stress balls themselves with some supervision. Make sure you don't do this with younger kids as the items might pose a choking challenge.
Place the small funnel over the opening of the balloon and hold to make sure the balloon doesn't fall off. Start dropping beads through the funnel.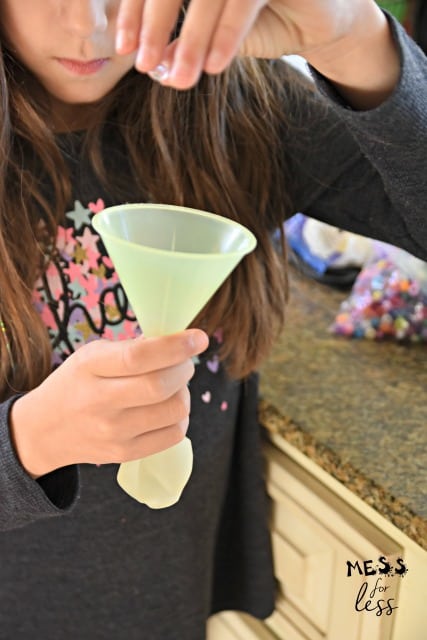 Fill the balloon up about halfway with the beads.
Now it is time to add the water beads. Keep in mind that these water beads will GROW, so you don't want to add too much. Less is more.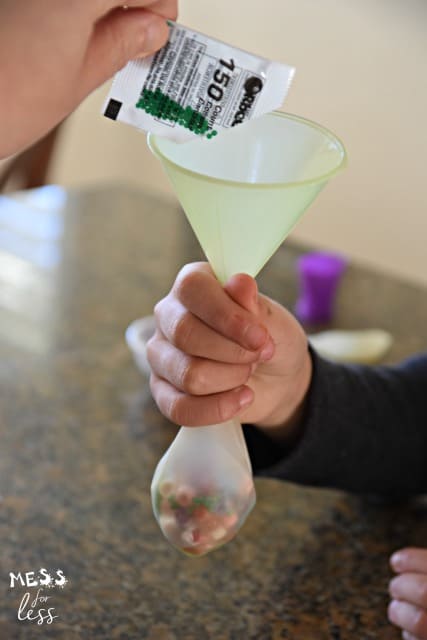 Next, we will be adding water to the balloon. We added 2 tablespoons of water to the balloon.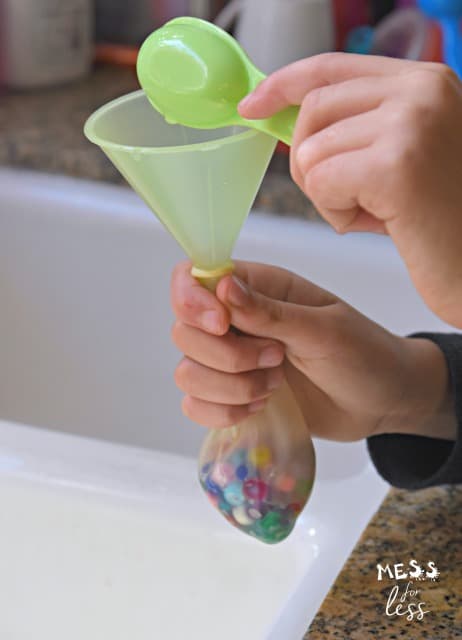 You should add enough water to the balloon so that all of the beads are covered. Tie the end of the balloon.
Now comes the hardest part...the waiting.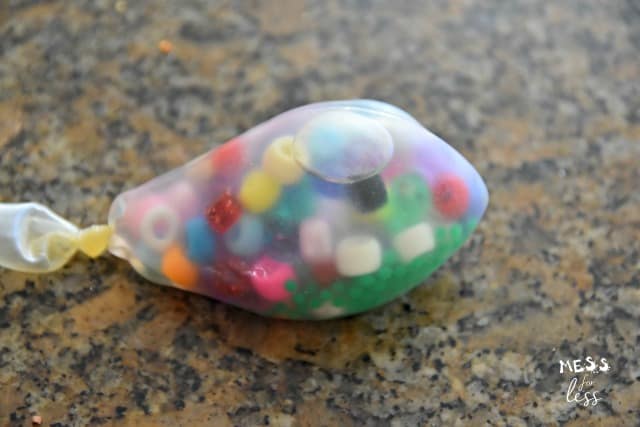 Within a few hours the water beads will start to grow.
When left overnight, the real magic happens. The water beads will have soaked up the water and expanded to fit the balloon. The color of your diy stress balls will depend mainly on the color of water beads you use. For more fun with kids, make this DIY Paper Mache Beehive.. We decided to do single color water beads in each balloon, but a mix would be lovely too.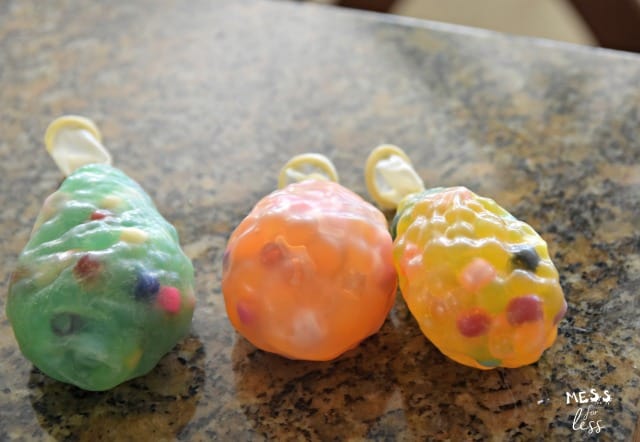 These balloon stress balls really feel great. My kids love squeezing them and working those small muscles in their hands. Squeezing them is also a wonderful sensory activity.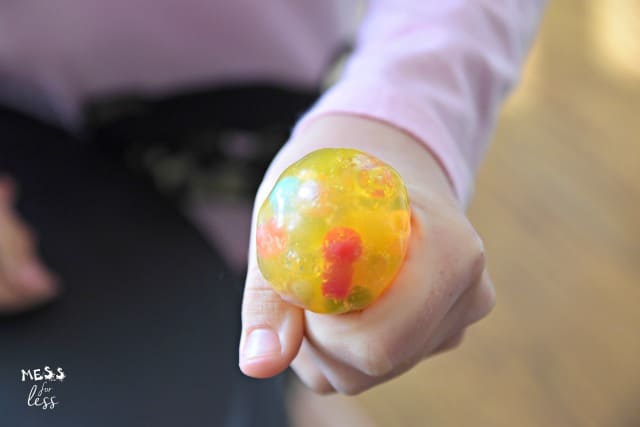 As kids squeeze the diy stress balls, the water beads will break up more and more which will give them a cool, squishy consistency.
These homemade stress balls are so easy to make that you will want to make a bunch just to have some around whenever you are feeling a little stressed. Not that moms ever feel stressed.
GOT A CRAFTY KID?
The folks at Annie's know crafting, so you know they have put together some amazing kits for your kids.
For girls:
The Creative Girls Club subscription box will get your girl's creative juices flowing. Girls get two kits each month full of crafting fun. Best of all, the crafting can be done with minimal adult supervision. While she is creating, she will be learning valuable skills such as painting, beading, stitching, paper crafting, and much more!
For boys and girls:
These Young Woodworkers Kits have everything your little builder needs to create crafts and toys they can enjoy, while learning important woodworking skills along the way. Your child's first three kits will include 5 kid-sized, high-quality tools they'll use again and again. A new woodworking project is delivered every four weeks, with a new and exciting skill to master. Each project teaches a new, real world skill that kids will use for years to come.
Related posts
Shaving Cream and Water Bead Cupcakes