We have been experimenting with making all types of slime around here. Sometimes we have fantastic results like with this Chocolate Birthday Cake Slime, and sometimes we have epic fails which I don't share here. But the slime I am going to share today is a winner. If you have been wondering How to Make Snow Slime or Cloud Slime as some call it, wonder no more. It is easy once you add a secret ingredient that will totally transform traditional slime.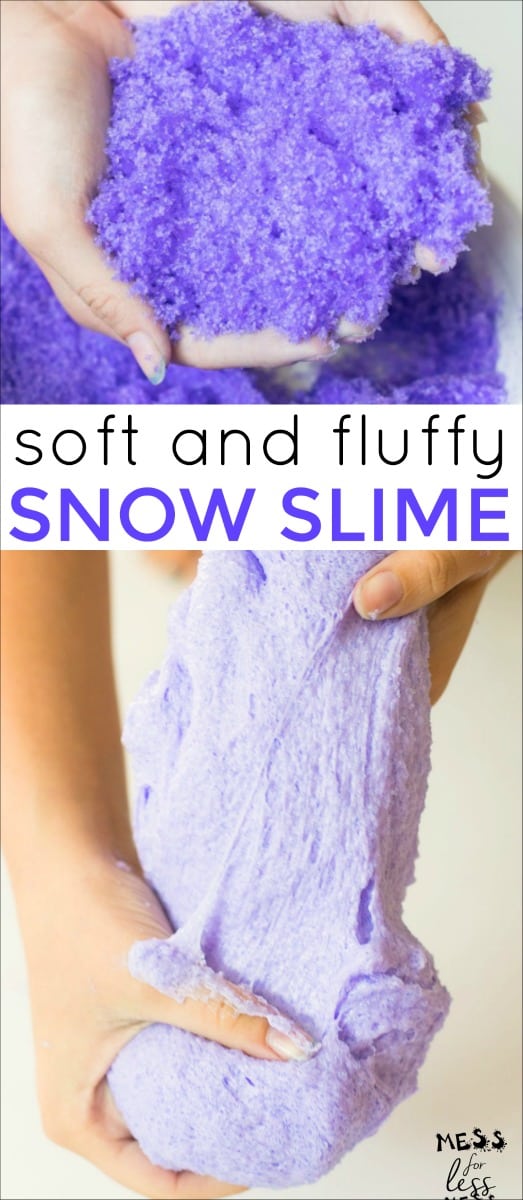 Please supervise your kids when making slime and have them wash their hands when they are done playing. Slime is NOT edible.
Jump to:
Why your kids will love this unique snow slime
DIY snow slime is fun and easy to make
Kids can make slime in their favorite color
Perfect slime for winter or any time!
Ingredients
For slime:
Spoon
Large bowl
water
baking soda
For snow:
Bowl
hot water
purple food coloring
How to Make this Snow Slime Recipe
To make the slime, pour a 5 oz bottle of white glue into a bowl.
Add ½ cup of water to the bowl then add ½ teaspoon of baking soda. Stir the ingredients together.
Add 1 tablespoon of contact solution to the slime mixture and stir. The small amount of solution will instantly help the slime begin to form. The slime will be super sticky at this point, but keep stirring the solution in the bowl until the slime takes shape and has the right consistency.
Set aside the slime.
Pour the Instant Snow into a separate bowl.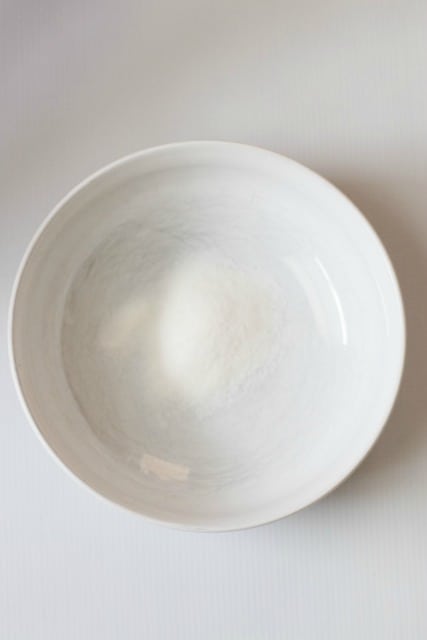 To make the snow, you should follow the directions on the package of Insta Snow. There are many varieties of Instant Snow available and they all have directions on the label for the amounts of snow and water you should use. The only thing you will do, is add purple food coloring to the water before adding the water to the snow. Add the purple hot water to the snow in the bowl and watch as it starts to grow. Use a spoon to stir it until it becomes fluffy.
Add the snow to the slime and knead, knead, knead. This is such a fun process. You will be amazed as the plain white slime transforms to a pretty purple shade to make cloud slime or snow slime.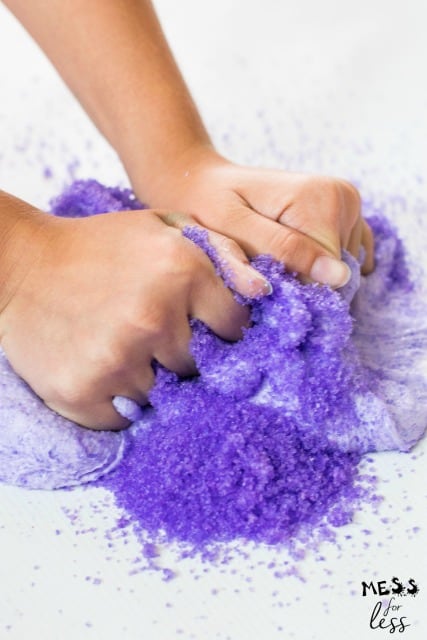 The more you knead and play with this snow slime, the less sticky it will be.
The snow slime or cloud slime has the most amazing texture. It is soft and fluffy and just different than traditional slime you might be used to thanks to the artificial snow.
If you don't have purple food coloring, you can use whatever color you have on hand or just leave the slime white for a true cloud or snow look.
Now that you know how to make cloud slime, feel free to personalize it. Add different colors and scents to make this cloud slime or snow slime even more fun!
The Spangler Science Club delivers amazing hands-on science to your door every month. If you are looking for some more easy experiments, the club has something for you!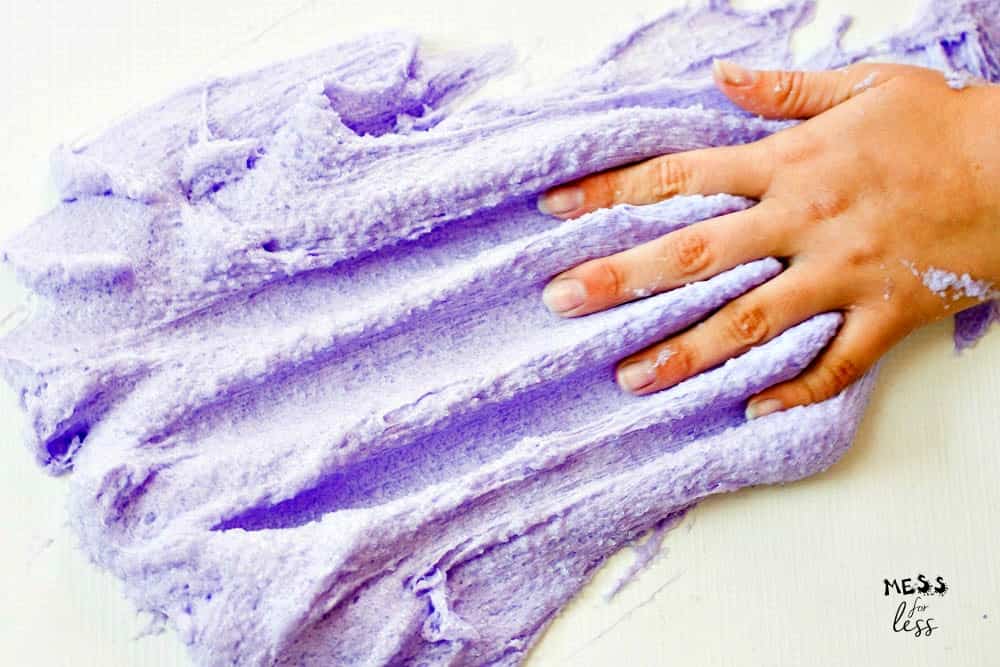 Frequently asked questions
Where can I get containers for slime?
This slime can be stored in an airtight container if your kids don't want to play with it right away. After noticing my kids leaving slime everywhere and finding lots of messes, I purchased these containers and they have been a life saver.
How long will slime last in a container?
It should last 7-14 days in an airtight container at room temperature.
Related posts