Have your kids been begging you to make cloud slime? Have you been wondering what makes it different than ordinary slime? Well, the secret is snow, but not the kind that falls from the sky. This Easy Cloud Slime Recipe is the best fluffy slime recipe I have tried. It is stretchy, soft, and textured all at the same time. Find out how to make it and why snow makes all the difference!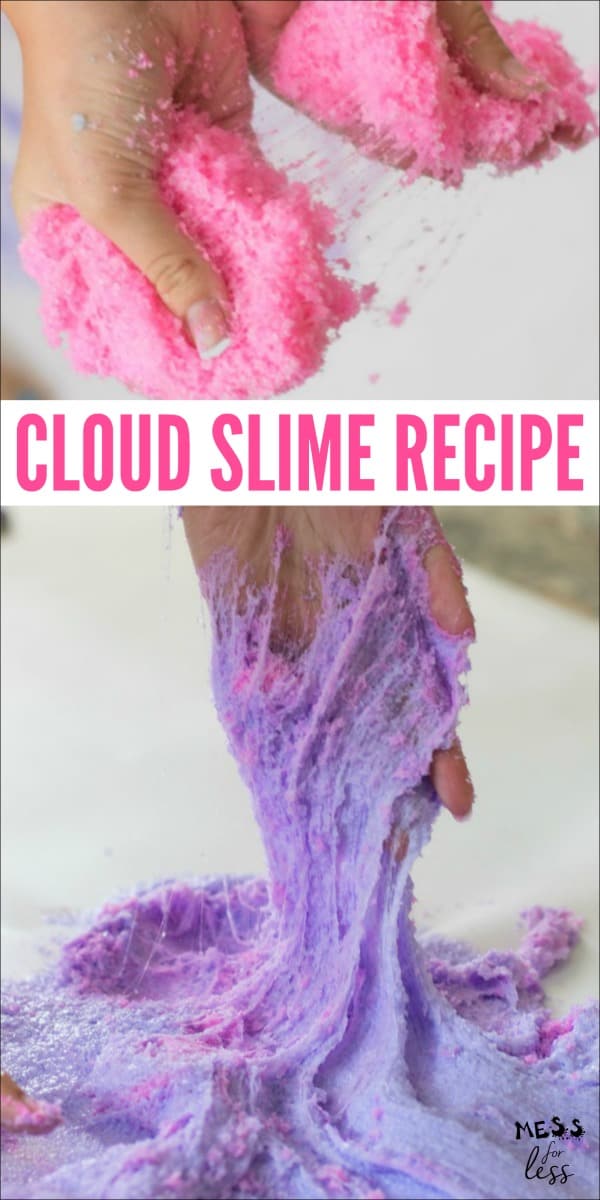 Please supervise your kids and take precautions when making slime and have them wash hands when they are done playing. Slime is NOT edible.
What is the secret to making this Cloud Slime Recipe
Cloud slime is also know as snow slime because of the Instant Snow you will use to make it. We have shared How to Make Snow Slime in the past, and the directions are similar to making this easy cloud slime recipe. Instant Snow is a powder that when mixed with water creates a fake snow. It can also be added to slime to create an awesome texture.
Supplies needed
For each color of slime you will be making:
Spoon
Bowl
1 - 5 oz bottle of white glue
½ cup water
½ teaspoon baking soda
1 tbsp contact solution
For snow:
Bowl
Instant Snow powder
Hot water
4-5 drops of food coloring (if you are making multicolored cloud slime, for one batch you can use pink food coloring, and for another batch use purple food coloring).
How to make cloud slime instructions
(If you want to make multi-colored slime like we did, you will make two batches of this slime)
To make the slime, add 5 oz of white glue to a bowl.
Next, add ½ cup of water to the glue in the bowl and add ½ teaspoon of baking soda. Mix the ingredients together with a plastic spatula.
Now, you will add 1 tablespoon of contact lens solution to the slime mixture and stir. The baking soda and contact solution are the slime activators. They will help the slime to form. It will be very sticky at this point, but keep stirring until the slime starts to pull away from the sides of the bowl and develops a slime like consistency.
Set aside the slime.
Now it is time to create the snow that will give this cloud slime it's fluffy texture. Pour the Instant Snow into a separate bowl.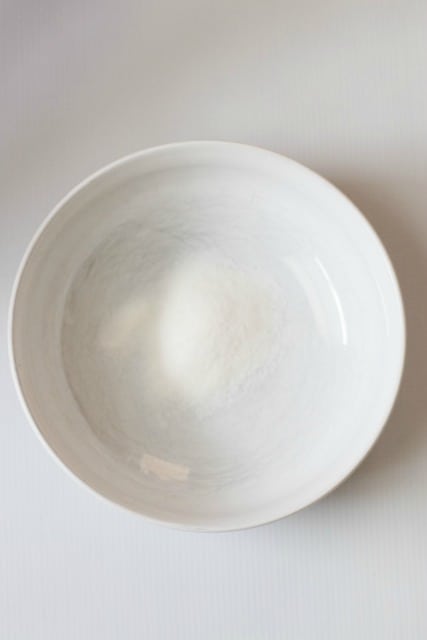 To make the snow, follow the directions on the package of Instant Snow. There are many varieties of Instant Snow and they all have directions on the label for the amounts of snow and water you should use. To make the snow colored, the only thing you need to do is add your food coloring to the water before adding the water to the snow.
Add the colored hot water to the snow in the bowl and watch as it starts to grow. Kids find this fascinating to watch. Stir the snow with a spoon until it becomes fluffy.
Add the colored snow to the slime you have already made and knead. The more you knead this easy cloud slime recipe, the less sticky it will be.
This homemade fluffy slime has the coolest texture thanks to the Instant Snow! You won't be able to stop playing with it.
The fun really starts when you combine the two colors of cloud slime. Add the pink cloud slime to the purple cloud slime and knead to combine.
The resulting color remind me of unicorn slime.
I hope you enjoy playing with this colorful cloud dough! I have you'll agree that it is the best cloud slime recipe ever!
Easy experiments are so much fun for kids and they are not intimidating for parents. The Spangler Science Club makes a great gift for budding scientists. Each month, your child will receive the most amazing science experiments delivered to your door. Join Today!
Frequently asked questions
How do you store this slime?
This slime can be stored in a covered container if your kids don't want to play with it right away. After noticing my kids leaving slime everywhere and finding lots of messes, I purchased these containers and they have been a life saver.
What glue do you use to make slime?
Any kind of white glue will work, but I prefer elmers glue or elmers school glue.
Do I need shaving cream or lotion to make this slime?
White shaving cream is not needed for this slime diy and neither is any lotion.
Related posts