Have you ever tried making oobleck with your kids? Oobleck - a slime that possesses the properties of both a liquid and solid - is simple to make using cornstarch and water. We decided to spice up this ordinary glitter oobleck recipe by adding some glitter and food coloring. The kids loved exploring this messy substance and we even added some marbles for more sensory fun.
If you are interested in purchasing supplies for this activity, affiliate links are provided at the end of this post.

You will need the following to make one batch of our easy oobleck:
1 ½-2 cups of cornstarch
1 cup of water
Food coloring
Glitter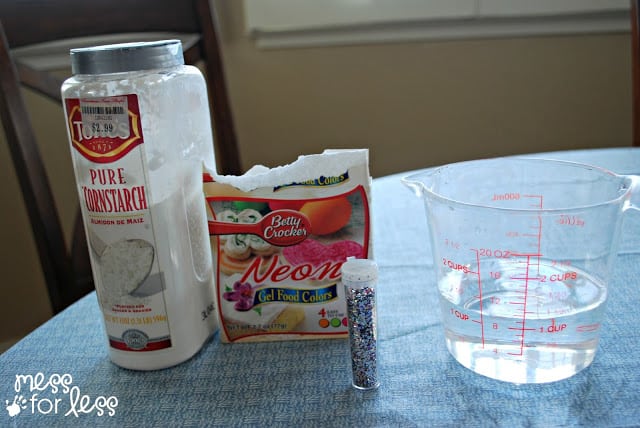 Combine the water and cornstarch. If you would like a more solid oobleck you can add the full 2 cups of cornstarch. We added 1 ½ cups and did so a little at a time as the kids wanted to see how the water changed as we added more and more cornstarch.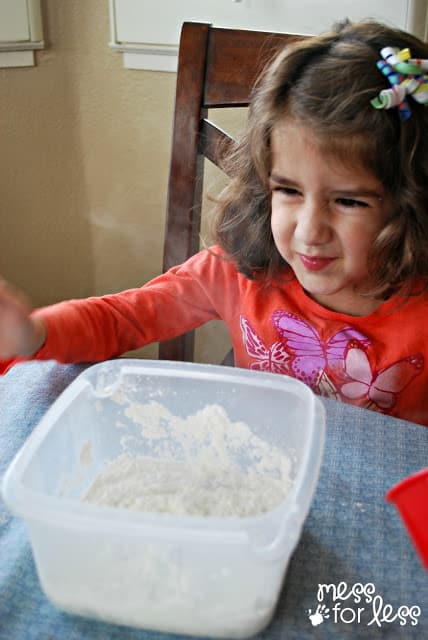 We also added some food coloring and glitter (it makes everything better) and then stirred. One of my daughters is not fond of getting her hands dirty. She was perfectly happily to explore the various properties of the oobleck using a spoon. She did venture out and touch it with the tip of her finger and that seemed to confirm that it wasn't her thing.
My other kids jumped in with both hands. The loved trying to hold the oobleck and watching it run off their fingers.
The bottom of the container held the oobleck that felt more solid, while they were able to pour the oobleck closer to the surface.
Next, we added some marbles for exploration. I also provided the kids with some small plastic cups where they could scoop out the marbles they found.
The marbles tended to stick to the thicker bottom, so the kids really worked their finger muscles fishing them out.
As you can see, this daughter enjoyed getting her hands dirty with this sensory activity.
She actually liked getting everything dirty. I added some foil to the bottom of the oobleck container to handle and spills. There were lots, but the interesting thing is that the spills turned solid pretty quickly.
This sensory experience even provided an opportunity for cooperative play among sisters. They experimented with mixing their colors of oobleck together.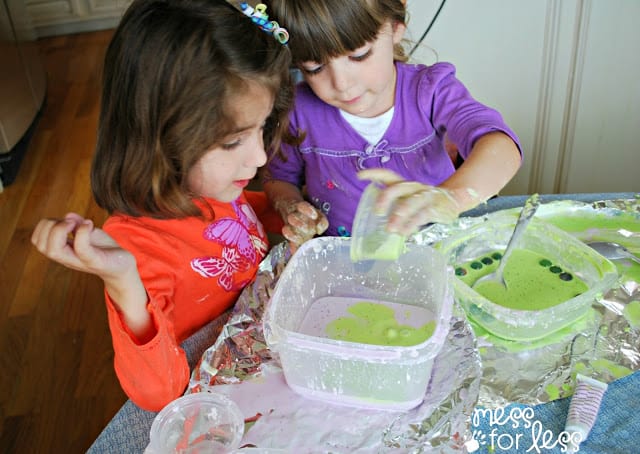 Instead of just making a basic oobleck, jazz it up by adding some things you already have at home like glitter and marbles. What do you think would be fun to add to homemade oobleck?