Are your kids excited about the fact that Toy Story 4 is coming out in June? We can't wait for the new movie, and to help us pass the time until it comes, we have been be making some toy story themed slime. This Army Man Toy Story Slime is based on the green army men from Toy Story that have become so popular. It would be a great party favor for a Toy Story themed party, or if you are feeling more adventurous, you can make it with the kids at the party.
Jump to:
Why this slime is fun
Bold colors
Amazingly soft texture
Perfect for Toy Story lovers
Supplies need to make Army Man Slime
4 containers or cups
Large bowl
Popsicle sticks or spoons
2 cups white glue
2 cups shaving cream
2 cups foaming hand wash
2 teaspoon lotion
2 teaspoon cornstarch
2 teaspoon baking soda
4 tablespoon contact solution
How to make army man Toy Story slime
To make this slime, pour 2 cups of white glue and 2 cups of foaming hand wash into a large bowl.

Next, pour 2 cups of shaving cream into the bowl. Shaving cream can be tricky to measure, so try and get as close to the measurement as you can. A little extra won't hurt.

Mix the ingredients in the bowl until smooth, and divide the mixture into 4 smaller cups.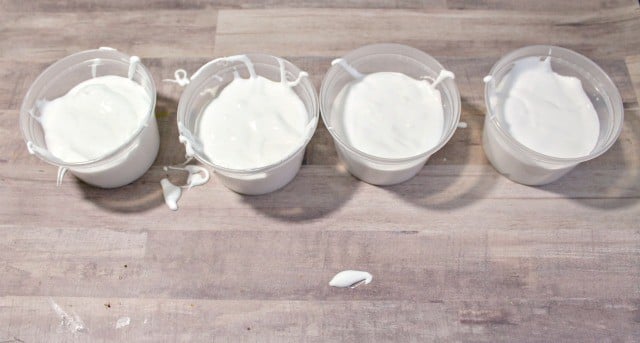 Add ½ teaspoon of lotion and ½ teaspoon of cornstarch to each cup and mix.
Use the paint to color each cup a different color. You will have a green, darker green, tan and black. Add more of the paint to get a deeper color. Stir until the color is completely mixed.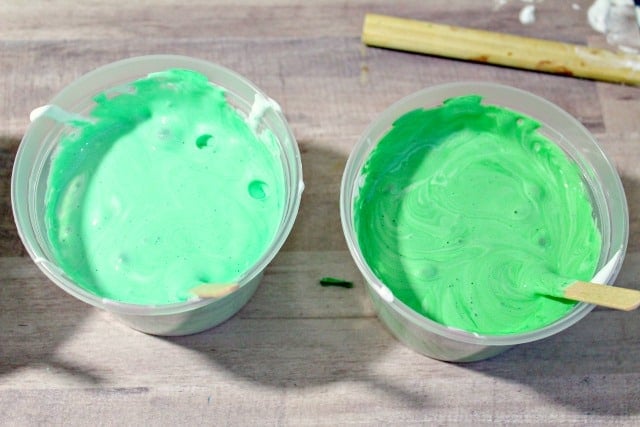 Now add ½ teaspoon of baking soda to each colored cup and stir.
Finally, add 1 tablespoon of contact solution to each cup and stir until the slime pulls away from the side of the bowl. (I recommend adding this to one cup at a time, stirring and then moving on!)
Knead each of the slime colors separately until the slime is no longer sticky. You will now be left with 4 colors of slime.

Once all of the slime is kneaded, you can stretch out your slime, lay it on a flat surface and twist to combine the colors.
Adding some army men toys to the slime makes it even more fun!
As your kids play with this Army Man Toy Story Slime, the color will start to change as the four colors combine.
Once mixed, your slime should turn an army green/grey.
This slime can be stored in an airtight container if your kids don't want to play with it right away. After noticing my kids leaving slime everywhere and finding lots of messes, I purchased these containers and they have been a life saver.
The Spangler Science Club will send incredible hands-on science to your door each month if you're searching for some more simple experiments. Sign up now!
Related posts