Toy Story 4 is coming out in June, and I can think of no better way to celebrate this much loved movie than with this fun Alien Toy Story Slime. It is super fun for kids to make and it is based on a beloved character from the series. This alien slime is super stretchy and sparkly. It would be a great party favor for a Toy Story themed party.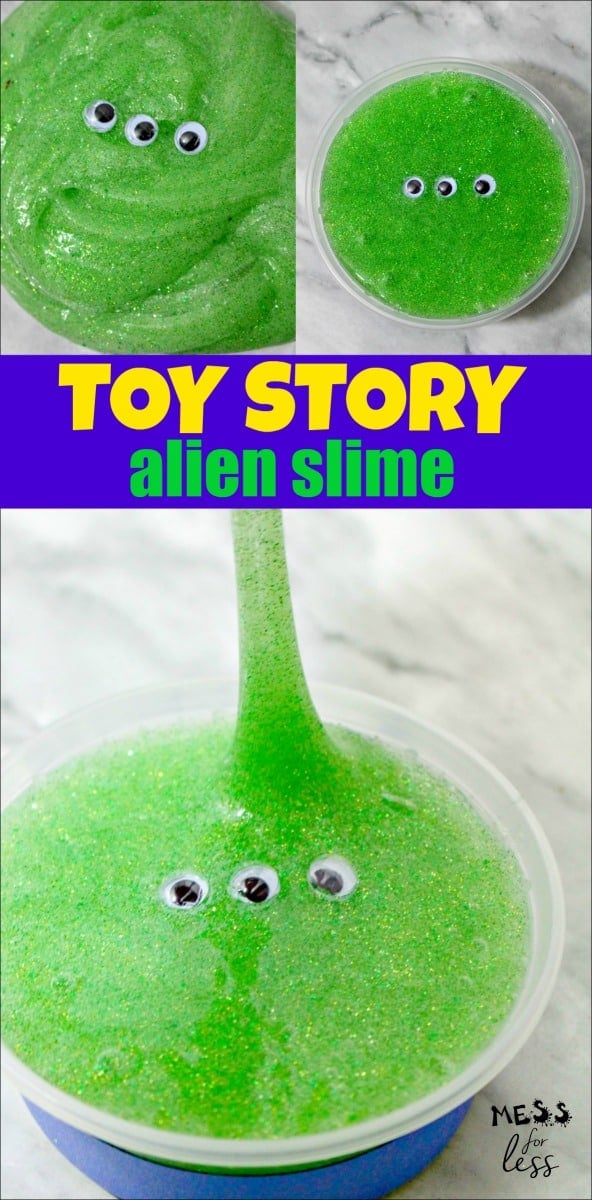 Alien Toy Story Slime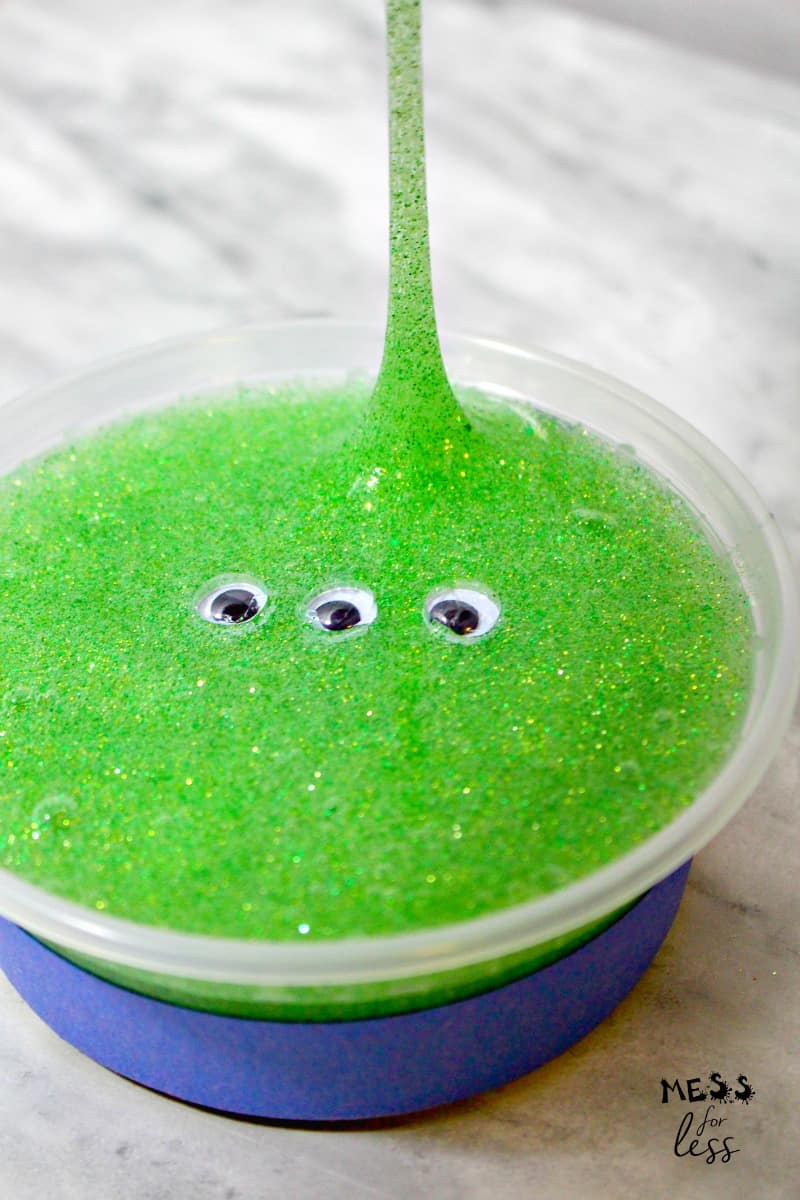 Supplies you will need to make Alien Toy Story Slime:
5 oz clear glue
1/2 cup water
Green coloring – I used soap colorant but you can use food coloring, paint, or pigment too!
Green extra fine glitter
1/2 tsp baking soda
1 tbsp contact solution
3 googly eyes
slime container
blue construction paper
Directions to make Alien Toy Story Slime:
Pour 5 oz of clear glue into a bowl.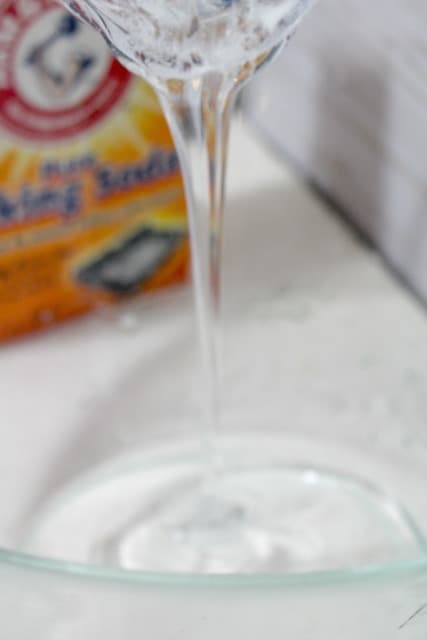 Next, add 1/2 cup of water and stir with the glue until the glue is completely broken down in the water.
Now it's time to color the slime green. For this slime, soap colorant in kiwi was used. Soap colorants are skin safe, won't dye your hands, and are available in many different colors!
Mix the color into the mixture. Then, mix in 1/2 teaspoon of baking soda. Baking soda will determine the thickness of your slime.
Add in a 1 tablespoon of contact solution and mix. The slime will begin to thicken instantly. Keep stirring! You can also let the slime sit for a minute or two to let the activator do its work.
When the slime pulls away from the bowl, take it out and knead it. It may still be sticky, but keep kneading and pulling on it. If the slime is still very sticky, feel free to add a little bit more contact solution. Be careful not to over activate your slime!
Now let's add some green glitter to make our Alien Toy Story Slime really sparkle. For a subtle glitter look, you can use extra fine green glitter. Mix well.
Put the slime in your slime container and add 3 googly eyes to the top.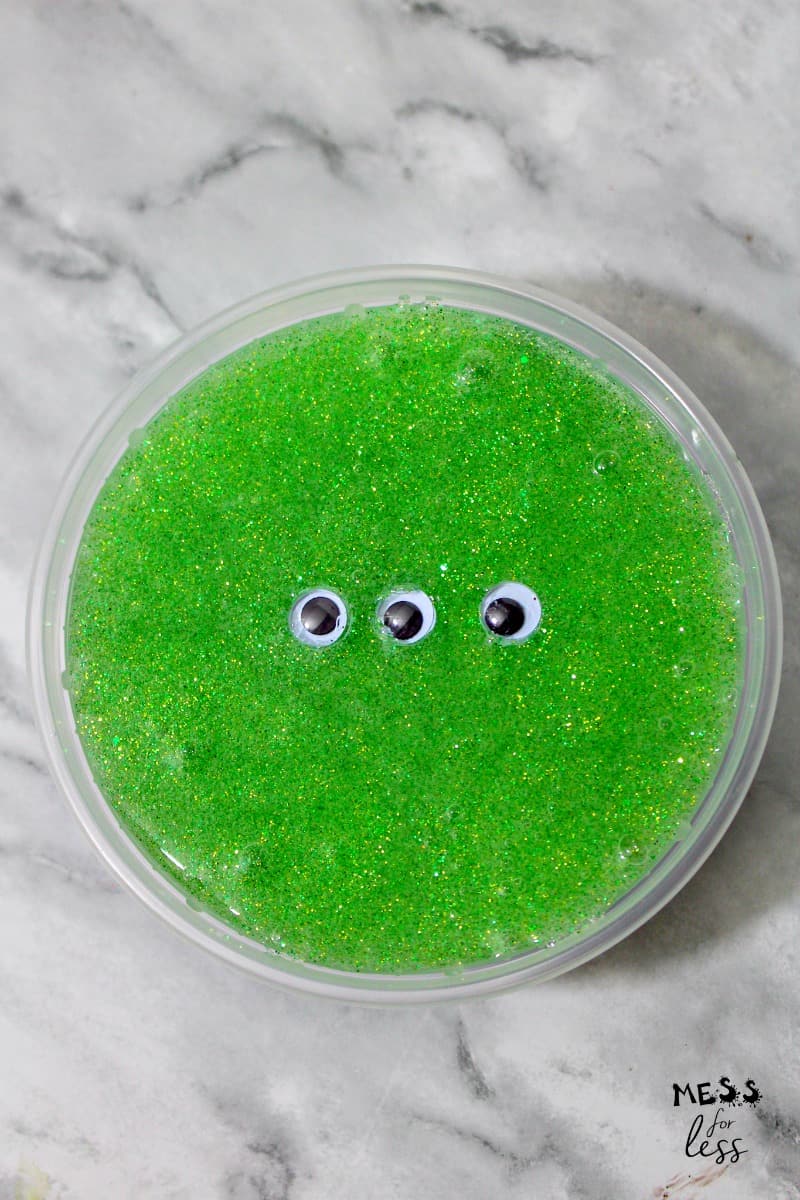 Cut a strip of blue construction paper for the alien's outfit to add to the slime container. You can just tape it in place.
If you are having a toy story themed party for your child, this would be a great party favor. Simply make enough beforehand and give out to kids in slime containers. If you are feeling brave, you can also make this with the kids at the party.
This slime can be stored in an airtight container if your kids don't want to play with it right away. After noticing my kids leaving slime everywhere and finding lots of messes, I purchased these containers and they have been a life saver.
KiwiCo
If you are looking for more fun ways to engage your kids, I highly recommend KiwiCo. As a former teacher, I was really impressed with the quality of materials found in KiwiCo. Some moms have told me that they want to do activities like I do on Mess For Less with their kids, but they just don't have to the time to go buy all the supplies and prepare them for the activity. KiwiCo is the perfect solution. Every month your KiwiCo will focus on a particular theme like Colors, Dinosaurs or Gardening. KiwiCo offer a variety of projects ranging from crafts, imaginative play, science experiments and more.
If you liked this Alien Toy Story Slime, you'll love:
Fluffy Slime Recipe without Borax