I am so excited for the live action Aladdin movie that is coming out this spring! The animated movie is one of my favorites due in large part to the catchy songs. This Aladdin inspired genie slime pays tribute to the wonderful movie and songs. If your kids are big Aladdin fans, they will love learning How to Make Genie Slime.
This slime is not edible. Please supervise your kids when making slime and have them wash their hands when they are done playing.
How to Make Genie Slime -Aladdin Inspired
Ingredients needed to make Genie Slime
5 oz clear glue
½ cup water
blue food coloring
blue glitter
½ teaspoon baking soda
1 tablespoon contact solution
Lamp and Aladdin Charms
Directions to make Genie Slime
Pour 5 oz of clear glue into a bowl.

Next, add ½ cup of water to the bowl with the glue. Mix together until the glue has broken up and is incorporated into the water.
Add a few drops of blue food coloring, mixing until you get the perfect Genie blue color.

Now, it's time for my favorite part - the addition of the glitter. Sprinkle some blue glitter into the bowl. I believe you can never have too much glitter, so I use a generous amount for extra sparkle. Stir to incorporate the glitter into the mixture.

Mix ½ teaspoon baking soda into the bowl. Then, add 1 tablespoon of contact solution and mix. The contact solution will help the slime to be less sticky.
You will notice as you are mixing the Aladdin slime that it will start to pull away from the sides of the bowl. This is your clue that the slime is ready to knead. Remove the slime from the bowl and place on a work surface to start kneading.
The slime will still be sticky. But just keep kneading it! You can add a little more contact solution at this point if it is still super sticky, but be careful not to over activate the slime.
Once the slime is made you can add a small magic lamp charm or one of these fun Aladdin character charms.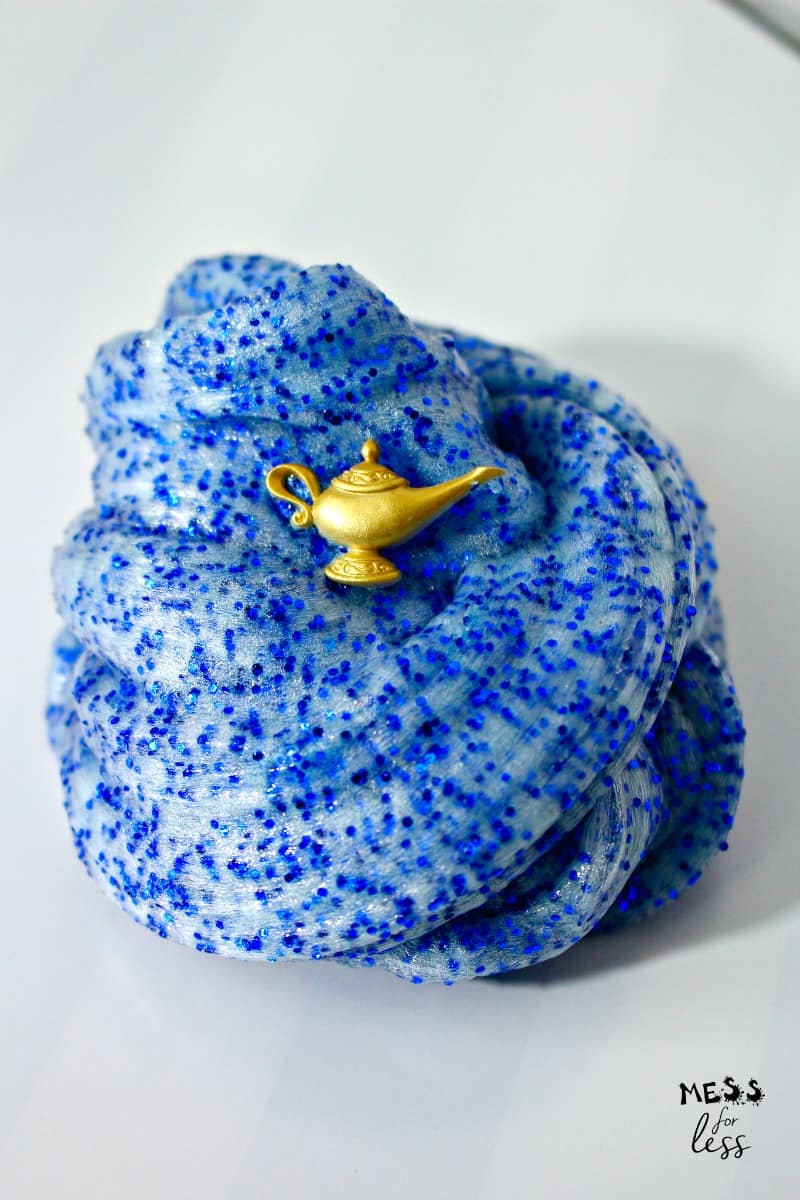 This Aladdin slime would be great to make as an activity at an Aladdin themed birthday party. Or you can even make up multiple batches of this slime and give them out in little containers as party favors. It would be a hit with kids!
This slime can be stored in an airtight container if your kids don't want to play with it right away. After noticing my kids leaving slime everywhere and finding lots of messes, I purchased these containers and they have been a life saver.
GOT A CRAFTY KID?
The folks at Annie's know crafting, so you know they have put together some amazing kits for your kids.
For girls:
The Creative Girls Club subscription box will get your girl's creative juices flowing. Girls get two kits each month full of crafting fun. Best of all, the crafting can be done with minimal adult supervision. While she is creating, she will be learning valuable skills such as painting, beading, stitching, paper crafting, and much more!
For boys and girls:
These Young Woodworkers Kits have everything your little builder needs to create crafts and toys they can enjoy, while learning important woodworking skills along the way. Your child's first three kits will include 5 kid-sized, high-quality tools they'll use again and again. A new woodworking project is delivered every four weeks, with a new and exciting skill to master. Each project teaches a new, real world skill that kids will use for years to come.
If you liked learning how to make Genie Slime, you'll love: