Have you ever heard of unicorn poop slime? Well you can guess why it's called unicorn poop slime. This colorful concoction is what you might expect a unicorn to leave behind in a forest. Unicorn slime is very popular with kids these days, and it's no wonder, given its sparkly texture and pretty colors. If you've ever wondered How to Make Unicorn Slime, I can assure you, it's not as hard as it looks. Here's an easy recipe for unicorn slime that your kids will flip for.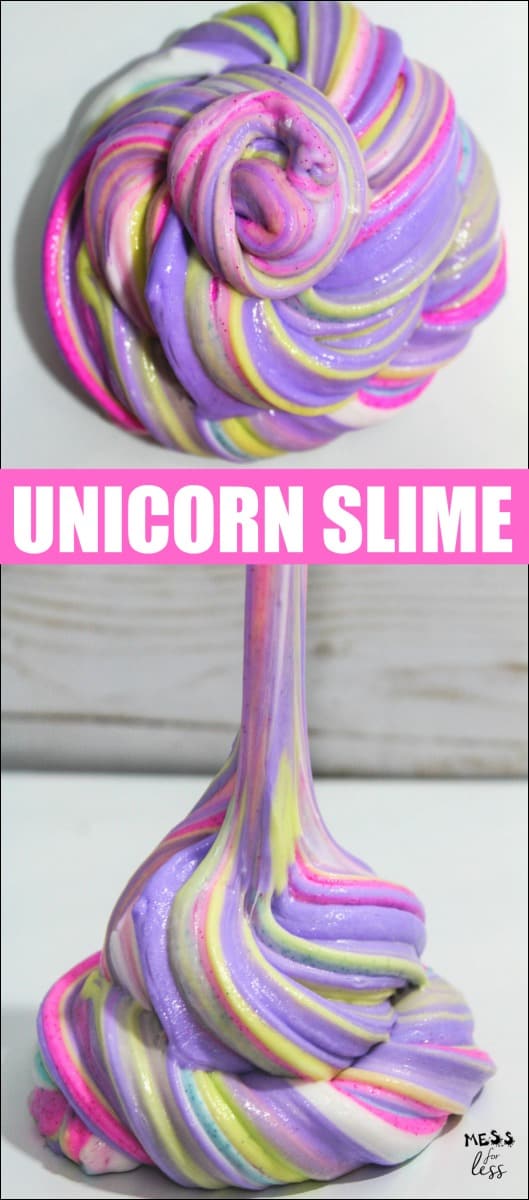 How to Make Unicorn Slime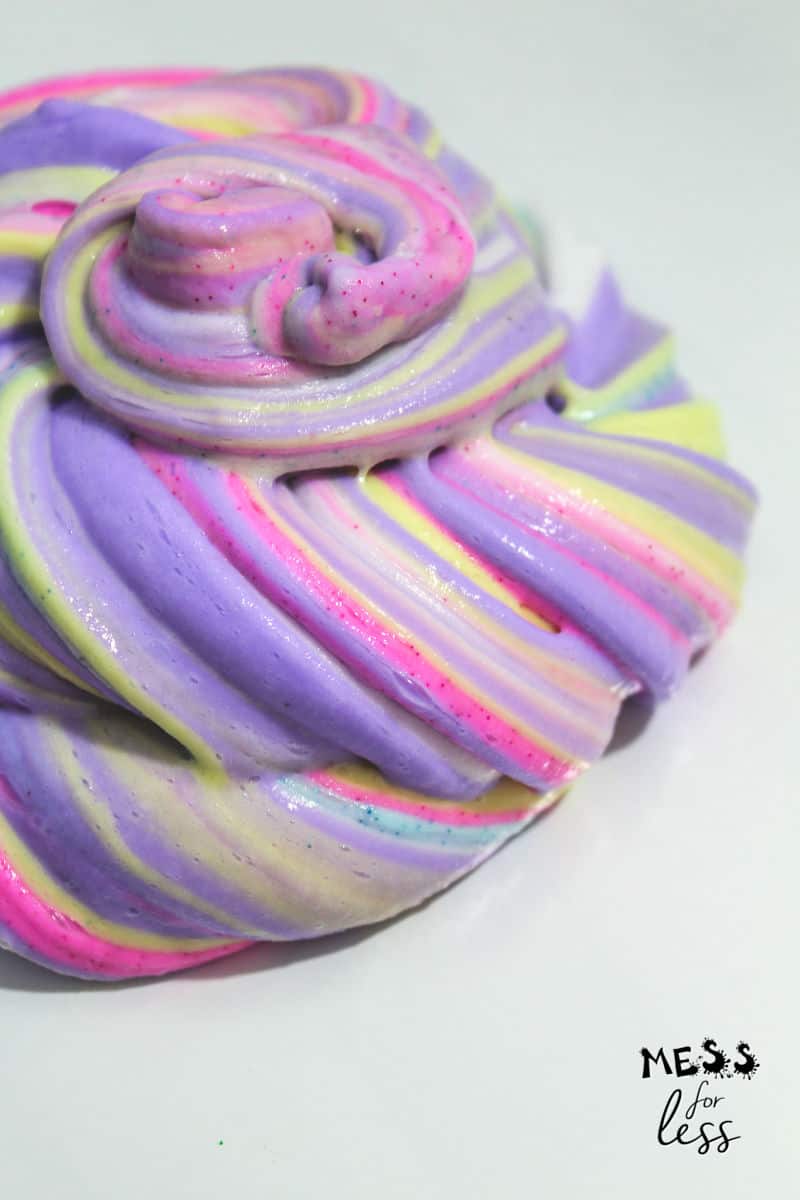 Here are the ingredients for each color of slime you will be making. You will have 5 colors total!
1/2 cup white glue
1/2 cup shaving cream
1/2 cup foaming hand wash
1/2 tsp baking soda
3/4 tbsp contact solution
Food coloring (pink, purple, teal and yellow)
Glitter (pink, purple, teal, yellow and iridescent)
Small bowl (5)
Instructions for making unicorn slime
In a bowl or container, measure out 1/2 cup white glue.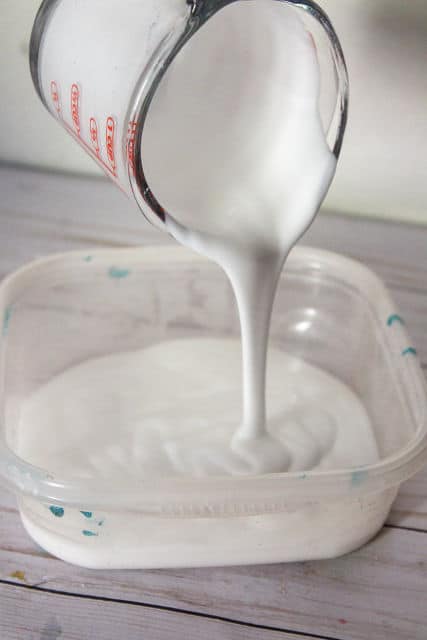 Then add 1/2 cup shaving cream. Shaving cream can be a little tough to measure, so don't worry if you add a little extra.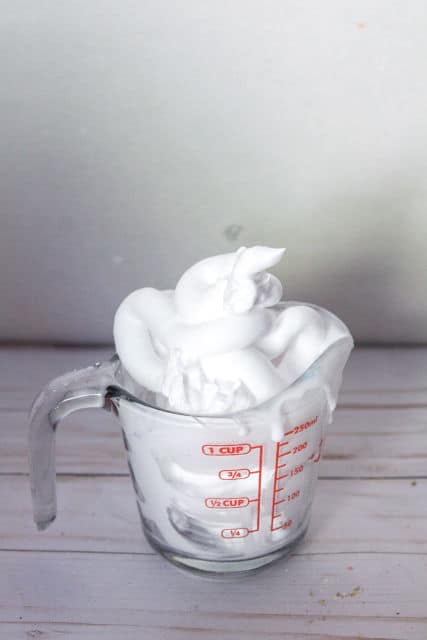 Mix the shaving cream and glue together and add 1/2 cup of foaming hand wash to the mixture. Mix all the ingredients well. The slime will be super foamy at this point.

Add in 1/2 teaspoon of cornstarch and about 1/2 teaspoon of body lotion. These will help your slime stretch and be fluffy.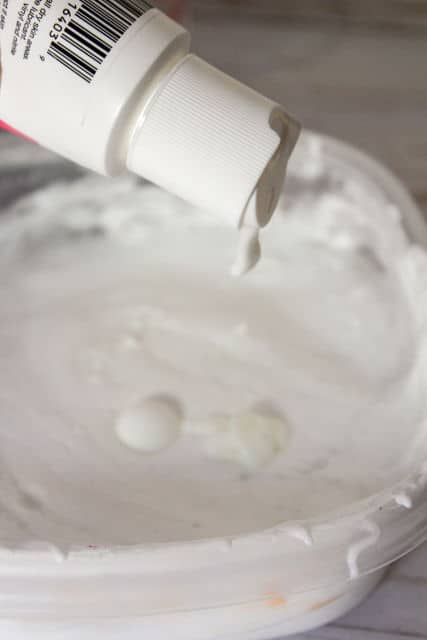 Next, add a few drops of food coloring. You want your slime to be pastel colored, so 1-2 drops should be enough.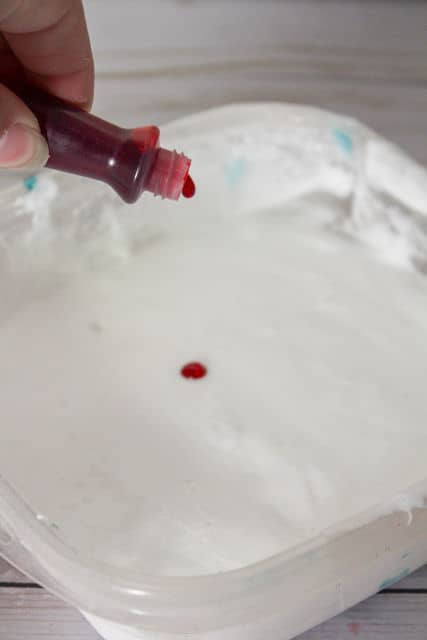 Add glitter if you wish. This is optional, but if your kids love glitter as much as mine do, you'll want to make this slime very glittery. I just think it looks more magical with glitter.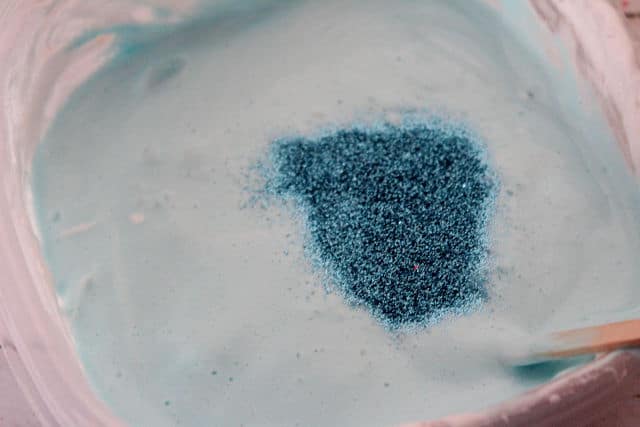 Next, add in 1/2 teaspoon of baking soda. (Start with 1/2 of a teaspoon and add more during kneading if you need to.) Baking soda is what will thicken your slime up.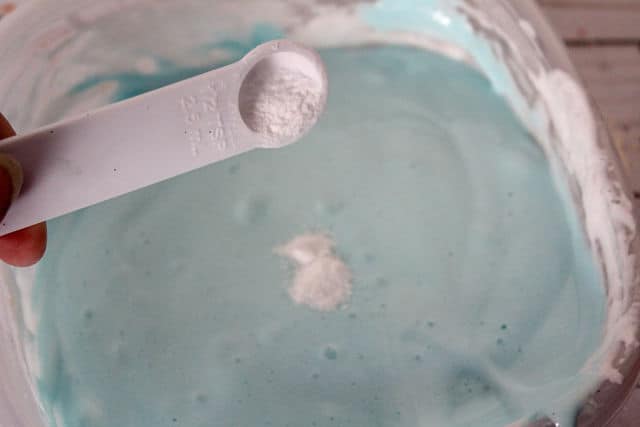 Finally, add in contact saline solution. Start with ¾ tablespoon. If you need to add a bit more, you can. Saline solution makes the slime less sticky. You will know you have enough, when the slime pulls away from the side of the bowl.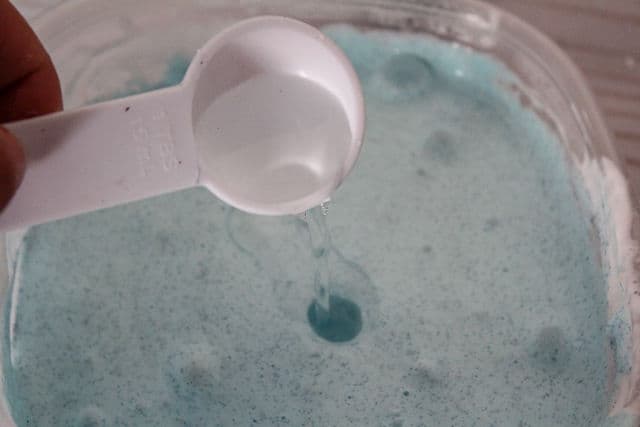 Knead the slime and set it to the side.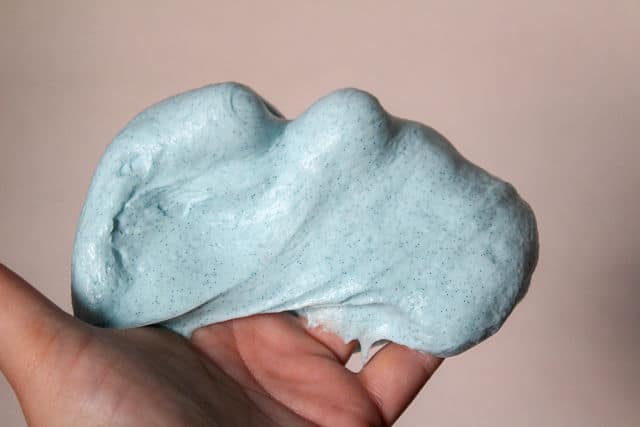 Repeat the process for the next 4 colors. You will have 5 colors in total: pink, purple, teal, yellow and white.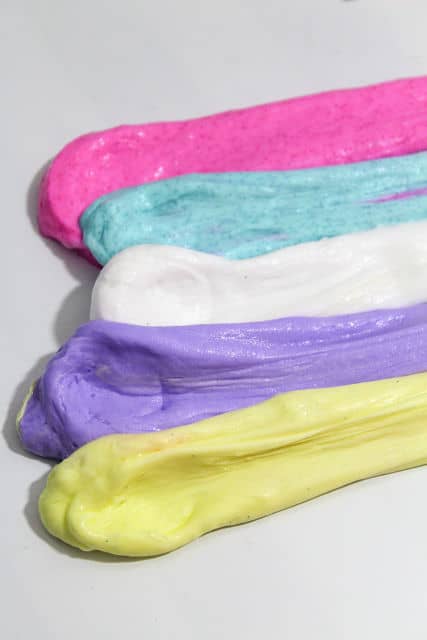 Swirl the colors together to make a colorful rainbow unicorn slime.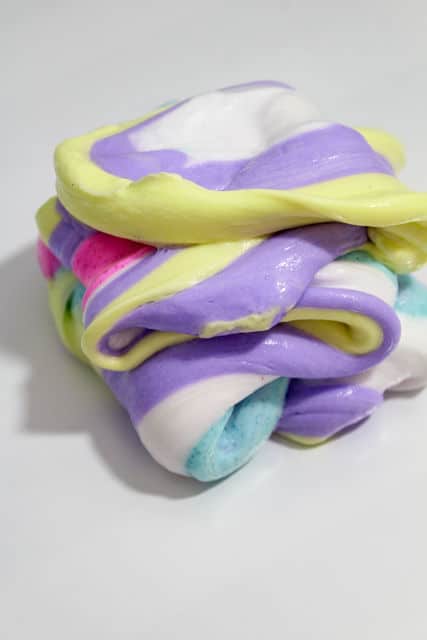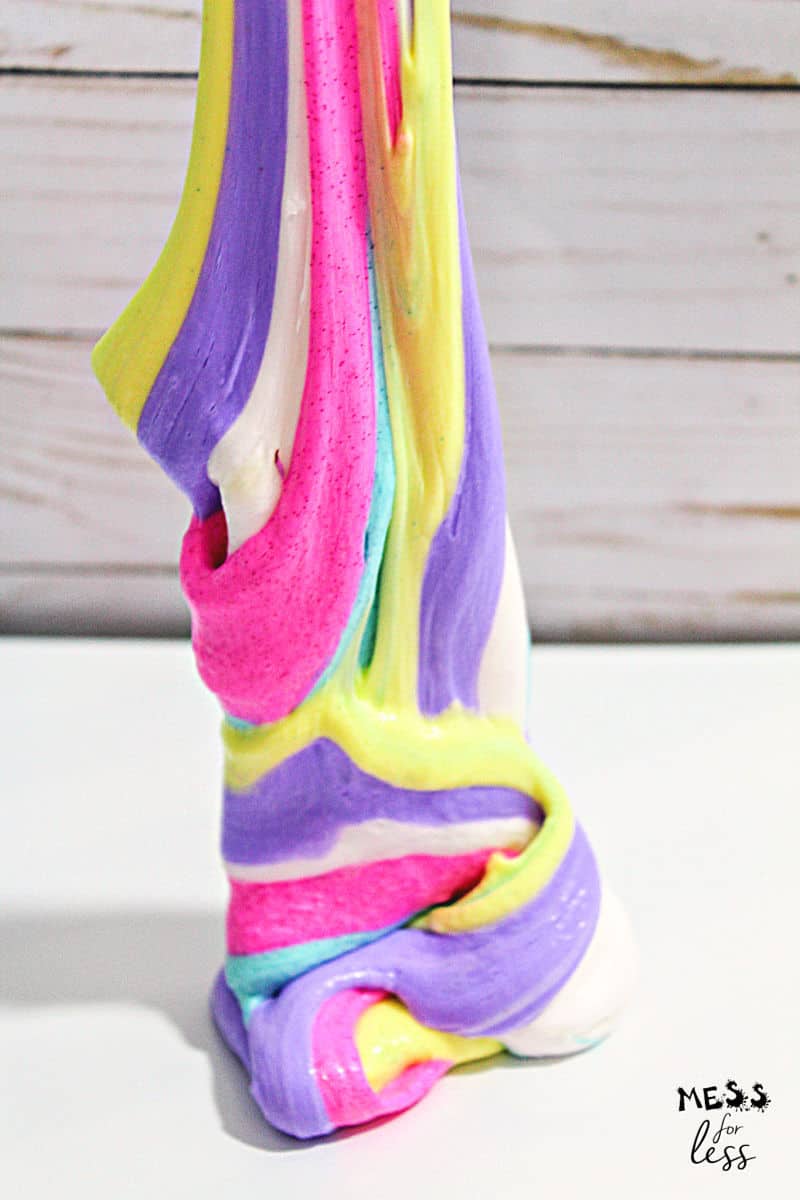 This slime can be stored in an airtight container if your kids don't want to play with it right away. After noticing my kids leaving slime everywhere and finding lots of messes, I purchased these containers and they have been a life saver.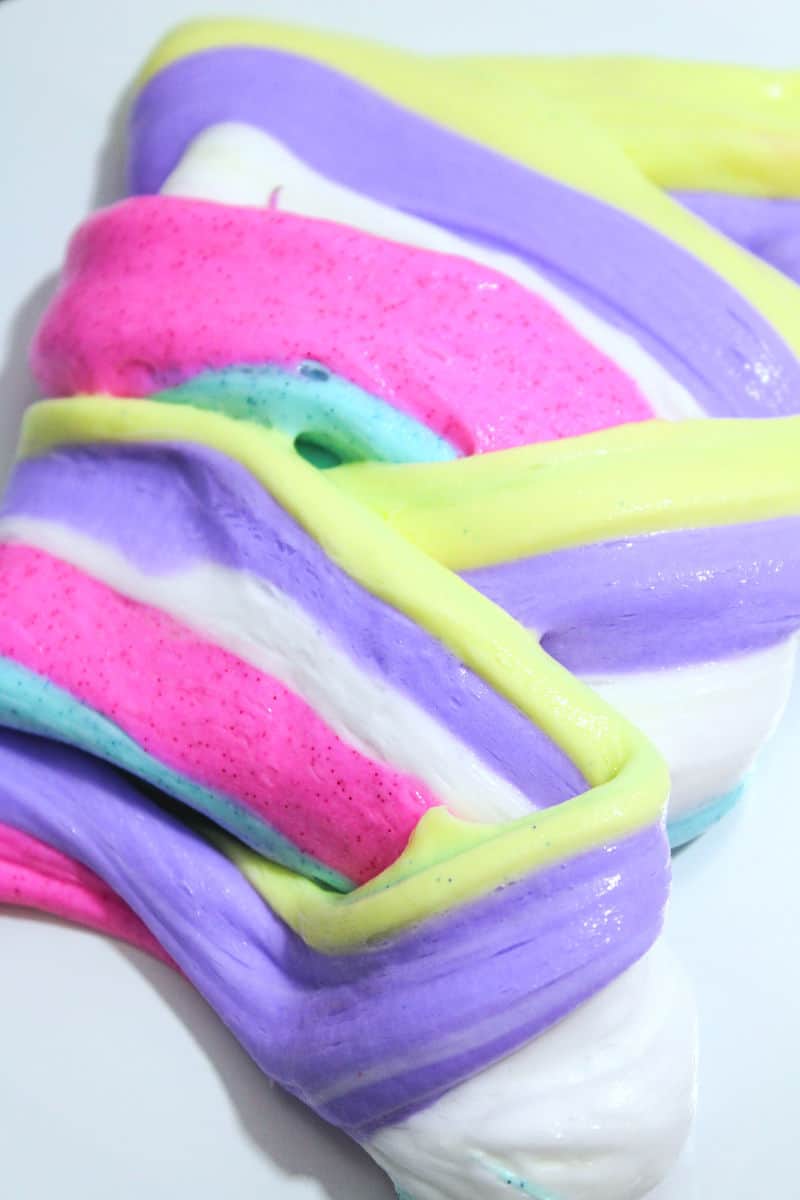 Now that you know how to make unicorn slime, you can make it all the time.
We had a unicorn themed birthday party for my twins this past year and this unicorn poop slime was the hit of the party.
In case you are wondering what happens when your kids play with the unicorn slime and the colors combine, this is how it looks. It becomes a glittery lavender color.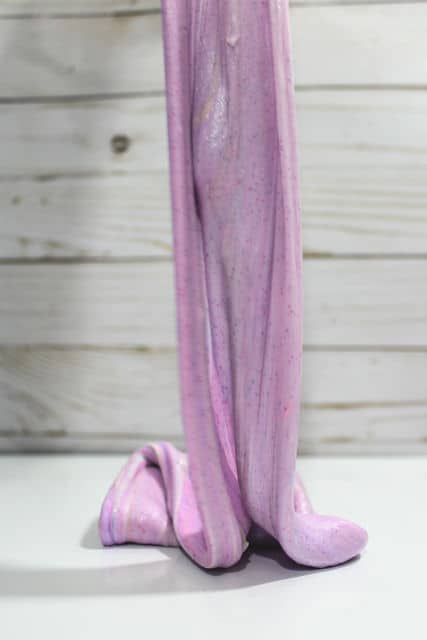 For more unicorn poop fun check out this Edible Unicorn Poop Play Dough from The Soccer Mom Blog.
Try KiwiCo
Looking for more fun activities to do with your kids? I highly recommend KiwiCo, which you can enjoy no matter the weather. As a former teacher, I was really impressed with the quality of materials found in KiwiCo.
Some moms have told me that they want to do activities like I do on Mess For Less with their kids, but they just don't have to the time to go buy all the supplies and prepare them for the activity. KiwiCo is the perfect solution. Every month your KiwiCo will focus on a particular theme like Colors, Dinosaurs or Gardening. KiwiCo offer a variety of projects ranging from crafts, imaginative play, science experiments and more.
If you liked learning How to Make Unicorn Slime, you'll love: