Do you have a child or friend who loves unicorns? If so, then these DIY unicorn bags are perfect for them. They may look complicated, but they can be made in a matter of minutes. If you are doing a unicorn birthday party, these would be adorable as unicorn party favor bags. You can also use them as a twist on the traditional gift bag. Add a bit of whimsy to gift giving and put a smile on someone's face. Learn How to Make a Unicorn Gift Bag for a party or just for the unicorn lover in your life.
How to Make a Unicorn Gift Bag
You will need:
Black Sharpie
Paper Flowers (Dollar Tree) if you can't find them, these will work.
Tissue Paper
Instructions to make 1 bag:
1. Cut a large unicorn horn out of the gold sparkle paper. It is better to cut your horn on the larger side since it can be trimmed later.
2. Next, cut two unicorn ears out of the white piece of foam paper.
3. Next, take your pink foam paper and cut out the pink section of the ears.
4. With the leftover pink foam paper, cut out circles for the unicorn cheeks.
5. Glue the white and pink cut-outs together to make an ear.
6. Glue the ears and horn to the top of the white gift bag.
7. For this next step, you will be gluing the paper flowers onto the gift bags. Space the flowers out ahead of time to be sure they are evenly spaced.
8. Time to draw those eyes! I suggest practicing on a blank piece of paper to perfect your technique before drawing them on the bag.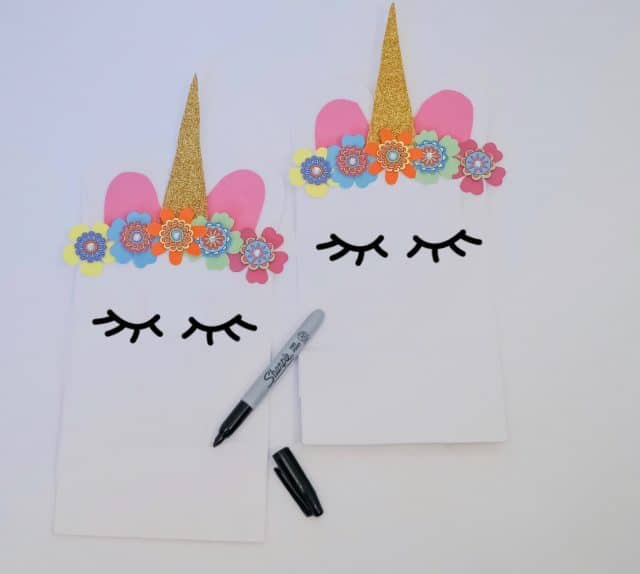 9. Time to glue on those cheeks!
10. Now the bags are ready to be stuffed with tissue paper and birthday goodies!
If you throwing a unicorn themed birthday party and are looking for some fun items to stuff these bags with, I reccoemdn: unicorn farts cotton candy (yes, that is a thing!), unicorn squishy, and unicorn lip gloss.
This would be a fun project to do with kids. I would make sure to have an adult do the gluing, but they can certainly help by cutting with child's scissors. If you are looking for more fun projects to do with your kids, I highly recommend KiwiCo. As a former teacher, I was really impressed with the quality of materials found in KiwiCo. Some moms have told me that they want to do activities like I do on Mess For Less with their kids, but they just don't have to the time to go buy all the supplies and prepare them for the activity. KiwiCo is the perfect solution.
Every month your KiwiCo will focus on a particular theme like Colors, Dinosaurs or Gardening. KiwiCo offer a variety of projects ranging from crafts, imaginative play, science experiments and more.
If you liked learning How to Make a Unicorn Gift Bag, you might also enjoy: