This paper bag angel craft is perfect to make with your kids this holiday season. You can use the angels to decorate around the house or string them up to make a pretty garland. So let's get started and transform an ordinary paper lunch bag into an adorable Paper Bag Angel Craft. Thanks to Imperial Sugar for sponsoring this post. All opinions are my own.
I found the inspiration for these adorable paper bag angels on Imperial Sugar's Kid's in the Kitchen section where you will find many Christmas Craft Projects.
Paper Bag Angel Craft
You will need:
paper bags
white paper
pink construction paper
various colors of construction paper for hair (yellow, brown, red)
sugar glue (recipe follows)
scissors
tape
black and red markers
4-inch paper doilies - 2 for each angel
gold pipe cleaners
cotton balls - 12 for each angel
Sugar Glue Recipe:
1 ½ cups all-purpose flour
½ cup Imperial Sugar Extra Fine Granulated Sugar
1 teaspoon vegetable oil
1 ½ cups water
Have an adult make the sugar glue by mixing flour, Imperial Sugar, water and oil in a pot and stirring over low heat until smooth. Keep stirring until there are no more lumps. I love using Imperial Sugar Extra Fine Granulated Sugar to make craft glue because the fine granules make the smoothest glue.
Pour the glue into a small cup and use a thin paint brush to spread the glue.
If you have white paper bags on hand, you can use those for the body of the angel. If you only have brown paper bags, then you can cut out some white paper to glue to the the part of the paper bag that is below the fold.
After you glue on the white paper, go over it with your hand to get rid of any air bubbles.
Next, cut out a piece of pink construction paper to cover the flap. Glue it on to make the angel's face.
Decide what color you want the hair to be. You can create different styles depending on what you want your paper bag angel craft to look like. If you want your angel to have bangs, cut three pieces of paper for the hair. One will be the width of the bag for the bangs, and two other pieces will be for the strands of hair for each side. Cut thin strips almost to the top to create individual pieces of hair. Glue on to the face.
If you don't want bangs, just cut two pieces of paper for the hair and cut small strips almost to the top. Glue them to the bag at an angle.
What's an angel without wings? For this angel, you can use some pretty doilies to create wings. Fold two doilies in half and glue on the back of the bag.
Turn the bag over and glue 12 cotton balls to the bottom of the bag to create some fluffy clouds.
Use a black marker to draw eyes and a mouth on the face. Make a small red heart on the face for a nose.
I think this angel needs a halo, don't you? Twist a gold pipe cleaner to make a circular shape in the middle of the pipe cleaner. Fold the rest of the pipe cleaner down and secure the halo with a piece of tape on the back of the angel's head.
You can make these angels to look like family members and write their names on the front of the bag. By using different color construction paper for the hair (brown, black, yellow and orange) you can really change up the look.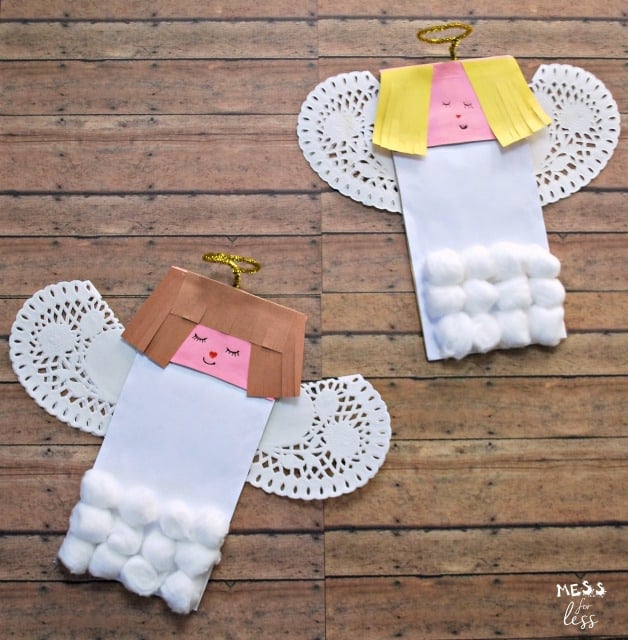 Visit Imperial Sugar's Kids Kitchen section for more Christmas Craft and Edible Art ideas.