So many of my projects are inspired by things I find at the dollar store. On a recent trip, I bought a bag of cotton balls. I had no idea why, but I knew that if I thought hard enough, I could think of a kids activity that would use them. I wanted to dye the cotton balls to make them more interesting and because we had such success with dying q tips in the past. I used a similar technique and the kids added their colorful cotton to contact paper to create beautiful Sensory Art with Cotton Balls. For more ways to have with contact paper check out 20 Ways to Use Contact Paper with Kids.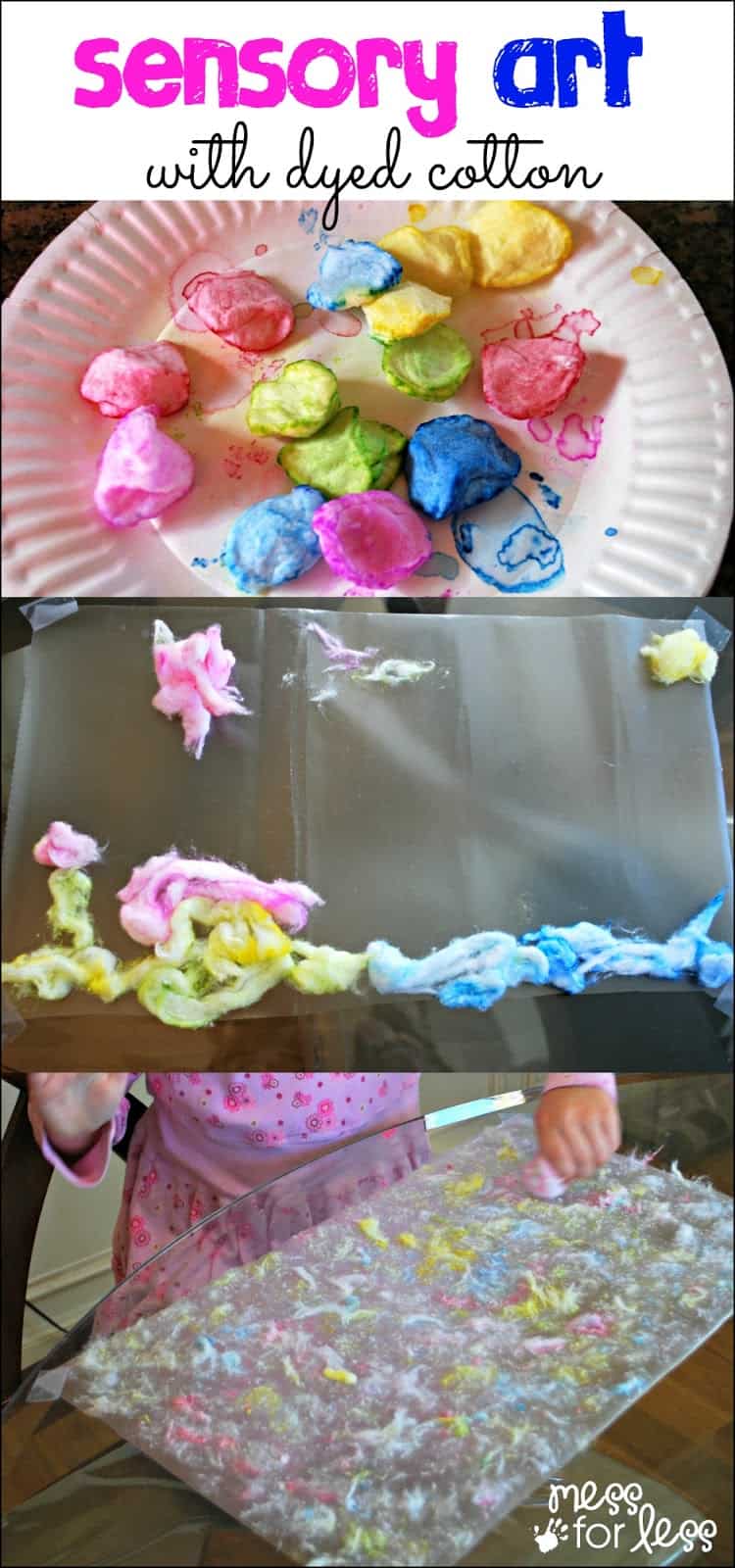 To dye cotton balls you will need:
Cotton balls
Plastic cups
Paper plate
Tongs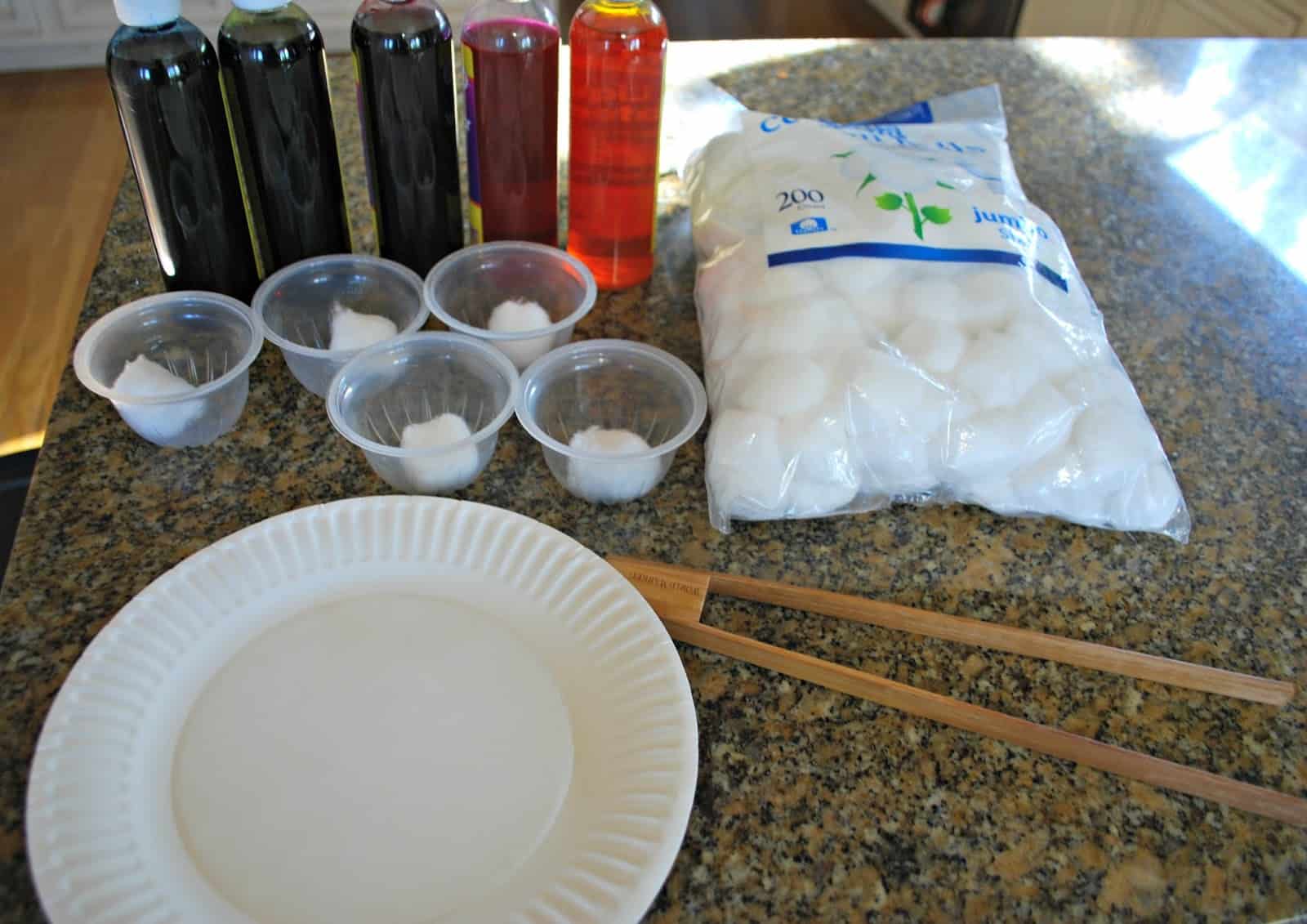 Allow a day between dying the cotton balls and creating the art. They need some time to dry.
Mix a few drops of liquid watercolor with some water in a small plastic cup.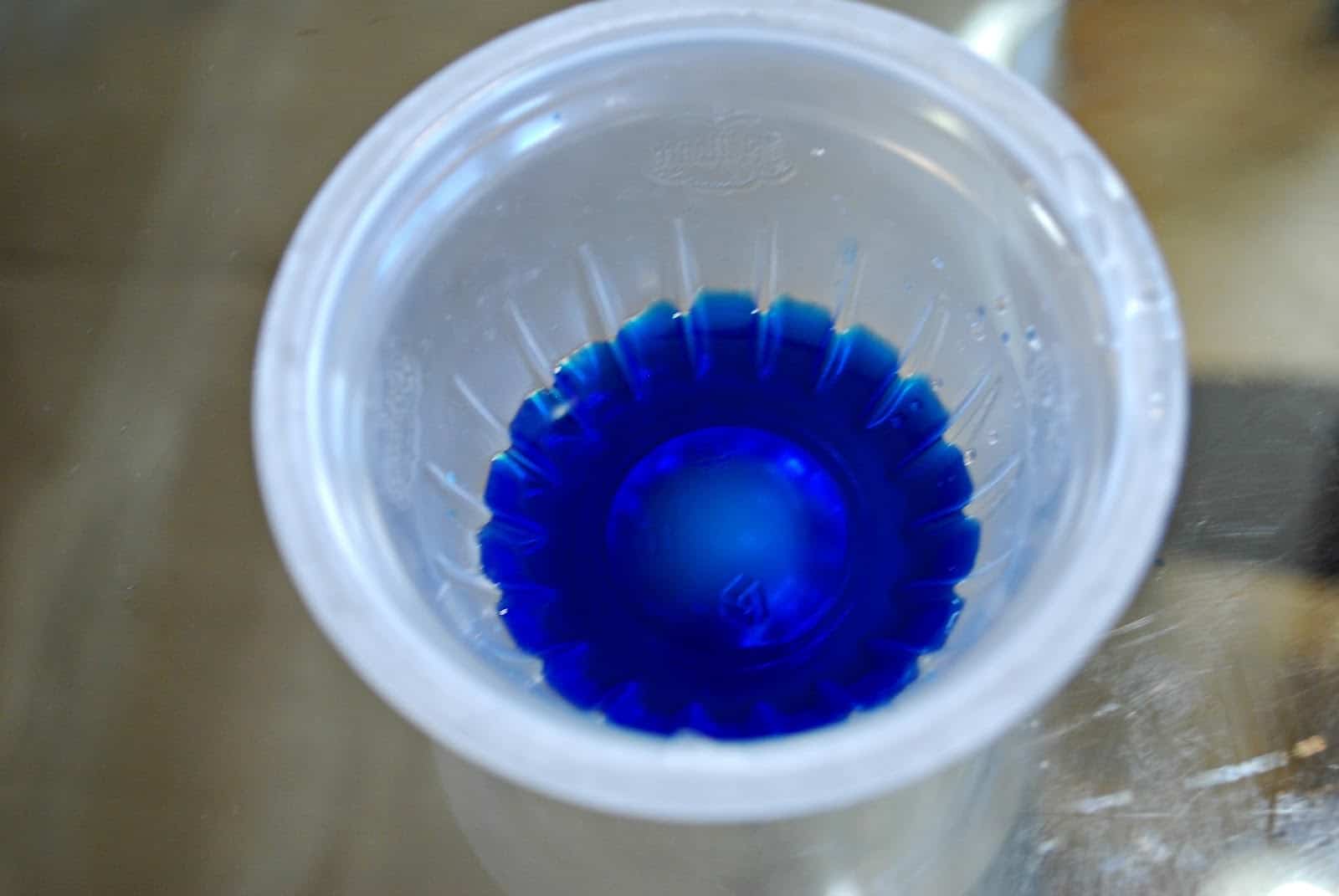 Dip the cotton ball in the liquid watercolor. You can use tongs to turn it over to make sure it is completely saturated with liquid watercolor.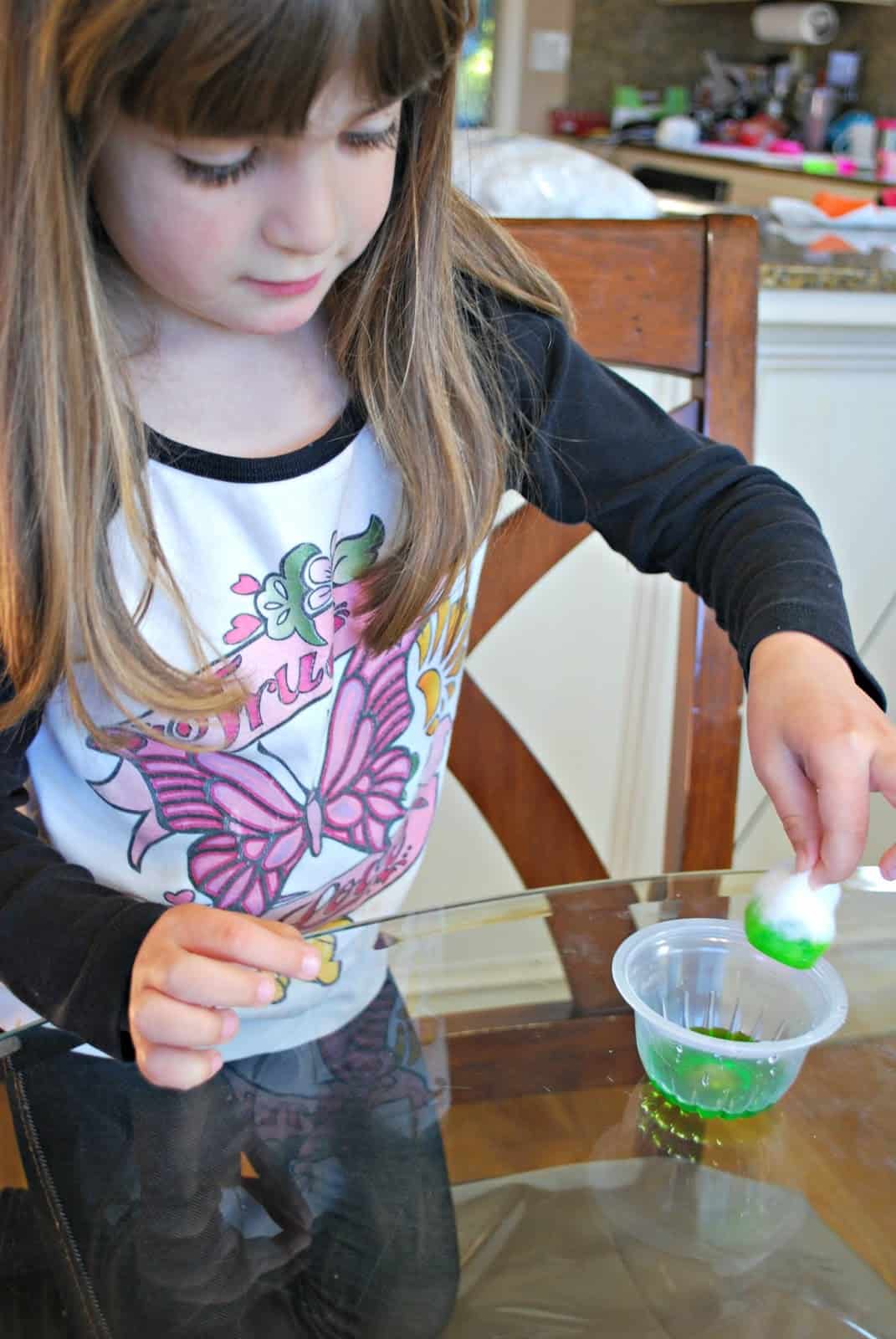 Using the tongs or your fingers (you will need to wash them well afterwards) squeeze the excess liquid from the cotton balls back into the cup. Set the cotton balls in a sunny place to dry. Ours took a day to dry. If yours are taking longer to dry, try separating the cotton to make the balls thinner.
When the balls are dry, pull them apart to create what looks like cotton candy. Cut some contact paper and tape it to a work surface.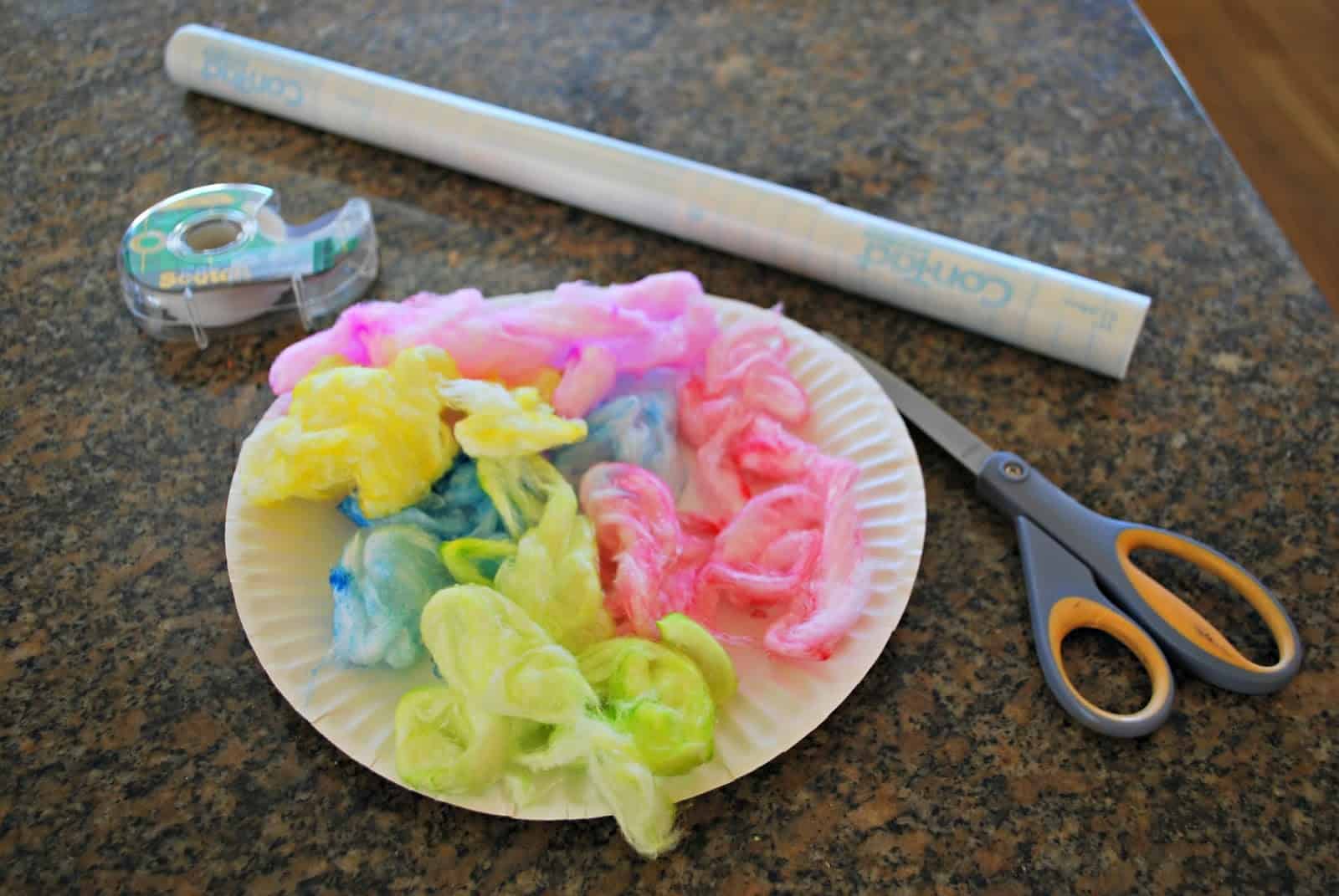 Kids can use the colored cotton to create pictures.
One of my daughters made a nature scene complete with flower, sun, sea and grass.
My youngest made an ice cream cone. My kids could not get over how much the colored cotton resembled cotton candy.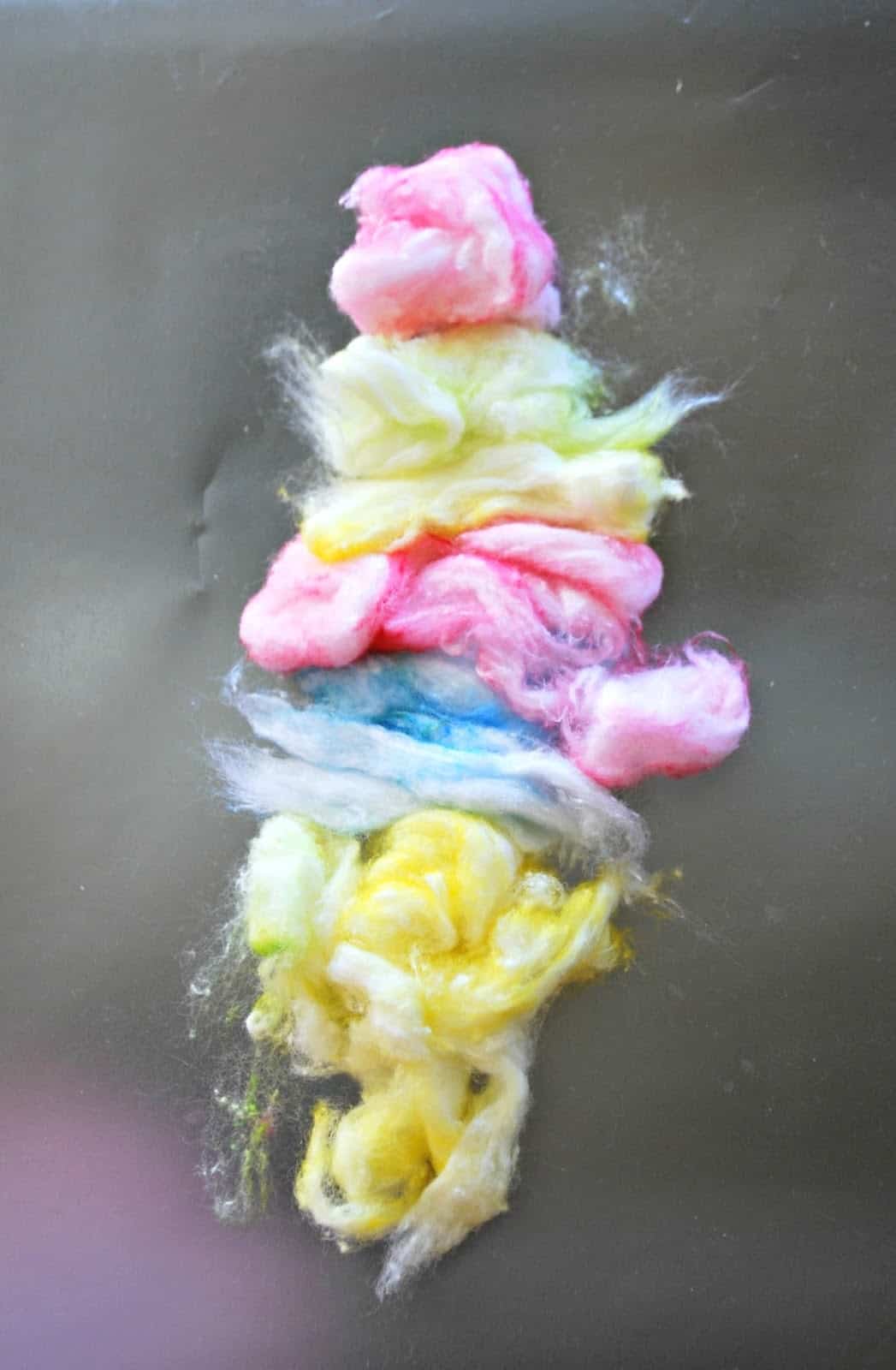 When they were finished with their pictures, they removed the colored cotton, and stamped the contact paper with it. The contact paper would grab bits and pieces of the colorful cotton making a beautiful effect.
This activity is a fun way for kids to make sensory art. My daughter could not stop feeling her artwork as she just loved the texture.
The kids called their creations "fuzzy art" and proceeded to make a gallery to display their creations.
My three kids ended up putting their pieces together to create a large wall of sensory art that they can touch whenever they walk by.
For more ways to use contact paper with kids check out:
DIY Shape Stickers