Do you have a child who loves Minions? So much so that you will be throwing them a Minion themed birthday party? Then you must make these Easy Minion Gift Bags. You can make a bunch in a matter of minutes, and the kids can even help to make them. Just a few supplies are all you need to take your Minion party to the next level.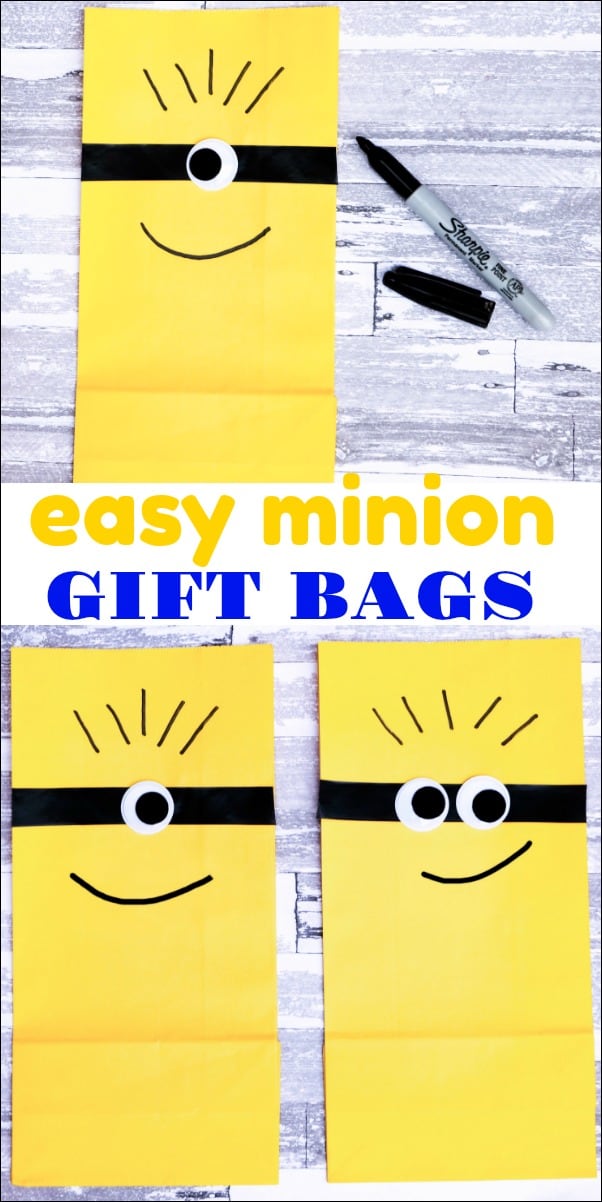 Easy Minion Gift Bags
You will need:
Yellow Bags
Large Googly Eyes
Super Glue
Black Electrical Tape
Black Sharpie
Scissors
To make these easy Minion Gift Bags, measure out a strip of black electrical tape so it goes across the width of the bag. You do not want the tape to go all the way around the bag. Cut the strip and tape it onto your yellow bag, about ⅓ of the way down.

Glue a googly eye in the middle of your black electrical tape strip.
Now it's time to give your Minion some hair and a mouth. Grab that sharpie and draw away!
This is where you can really let your creativity shine through! Here are just a few varieties of easy Minion gift bags that you can create.
And just like that, you have yourself these adorable Minion gift bags!
They are perfect for the Minion lover in your life. If you are throwing a Minion themed party, these make great goody bags. Simply stuff with tissue paper and treats and hand out to happy party goers. Be sure to make these adorable Minion cupcakes from Eats Amazing.
This would be a fun project to do with kids. I would make sure to have an adult do the gluing, but they can certainly help by cutting with child's scissors.
GOT A CRAFTY KID?
The folks at Annie's know crafting, so you know they have put together some amazing kits for your kids.
For girls:
The Creative Girls Club subscription box will get your girl's creative juices flowing. Girls get two kits each month full of crafting fun. Best of all, the crafting can be done with minimal adult supervision. While she is creating, she will be learning valuable skills such as painting, beading, stitching, paper crafting, and much more!
For boys and girls:
These Young Woodworkers Kits have everything your little builder needs to create crafts and toys they can enjoy, while learning important woodworking skills along the way. Your child's first three kits will include 5 kid-sized, high-quality tools they'll use again and again. A new woodworking project is delivered every four weeks, with a new and exciting skill to master. Each project teaches a real world skill that kids will use for years to come.
If you liked making these easy Minion Gift Bags, you might also enjoy: