Are you looking for a cute kids craft that is easy to make and just uses a few basic supplies? Then this Paper Bag Ladybug Craft is perfect for you. My kids love ladybugs. They often go searching for them in our yard and they have many items with ladybugs on them. This ladybug craft is great to do if you are studying ladybugs or are just a fan, like my kids. You'll never believe this cutie was made with a paper bag. You can also use paper bags to make this Unicorn Gift Bag.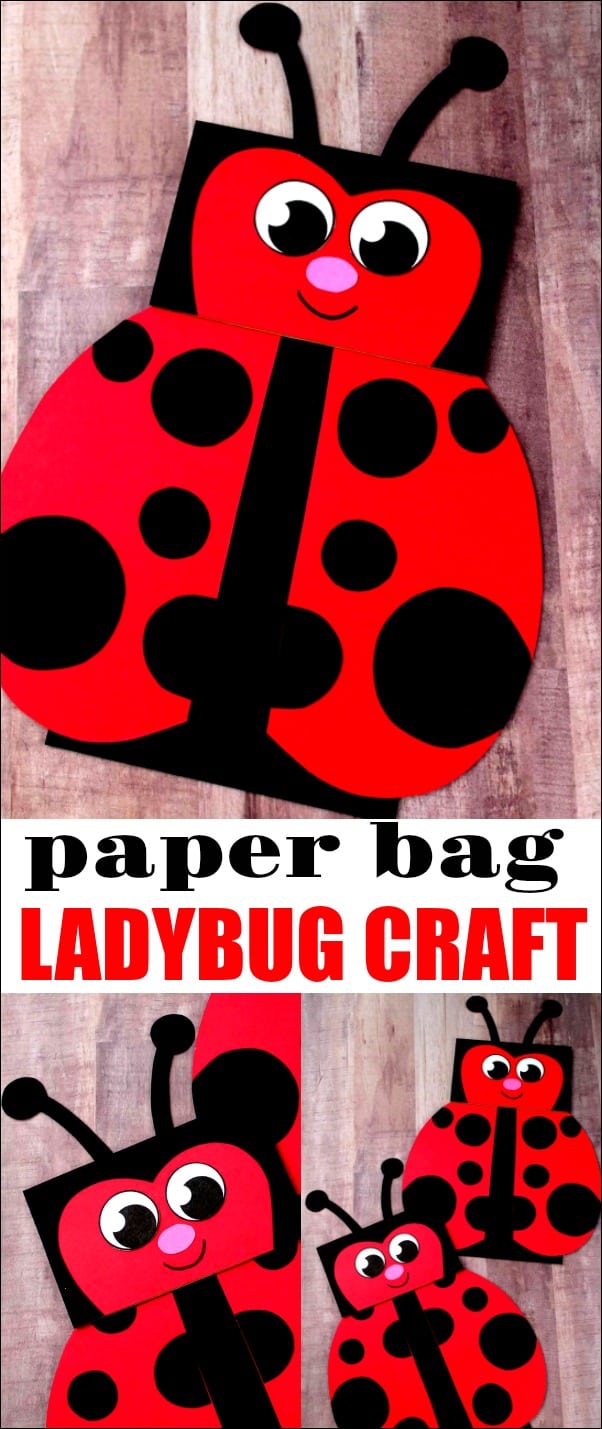 Paper Bag Ladybug Craft
You will need:
Cardstock or Construction Paper in red, black and pink
Glue
Scissors
Black Marker
Ladybug template (download here)
Download and print out the ladybug template, which you can download here. Cut out the template and set aside.
Cut large squares of red and black cardstock or construction paper and glue onto the paper bag. Make sure the paper is the same size as the bag. You want to glue on the side that the square bottom flaps up. If there is any excess paper of the sides of the bag, trim it with the scissors.
Trace the wing template onto red paper and cut out. Trace the circles for the wings onto black paper and cut them out. Glue the circles onto the wings. If there is any excess paper on the sides, trim with scissors.
Trace the ladybug's face shape onto red paper and cut out and glue onto the paper bag. Cut off any excess paper.
Glue the wings onto the sides of the paper bag, making sure they are not touching. You'll want to have some black space showing in between the wings.
Trace the antennae template onto black paper, then cut them out and glue them onto the back of the paper bag.
Now it's time to cut out the eyes out and glue them onto the ladybug's face.
Trace the small oval onto pink paper, cut out and glue just below the eyes.
Use a black marker to add a cute little mouth to your ladybug's face.
Your paper bug ladybug craft is finished! ladybug paper bag puppet is finished!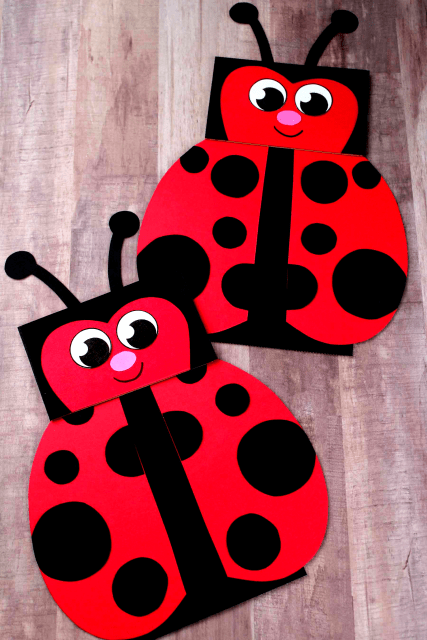 This is such a fun and inexpensive craft for a classroom or for home! It would be a great activity to use with a ladybug study.
You can use this Paper Bag Ladybug Craft as an adorable decoration or open them up and use them as a puppet. How fun is that?
You can also play around with the colors by using different colored construction paper. Imagine these in every color of the rainbow!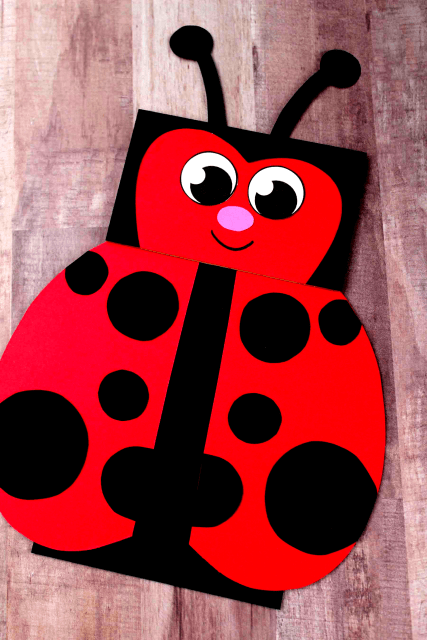 As you can see, you don't need a lot of artistic ability or fancy supplies to make a cute craft that kids will love! Enjoy your lady bugs!
If you are looking for more fun ways to engage your kids, I highly recommend KiwiCo. As a former teacher, I was really impressed with the quality of materials found in KiwiCo. Some moms have told me that they want to do activities like I do on Mess For Less with their kids, but they just don't have to the time to go buy all the supplies and prepare them for the activity. KiwiCo is the perfect solution. Every month your KiwiCo will focus on a particular theme like Colors, Dinosaurs or Gardening. KiwiCo offer a variety of projects ranging from crafts, imaginative play, science experiments and more.
Looking for more ladybug crafts? Check out: