We love water beads in our house. These squishy beads are the perfect sensory material. In the past we have played with frozen water beads and engaged in creative play with water beads. Today, we combined them with shaving cream and yummy scents to make pretend cupcakes.
Please supervise your child and use your good parental judgement with this and any activity. If your child still puts everything in their mouth, it would be best to hold off on this until they are older.
You will need:
Water Beads
Shaving Cream
Frosting Creations (in the baking section, usually less than $1 a packet)
Vanilla
Small round plastic containers (I save applesauce cups which work perfectly for this activity)
Spoons
Squirt some shaving cream into the plastic cups. I made 4 cups per child.
Add different flavors of Frosting Creations to each of the cups of shaving cream and mix to get a yummy smelling "cupcake." If you haven't tried Frosting Creations yet, they are flavored powders that come in a variety of flavors that you can use to flavor plain frosting. We used the following flavors: orange, cotton candy, white chocolate raspberry and cotton strawberry shortcake. We also used some cooking vanilla to make vanilla scented "cupcakes."
Once the cupcakes are mixed, provide some water beads to decorate with.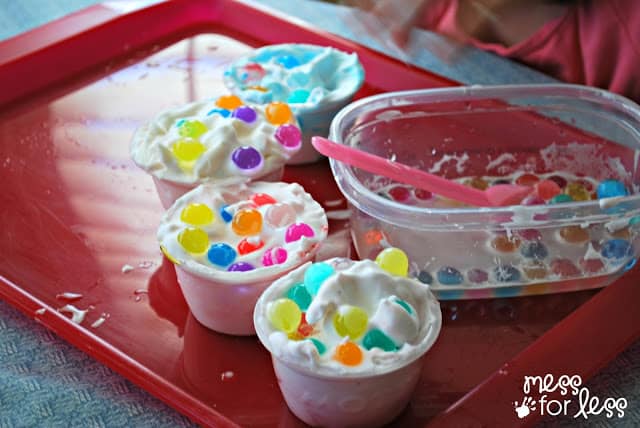 Both water beads and shaving cream provide a great sensory experience for kids.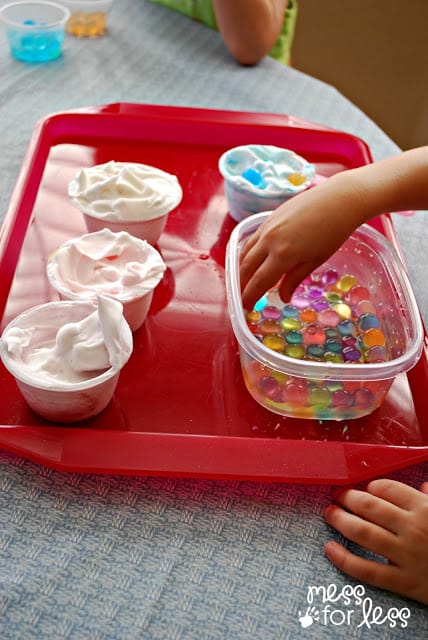 My youngest used the water beads like sprinkles on her cupcakes. I love how she even has shaving cream in her hair!
My twins pushed the water beads into the shaving cream to make "fruit filled cupcakes."
Clean up for this activity is a breeze. Just scoop the shaving cream and water bead mixture into a colander or strainer and run water over it to dissolve the shaving cream. You will be left with clean water beads that you can then use again.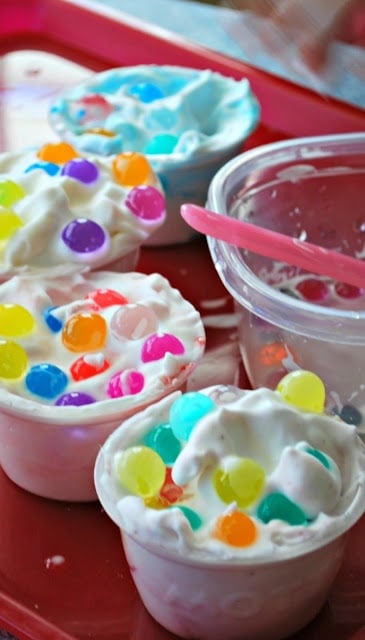 For more sensory play ideas check out: