We all love to see our kids smile. My three girls (7 year old twins and a 5 year old) often bicker or give me attitude so I really value those smiles. I love to make them smile with jokes or by acting silly, but I have secret weapon that makes them smile every single time. In fact, I have yet to see this not make a kids smile. Try it on yours and let me know if it works. If you try this fizzing pumpkins Halloween activity and it doesn't make your child smile, I will refund the price you paid for this idea (a whopping $0). You might also enjoy these Coffee Filter Pumpkins.
You will need:
Vinegar
Baking soda
Food coloring (orange or red and yellow to make orange)
Water
Plastic see through cups
Bowl
Spoon
"Hey kids, want to help me make some pumpkins?" This request was met by confusion, questions and a resounding yes! I seriosuly think you can ask my kids to help with anything (not cleaning related) and they would jump at the chance. "Hey kids want to help me make anchovy paste?" YEAH!
I'm about to tell you the secret to making these super cool fizzing pumpkins. No, it isn't a dose of magic (though that always helps). The secret is combining the following ingredients into a paste: ½ cup baking soda and 3 tablespoons of water.
Once that is done, squeeze a few drops of food coloring in. We didn't have any orange food coloring, so we used red and yellow to make orange. Of course the kids went a little over board with the squeezing, but we ended up with a bold, vibrant paste.
Now you will mix all that good stuff to get the color spread evenly. The consistency of this paste will be more on the crumbly side. don't worry, it will do the job.
So how do we make those adorable pumpkins? A dollar store ice cube tray. Yup. Now I know dollar store inventory varies and this may not be at your local dollar store, so I included a link above in the supply list to purchase it on Amazon. But check the dollar store first.
I am about to tell you something surprising about these pumpkins. They are delicate. Now real pumpkins can survive being dropped by a toddler onto hardwood floors. Guess how I know that. But these little guys are delicate and so you will really only want to make one at a time. If you were filling up the entire tray with the baking soda paste - STOP! Unless you enjoy cleaning messes and the tears of small children. Put enough of the mixture into one pumpkin crevice and push it down with your fingers, careful to get it into every nook and cranny, particularly the stem.
Carefully turn the mold over to remove the pumpkin, placing it in a plastic cup. When the kids tried to do this themselves they broke the stem every time, so I deem this an adult step.
Ready to make some smiles? Fill a small cup with vinegar and have your child pour that into the pumpkin cup. BUBBLE! FIZZ! GURGLE! The cup is overflowing! You know what else is overflowing. Smiles.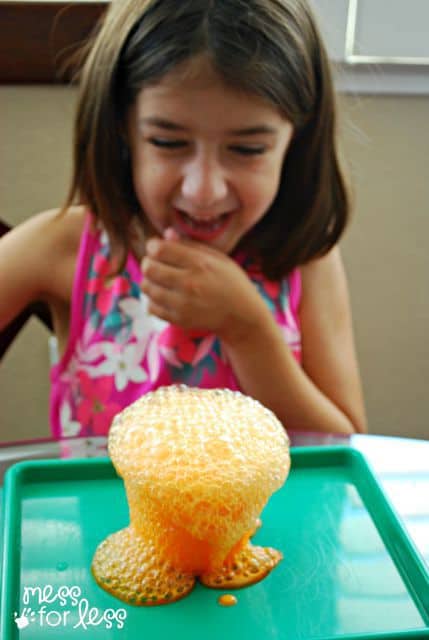 Kids will love these Halloween bookmarks
Printable Halloween bookmarks to help you or your child keep your place in books you are reading. These are perfect to keep your place while you are relaxing with a good book. Never lose your place and get into the Halloween spirit! These printable bookmarks are perfect for teachers and classroom use. Print as many as you want.
For more Halloween activities check out:
Halloween Fine Motor Activities