Today is the last day of the Fall into Sensory PLAY series I have been doing with Crystal from Growing a Jeweled Rose. For the past few weeks we have been sharing fun ideas for Fall themed sensory play. We played with Scented Shaving Cream Pumpkin Pie and Pumpkin Slime and Apple Volcanoes. We also did some fun art activities such as Apple Bowling Art, Pine Cone Pour Painting and Pine Cone Splatter Art. Today I will be sharing a simple Halloween Gak recipe that you can turn into fun pumpkins and Crystal will be showing you how to make Flying Ghost Rockets.
For this Halloween Gak activity you will need:
Borax, 1 teaspoon
Two bottles of white glue
1 cup of warm water
Neon orange food coloring
Green and black pipe cleaners
Scissors
Googly eyes
Popsicle sticks
To create your Halloween Gak, pour two bottles of white glue into a large bowl. Fill the bottles with warm water, shake them and pour that water into the bowl along with the glue.
Add orange food coloring. We used neon orange gel food coloring because I wanted my orange gak to be super bright. We used almost half a tube of food coloring to achieve our bright orange color.
Dissolve 1 teaspoon of Borax into ½ cup of warm water. Pour into the glue and food coloring mixture and stir until the gak comes together.
My kids had the best time mixing up the Halloween gak.
And playing with it afterward.
Gak is such a fun sensory material. It keeps stretching and changing shape even as you are holding it.
We explored the gak for a while before adding some items to it.
I set up a tray with some Halloween gak, googly eyes, Popsicle sticks and some cut up green and black pipe cleaners.
My kids used these items to create Halloween pumpkins.
With the same supplies a child could also make some haunted pumpkins or a monster with many googly eyes.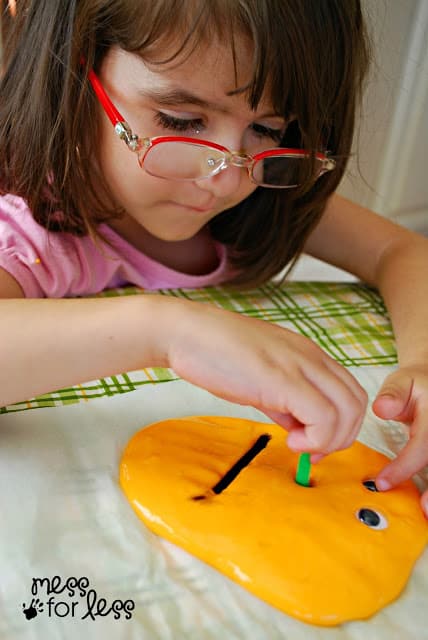 A simple bend of a pipe cleaner changes the pumpkin's emotions.
Add some Popsicle sticks to make pumpkin men! When the kids are done playing, remove the extra items and store the gak in zip top bag. We have had ours for a few weeks now and it still provides lots of sensory fun.
Please supervise kids when working with borax and the small items in this activity. If your child still puts things in their mouths, this is not for them. You know your child best so use your parental discretion with any activity.
Thank you to Crystal for the fun and inspiration! I had a blast these past few weeks and hope you all did too. Head on over to Growing a Jeweled Rose and check out Flying Ghost Rockets.
More Fall into Sensory PLAY:
Scented Shaving Cream Pumpkin Pie
Apple Bowling Art
GET THESE HALLOWEEN PRINTABLES
Kids will love these Halloween I Spy printables. This printable I Spy is fun for kids of all ages. Kids will look and find each Halloween item and then write down how many of each item they find. This helps them with visual discrimination skills as well as writing and counting. So many skills to practice with these kids printables. Great for the classroom or for home use. Kids will love doing these to celebrate Halloween.