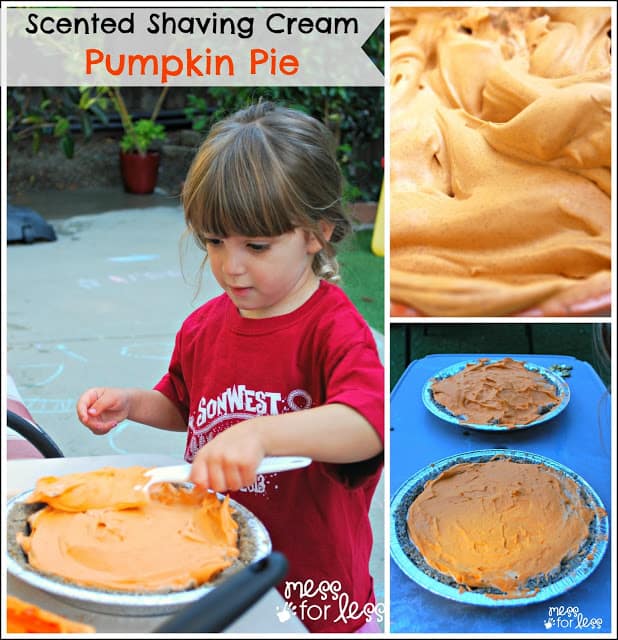 I am so excited to be starting a new series, Fall into Sensory PLAY, with Crystal from Growing a Jeweled Rose! Over the next two weeks on Mondays and Thursdays we will sharing fun ideas for Fall themed sensory play. Today we both came up with a hands-on pumpkin themed activity. My kids made pumpkin pie, but not like any you've had before. You see, our Scented Shaving Cream Pumpkin Pie isn't edible but it smells yummy and little ones will love creating it. When you are done here head over to Growing a Jeweled Rose and get your hands dirty with their
Pumpkin Slime Play Recipe
.
You will need:
If you would like to purchase the supplies we used for this project, affiliate links have been provided for your convenience.
Unscented shaving cream
Sand
You will want your kids to wear their play clothes for this activity as it will get messy! We got shaving cream all over our hands and shirts.
Start out by filling a bowl with shaving cream. We made three pies so we needed quite a bit. You won't need this much if you are just making one pie.
Add some orange food coloring. For our giant bowl of shaving cream we used ¼ of a container of orange gel food coloring. Mix until you get a dark orange.
You will want to turn the shaving cream into more of a brownish color so add some red and blue food coloring and stir to mix.
Now it's take to take it up a notch and make this smell like a pumpkin pie! This requires a lot of pumpkin pie spice. Even unscented shaving cream has a scent, so in order to overpower that, you will want to mix in lots of pumpkin pie spice.
We kept adding and mixing until the shaving cream smelled like pumpkin pie.
After the shaving cream mixture is ready, you can start making your pie. We used an aluminum pie tin and some wet sand for this step. Have your child scoop the wet sand into the pan and smooth it out to make a crust. My kids tried to push some wet sand against the sides too.
Now it's time to add the "pie filling." We scooped ours into the pie plate and spread it around using a small spatula. You child can also do this with their hands. The food coloring will color their hands, but ours came off after just a few washings.
My daughter smooths out her pie and makes sure the shaving cream is all spread out.
Pie anyone? These pies smelled so good and even looked similar to a pumpkin pie. The kids were thrilled with how they turned out.
They decided to set up a restaurant and start serving each other the pies. I just love how this sensory activity inspired pretend play!
The kids played for a long time ordering pies, serving them, taking them away and of course smelling them! Another fun pumpkin pie activity is this Scented Pumpkin Pie Craft.