The weather is starting to get warmer and in our family that means that we spend a lot more time outdoors. During the warmer months, we move lots of activities, such as eating and crafting, outdoors. We recently made a colorful kids Suncatcher Craft that not only looks pretty outdoors, but serves as a deterrent to any birds and small animals that might be trying to dig up your seeds and garden. I felt confident having my kids work on their suncatcher craft outdoors because they were wearing their Blue Lizard Sunscreen. So they were protected while making this fun craft. Find out how you can make your own suncatcher and protect you skin this summer! This Kids Suncatcher Craft post has been sponsored by Blue Lizard Sunscreen, but all opinions are my own.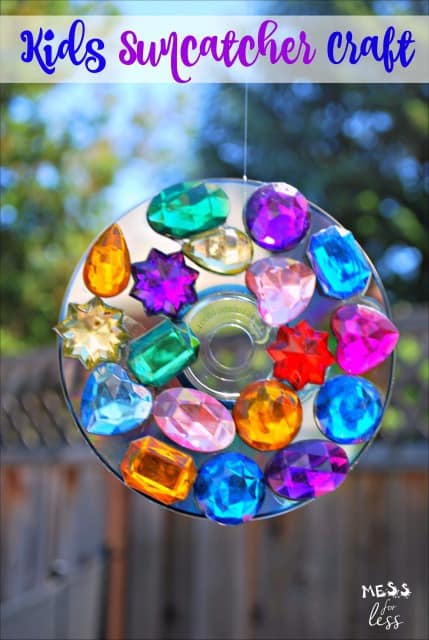 We recently had the opportunity to try Blue Lizard Sunscreen. Blue Lizard was originally created in Australia and that's important because Australia has the strictest sunscreen standards in the world. Today, Blue Lizard is made in Tennessee but still holds itself to the same high standards.
You can feel good using Blue Lizard because it is a pharmaceutical-grade sunscreen that contains the highest quality ingredients. It is recommended by doctors, dermatologists and pharmacists alike, and the Environmental Working Group has ranked it as one of the top sunscreens. Blue Lizard offers a variety of full spectrum sunscreen products for the entire family including formulations for sensitive skin, sport (water resistant), an oil free face formula, and one just for baby.
Just because Blue Lizard takes sunscreen seriously, doesn't mean they aren't fun as well. Their patented BPA free Smart Bottle™ changes color when exposed to UV light. You'll notice how they looked indoors above, and how they changed when the exposed to UV light below. The 5 oz bottle changes color and on 3 oz tubes, the lids change color. They turn blue of course!
My daughter usually fusses about putting on sunscreen. She has sensitive skin and many sunscreens can irritate her. Typically, we have to try a number of sunscreens to find one that doesn't irritate my daughter's skin or her sense of smell. She loved the Blue Lizard Sensitive formula which is paraben-free and chemical-free. She finds that most sunscreens have an overpowering scent, but that was not the case with Blue Lizard Sunscreen.
Before we headed outdoors to make our suncatcher craft, we put on our sunscreen. My daughter used Blue Lizard Sensitive on her body and Blue Lizard's popular Face sunscreen on her face.
Suncatcher Craft
You will need:
Gel Glue
CD
Jewels and gems in assorted colors
Invisible thread or fishing line
For this craft, you can use a used CD or a new one. We had some old CD's lying around that we didn't need anymore, so we recycled them into a suncatcher. I prefer gel glue for this activity since it dries clearer than white glue.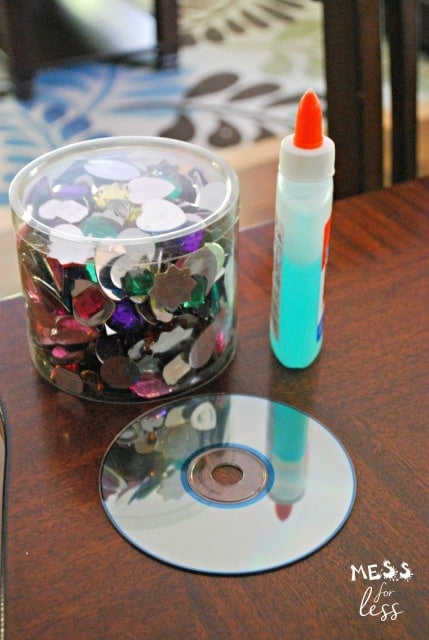 Since we had our sunscreen on, we headed outdoors with our CD's, glue and colorful jewels. My daughters picked out the jewels they wanted to use and placed some glue on the back of each jewel. They then arranged the jewels on the back of the CD.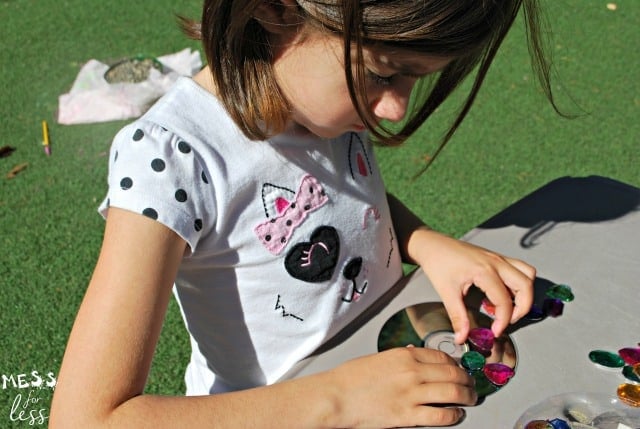 The glue will take a few hours to dry, so kids can move the jewels about as they are creating their design until they have something they like.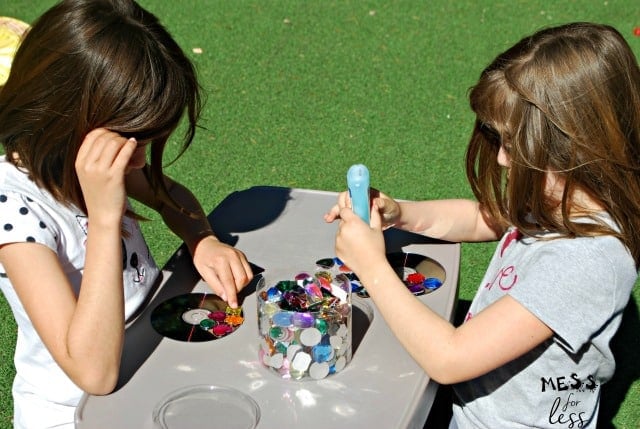 When the glue had dried, I cut a 15 inch length of invisible thread. You can also use fishing line if you only have that on hand. Slip the thread through the hole in the center of the CD and tie. You can then hang these outdoors.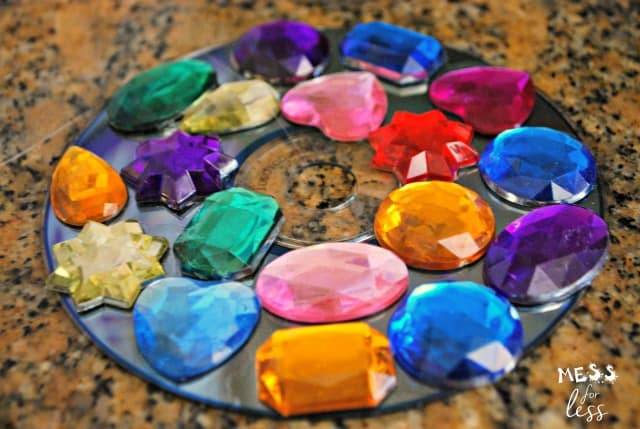 We hung our CD suncatchers over some seeds we had just planted. We had some hungry birds who kept trying to dig up our seeds but our suncatchers have stopped all that. The wind makes the CD spin and move and when the sun hits it, it creates lots of reflections. This suncatcher craft is not only eye catching, but it serves a very useful purpose when hung outdoors.
Whether you are crafting, playing or eating, enjoy your outdoor time with no worries when you wear Blue Lizard Sunscreen. You can visit Blue Lizard Sunscreen on Facebook, Twitter, Instagram and Pinterest.
Want more Mess?