I was recently at the grocery store and noticed the endless array of Halloween candy on the shelves. My kids get plenty of candy on Halloween between trick or treating and class parties. In the past, I have added to the candy giveaway, but this year I wanted to give classmates and trick or treaters something different. But what can you give kids for Halloween that will be cool and won't break the bank? I came across the answer in my supply closet where I keep lots of used crayons. That's it! I certainly had enough to make some fun molded Halloween crayons. I'm going to show you How to Make Crayons for Halloween to use with your kids or give out on Halloween night. If your kids love to color, check out how easy it is to make this Crayon Roll Kids Art Kit.
If you plan to give these out to kids, you can place 4-5 in small see through plastic bag. Please be sure to label the bag as containing crayons and let parents know as some kids might think they are candy.
You will need:
You can use any type of Halloween silicone mold that is oven safe. I happen to have a spider and web one, but a pumpkin one with orange and yellow crayons would be good as well. Please make sure your mold is made from oven safe silicone. I would not use this mold for food again since it is hard to get all of the crayon remnants off of it.
The first thing you need to do is decide what colors to use for your crayons. You can go super traditional and do white crayons for the webs and black for the spiders. We decided to mix some colors and use black, light green, white, grey, yellow, silver and purple.
When you have decided on the colors it is time to start peeling the crayons. I let me kids do this step. When the crayons are peeled, break them into smaller pieces so that they will fit in your mold.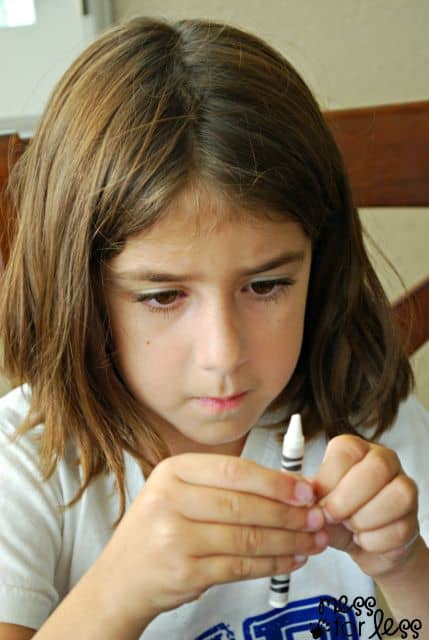 A tip - try and crayons of similar thickness. We did not and used some chunky crayons and thinner ones and the chunky crayons to a lot longer to melt. How many pieces of broken crayon you use will depend on the size of your mold. You want to be sure to fill in each cavity completely with crayons.
Bake in a 250 degree oven until all the crayons are melted. This will take about 10 minutes, but keep checking on them.
Remove from oven and allow the crayons to cool completely before removing them from the mold. Since the mold is silicone they should pop out when the mold is pushed inside out. I had a bad blogger moment here and left the crayons out on the counter while I went and read with my youngest. When I returned, my twins were happily coloring at the table with - you guessed it - my Halloween crayons. This wouldn't be such a big deal except I really wanted to get a photo of all of the colors and varieties of crayons we made. Luckily, there were a few they hadn't gotten to yet, which is a good thing because my youngest was none to happy that her sisters used all the "good color" crayons.
So what were my kids inspired to make with their Halloween crayons? Spider webs of course! I have made more batches of these and plan to share them on Halloween night.
Kids will love these Halloween bookmarks
Printable Halloween bookmarks to help you or your child keep your place in books you are reading. These are perfect to keep your place while you are relaxing with a good book. Never lose your place and get into the Halloween spirit! These printable bookmarks are perfect for teachers and classroom use. Print as many as you want.
For more Halloween activities check out:
Halloween Fine Motor Activities