This week I am taking part in a series with some of my favorite kids websites, Mom to 2 Posh Lil Divas and Train Up a Child. We will be talking about different ways kids can Learn Through Movement. Parents and teachers are always looking for ways to make learning more engaging and fun for kids. One way to do this is by connecting learning with movement activities. When kids are learning through movement, they are having more fun than they would learning passively and their motivation to learn increases.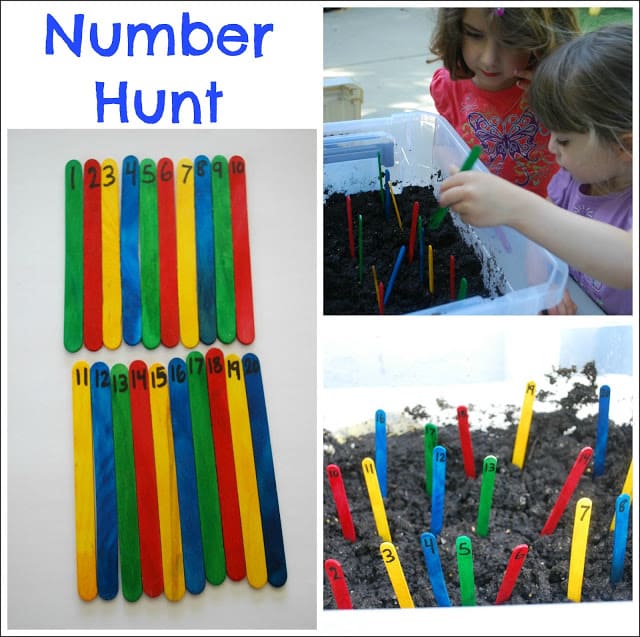 Today Mom to 2 Posh Lil Divas, Train Up a Child and Mess For Less are focusing on Math, while Wednesday will be Reading and Friday will be Science. Are you ready to get started and see how movement activities help kids learn? Great! Read on to see how to create a fun number hunt game that gets kids moving and counting. You might also enjoy these Movement Activities for Kids at Home.
That's it!
How to have a number hunt
Number your Popsicle sticks from 1-20.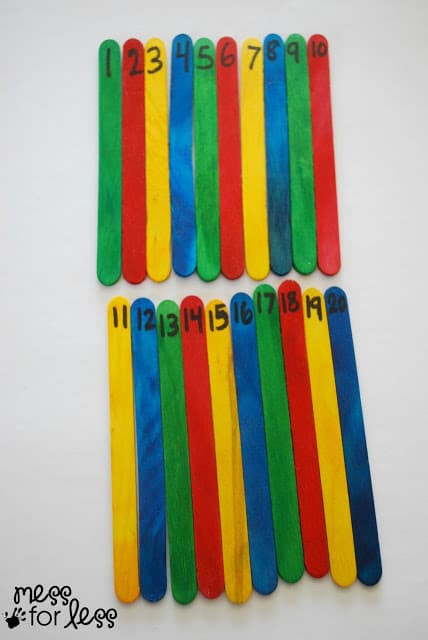 Without the kids, hide the sticks throughout the backyard.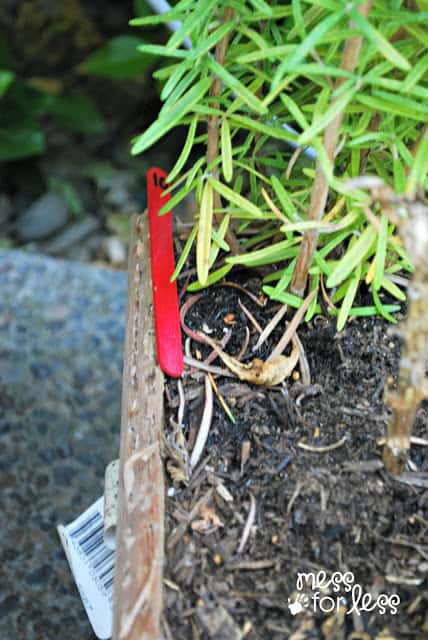 Be creative and have fun finding hiding places. Since my kids are three and four, I tried to keep the sticks "hidden" in plain sight.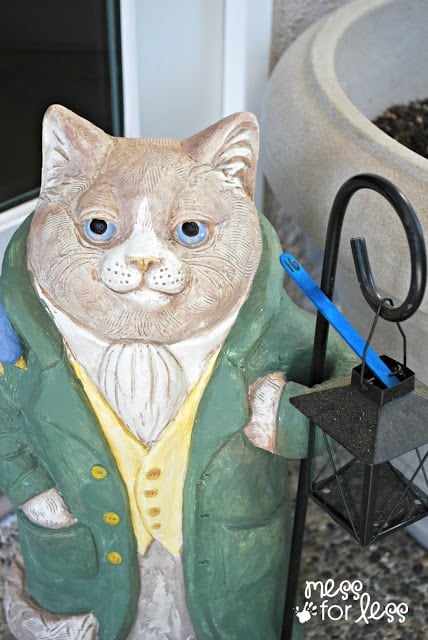 Explain to the kids that you have hidden Popsicle sticks numbered 1-20 in the yard and their job is to find the sticks and then arrange them in the right order before the time runs out. I gave my kids 10 minutes for the task. I told them that if they could work together to complete this mission they would all get a prize. If your kids are older, then you can give them less time.
My kids wasted no time in searching for the sticks. They climbed, ran and jumped in their quest to find the number sticks.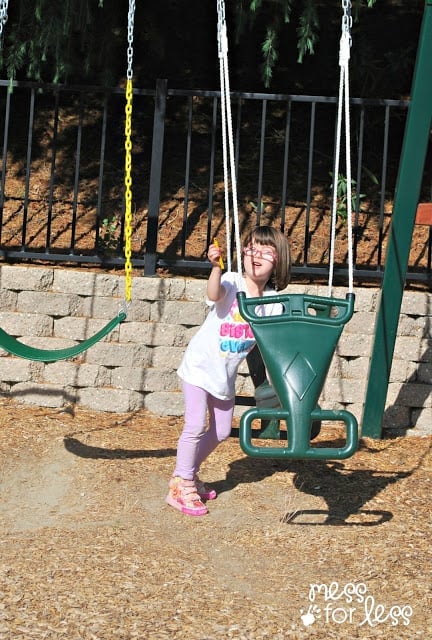 Once they found a stick, they ran back to drop it off at a central location.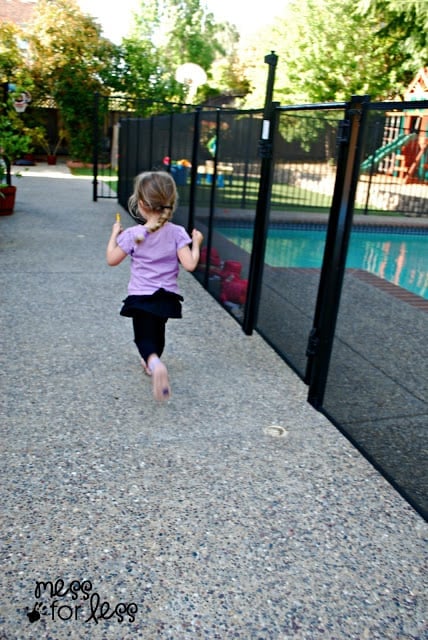 When they had a fair amount of sticks, they stopped to count to see if they had them all. Only 14. We talked about how many sticks they still needed and they came up with the answer of 6.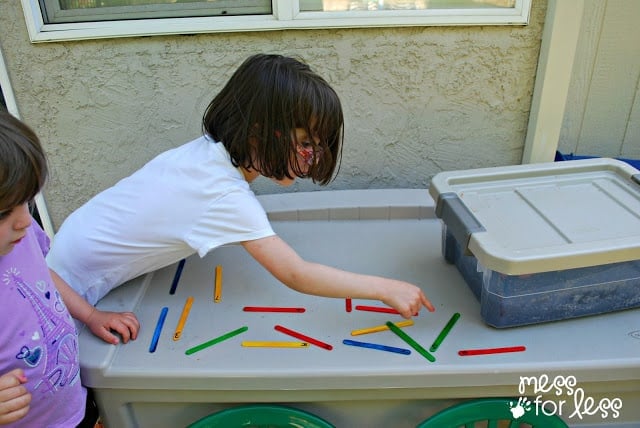 One of my twins suggested we place the sticks in our mud sensory bin, though you can also just arrange them on a table or on the ground.
Finally, they had assembled all their sticks or so they thought. They counted one more time and started putting the sticks in order only to realize they were missing the number 16. They ran off to find it.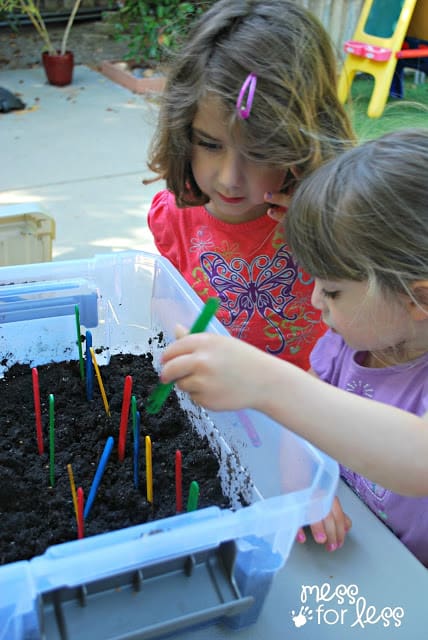 Remember the cat statue that was holding a stick? That was where I hid 16 and they passed by it many times before finally spotting it. They found it with a minute to spare.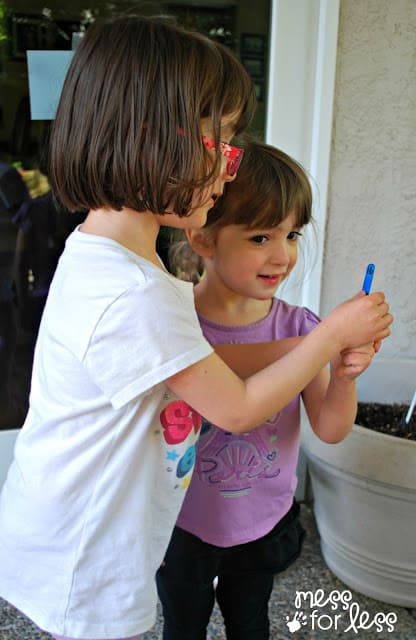 Luckily, one of my daughters stayed behind to arrange the sticks in the correct numerical order while her sisters searched for the last stick. So all they needed to do was add the number 16 stick and count to make sure everything was in the right order.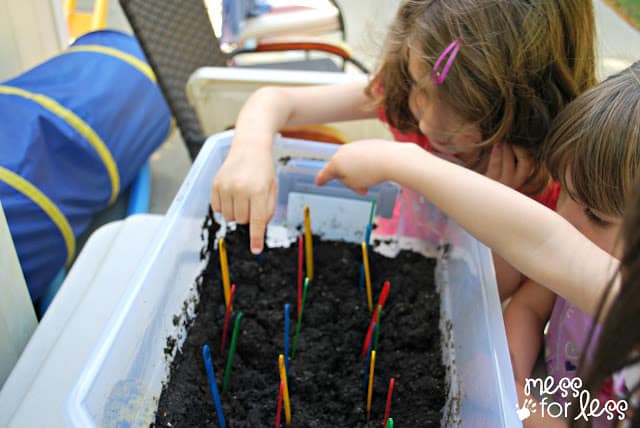 It was and they beat the clock! They each got a prize! Later, they were hiding the sticks themselves and finding them, recreating the game. I love how they all worked together toward a common goal, got moving and learned about numerical order and other math skills.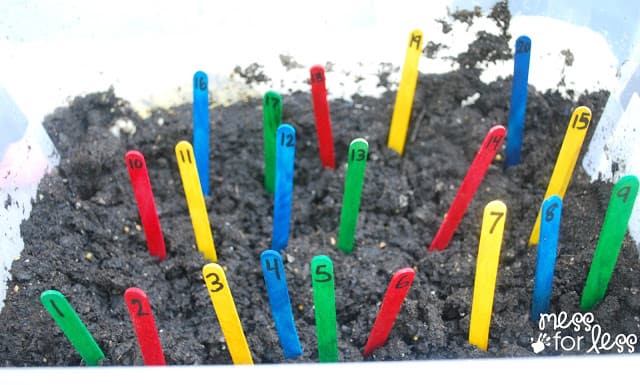 If your kids are a little older, a fun variation on this game would be to make 3 identical sets of sticks and have a race between the kids to see who can find theirs first and place them in numerical order.
I hope you will try this number hunt activity with your own kids so they too can have fun learning while moving. Your kids will also enjoy these Number Activities for Preschoolers. For more Math through movement activities check out:
Gross Motor Addition Game from Train Up A Child
Add it Up Math Game from Mom to 2 Posh Lil Divas
Learn Through Movement is a series from Train Up a Child, Mom to 2 Posh Lil Divas and Mess For Less. Join us on Wednesday for Learn through Movement -Reading and Friday for Learn through Movement - Science.
For some great Play Inspired by Nature check out these posts from The PLAY Group members Growing a Jeweled Rose and Housing a Forest.