This time of year rainbows are everywhere. I even saw one a few weeks ago and it totally made my day. I don't think it's possible to be in a bad mood after looking up and seeing a rainbow in the sky. These 25 Rainbow Sensory Activities for Preschoolers will make kids happy. They are colorful and fun and all have the extra bonus of providing a fun sensory play experience for preschoolers. If you are still on a rainbow kick, throw a rainbow party like we did.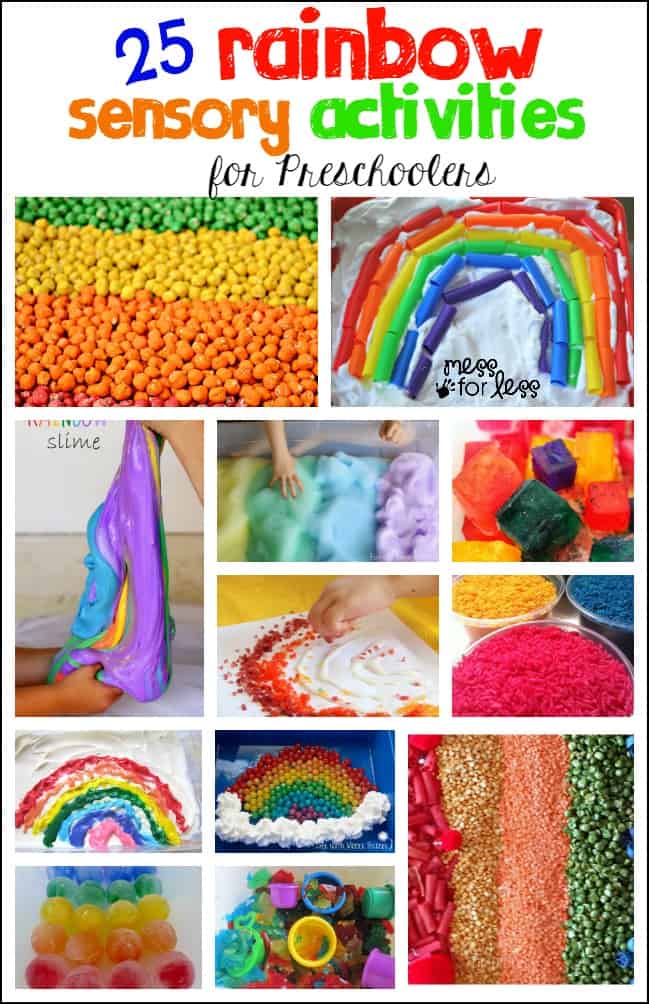 1. The first time I ever saw Rainbow Soap Foam was at Fun at Home with Kids. It is so easy to make and super fun for kids!
2. Who would have ever thought that Rainbow Chick Peas would be a great sensory tool for kids? Our friends at And Next Comes L did and the results are eye catching.
3. This Rainbow Spaghetti Sensory Tub from One Perfect Day is like a kid magnet. It's hard for little ones to keep their hands off the stuff!
4. I am not a fan of eating gelatin, but my kids are. With this fun Rainbow Gelatin Sensory Tub from No Time for Flashcards, kids can play and taste.
5. Half the fun of this Scented Rainbow Sensory Art from Coffee Cups and Crayons is creating the scented bath salt.
6. Kids will love this Rainbow Shaving Foam from Nurture Store. This activity is messy, colorful fun!
7. These Puffy Rainbow Clouds from Two-daloo are made using something we all have at home. Can you guess what?
8. I can't think of a better way to calm down that with these Rainbow Calm Down Sensory Bottles from The Train Drivers Wife. They are memorizing!
9. This Rainbow Slime from Learn Play Imagine looks so awesome that I want to play with it. Amaze the kids and make a batch!
10. Who knew you could dye corn kernels and that the results would be this pretty? Fun a Day shows us how to create a Rainbow Corn Sensory Play experience.
11. If you have never made Color Rice for Sensory Play you must try it. I love that this recipe from Powerful Mothering contains no alcohol.
12. What sets this Textured Rainbow Sensory Bin apart is the variety of materials used. Kids get many sensory experiences in this one bin from Life Over C's.
13. You can use colored straws for so many activities like this Sensory Rainbow with Straws from us, Mess for Less.
14. A Taste Safe Sensory Rainbow is the perfect sensory activity for kids who get curious and put things in their mouths. Such a yummy sensory idea from Powerful Mothering.
15. I never thought of making Colored Rock Salt and was so impressed with how it turned out. I can't wait to try this sensory recipe from Parenting Chaos.
16. Craftulate made this awesome Rainbow Ice Sensory Bin and I cannot take my eyes off the photos. Gorgeous!
17. Just three ingredients make this Rainbow Foam Dough from Fun at Home with Kids. They have the best play recipes!
18. This Rainbow Ice from Learn Play Imagine would be so fun to play with on a hot summer day!
19. I love how this Rainbow Salt Writing Tray from Frogs Snails and Puppy Dog Tails combines a sensory and fine motor activity!
20. You don't have to be worried if your kids put these beads in their mouth! This Edible Rainbow Sensory Bin from Life with Moore Babies is taste safe.
21. What kid could resist these Rainbow Sensory Bottles from My Little 3 and Me? I love how you can make them using recycled plastic bottles!
22. Kids can enjoy fun sensory play and learn about color mixing while playing with this Magic Rainbow Foam from Preschool Powol Packets.
23. If you are looking for a rainbow sensory activity with no mess, you will love these Rainbow Rice Bags from Learning 4 Kids.
24. These Rainbow Spring Sensory Paints from Frogs Snails and Puppy Dog Tails are both scented and textured. So many ways to enjoy it!
25. Happy Hooligans shares a recipe for dying Rainbow Rice, and it could not be easier.
Check out more rainbow ideas here: