This tasty Catnip Cat Treats Recipe, which is sponsored by Bounty, is simple to make and will you have your kitty begging for more. All opinions are my own.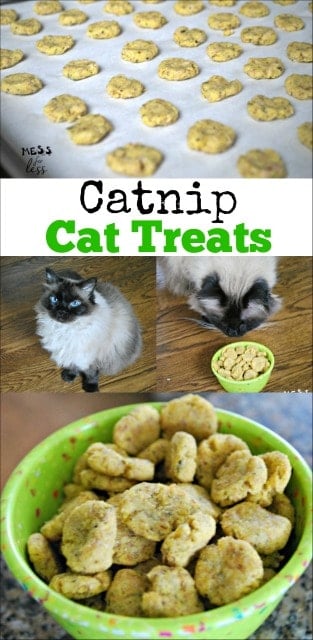 This is Charlotte. Charlotte is 12 years old, and getting up there in years. If you have ever had an older cat or dog then you know that they have something in common with kittens and puppies. They make a mess. You might expect a mess when getting your first pet since puppies and kittens can be messy. They need to be potty trained, cleaned, and taught not to get into everything. What you may not expect is the mess that can come from an older pet.
As Charlotte has gotten older, her habits have become messier. She rarely drinks from her water bowl without spilling water all over the floor. She drops bits of food on the ground. For these pet messes, I use longer lasting Bounty. Since Bounty is 2X more absorbent, I can tackle more pet messes per roll. I know Bounty can handle pet spills, but how would Bounty stand up against a bigger pet mess? Like a new first pet, Charlotte has started having potty issues. We keep two litter boxes for her because she is quite finicky about cleanliness. Sometimes she uses her litter boxes. Sometimes she tries to and has bad aim and misses. Sometimes she ignores her boxes completely and does her business wherever she wants.
Walking around our place can be dangerous because you never know where Charlotte has left a mess. If I have to get up at night, I carry a flashlight to make sure I don't step on anything. A few times a week, I discover a mess like this.
When I do, I use Bounty and the mess doesn't stand a chance. Bounty is more absorbent so the roll can last 50% longer, which is important when you are going through a lot of sheets, like I do. If you have a new pet making similar messes, then Bounty can help you tackle more pet messes per roll.
One thing you need to know when you get a new pet is that soon they will have you wrapped around their paw. Even as you are on your hands and knees cleaning up their mess, you still love them and want to do things that make them happy. One of the things that makes Charlotte happy is eating. She loves these Homemade Cat Treats that I make her, but to add some variety, I created a different cat treat recipe that contains catnip. If there anything my cat can't get enough of, it's catnip!
Catnip Cat Treats Recipe
They treats contain flour (like most store bought treats) which our vet has said is fine for our cat. Consult with your vet before giving your pet treats.
The cat treats take just minutes to make. Combine all of the ingredients in a large bowl.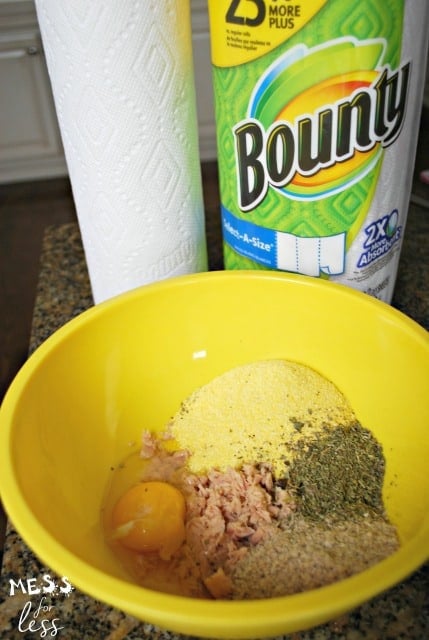 After mixing the ingredients, you will have a sticky dough. Turn it on a floured surface and break off small pieces and roll them into balls.
Push the ball down with your finger to flatten it a bit. The goal is to have a treat the size of a nickel when flattened. Bake on a parchment lined baking sheet. Bake at 350 degrees for 20 minutes. Be sure to let them cool completely before serving them to your pet.
After making this Catnip Cat Treats Recipe, you will probably be left with a mess. Bounty to the rescue! It not only is the best pet mess cleaner, but it makes an awesome cat treat cleaner as well.
Of course, Charlotte was hanging around the kitchen most of time I was creating this Catnip Cat Treats Recipe. She can smell catnip and tuna from a mile away. When the treats had cooled off, Charlotte gave them the sniff test.
They passed! Next, it was time for a taste test. If you think these treats are too big for your cat, you can easily break them up. Charlotte loved them! Unfortunately for her, she only gets a couple each day. Though tasty, they are still treats and we use them to reward her when she goes in her litter box. I am hoping that this will encourage her to use her box all the time and make less messes. If that doesn't work, I am glad to have Bounty, the #QuickerPickerUpper, on hand for the clean up.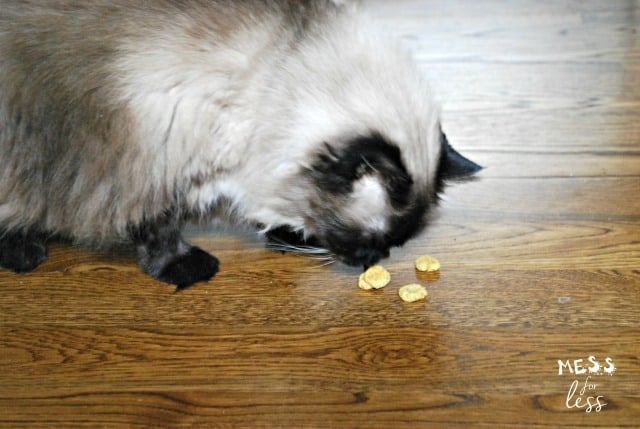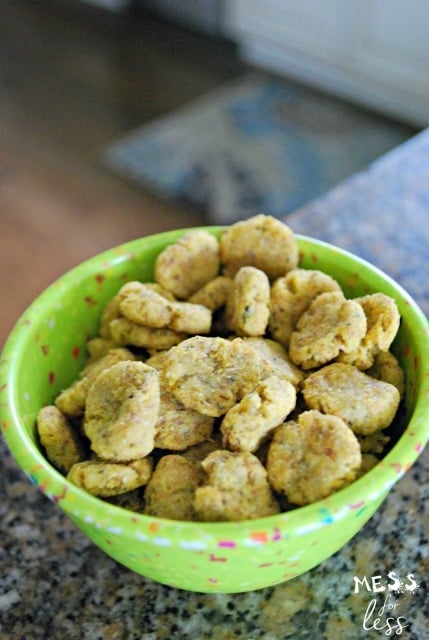 Catnip Cat Treats Recipe
Ingredients
5

oz

tuna in water

drained

1

egg

1/2

cup

flour

1/4

cup

wheat germ

1/2

cup

cornmeal

1/4

cup

wheat flour

1/4

cup

water

1/2

tablespoon

catnip
Instructions
Preheat oven to 350 degrees.

Line a cookie sheet with parchment paper.

Mix all ingredients in a large bowl until combined.

Form into a dough. Dough will be sticky.

Place dough onto a floured surface.

Pull off small pieces of dough and roll into small balls.

Push the dough down so the treat is the size of a nickel and place on parchment paper.

Bake at 350 for 20 minutes.

Serve after cooled completely.
Want more Mess?