At times I feel sorry for my cat. It almost seems as if she is loved too much. There are five people in our family and one cat. You do the math. That is a lot of hands petting, scratching and picking her up. My kids are certainly the biggest cat lovers of the bunch. They frequently shower our cat, Charlotte, with kisses and cuddles, mostly when she is attempting to nap. They also love to play with Charlotte and take any opportunity to do so. We have a collection of store bought toys, but recently we decided to try some DIY Cat Toys. My kids got to engage their creative sides and our cat got some new toys. Unfortunately, there are many shelter cats that don't have a loving home or a family to play with them. That is why I am proud to share this sponsored post written by me on behalf of Fresh Step® Litter. Read on to find out how they plan to help shelter cats find forever homes and get some ideas for cute DIY cat toys you can make for your cat.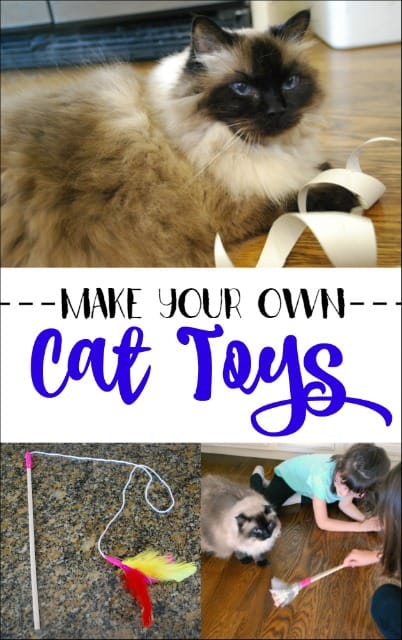 June is Adopt a Shelter Cat Month. Did you know that millions of cats are in shelters across the country waiting for someone to give them a home? To help every shelter cat find a forever home, Fresh Step® has created the Million Meow Mission. If you are considering adopting a cat or kitten, June is a great month to do it!
Adopt a Shelter Cat Month is important to my family because we have always adopted cats into our family. There are so many wonderful kittens and adult cats waiting for forever homes at shelters. If you are looking for a particular breed of cat, you might be surprised to find it at your local shelter. Shelters house pure bred and mixed breed cats that owners had to give up for one reason or another. There are many reasons why people might give a cat to a shelter. I was surprised to learn that litter box rejection is one of the top reasons cats are returned to shelters. Getting cats to regularly use their litter box can keep them out of shelters and in a home.
New Fresh Step® with the power of Febreze™ can help to make a cat's transition to its new home more successful by combating litter box rejection. Fresh Step® Litter makes cats and their owners happy by eliminating odors while leaving behind a fresh, clean scent
Shelter cats typically don't receive a lot of playtime. After you get a shelter cat settled at home, it is time to have some fun with them. There are some great cat toys out there, but did you know that you can make some simple cat toys at home that will provide plenty of fun for your cat. If you have kids, you can even have them help to make these. Most of these cat toys can be made using items you already have at home. So let's get started! Please remember to supervise your cat while playing with these toys.
To make a sparkly wand you will need:
12-inch dowel
duct tape or masking tape
clean, empty juice pouch
scissors
Next time your kids have a juice pouch, don't throw it out. Save the empty pouch and cut off the top and then cut it open. Cut so you have two pieces from the front and back of the juice pouch. Then, cut fringes on each piece of the juice pouch, careful not to cut all the way to the top.
Tape the juice pouch fringe to the end of the dowel. I did this in layers. First I wrapped one piece around the dowel and taped it and then I wrapped the second piece on top of that and secured it with more tape.
To make a feather toy you will need:
12 inch dowel
duct tape or masking tape
yarn
feathers
scissors
Cut a 12 inch length of yarn and tape one end to the dowel. Wrap the other end around a few feathers and tape at the end.
To make a paper roll toy you will need:
toilet paper roll with paper removed
scissors
This is a super simple toy to make. Just start from the top of the tube and cut out a spiral. I was able to cut out a few from one roll. Then just roll them towards your cat who will bat at them and grab them.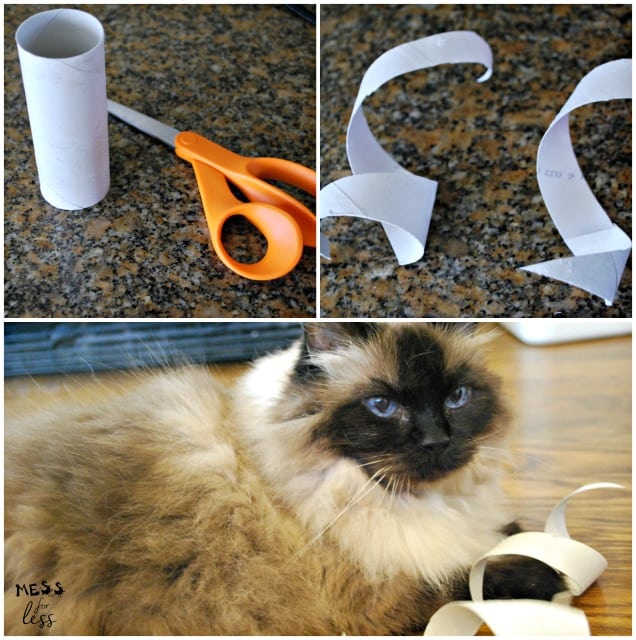 Charlotte really loved the sparkly wand. It crinkled and made noise as my kids waved it and as the cat batted it around.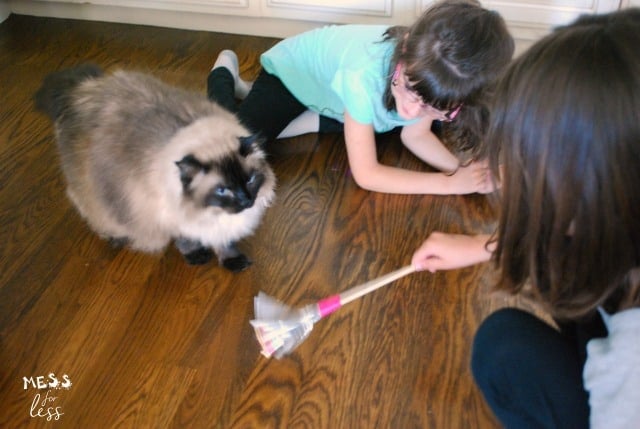 Of course all that playing really wore Charlotte out. After this, she went to take a nap. One that was promptly interrupted by three girls trying to cuddle her.
This is a sponsored post written by me on behalf of Fresh Step® Litter.