You may have noticed that we have been on a cereal kick lately. I have discovered what fun it is to crush fruit cereal with the kids and use it in new ways. We have already done Scented Art and made a Crushed Cereal Rainbow Bottle. At this point it may just seem like I am milking this (I could not resist a milk pun in a cereal post, sorry!). But we got a little crush happy the other day and crushed more cereal than we needed, so I have been trying to think of creative uses for it. Today I will be sharing a simple sensory recipe for Sand Dough that we have colored using crushed cereal.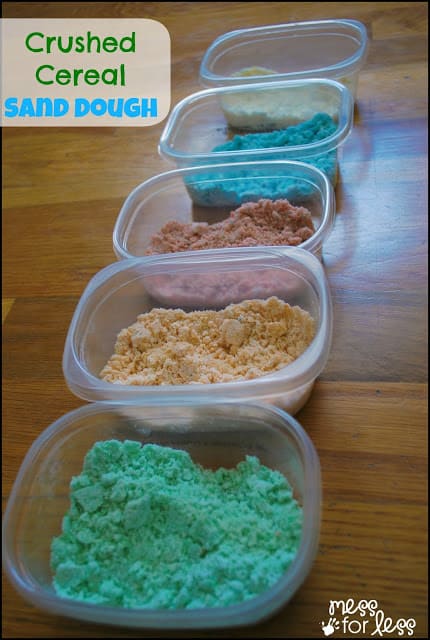 I got the basic sand dough recipe from Growing a Jeweled Rose where you will find tons of fun play recipes. Instead of coloring it with food coloring or liquid watercolors, we used the different colors of crushed cereals.
Please supervise your child and use your good parental judgement with this and any activity. If your child still puts everything in their mouth, it would be best to hold off on this until they are older.
You will need:
Baking soda
Water
Crushed fruity cereal like Fruit Loops or Fruity Pebbles
Before you begin, you will need to crush your cereal. You can find a tutorial on how to do that here.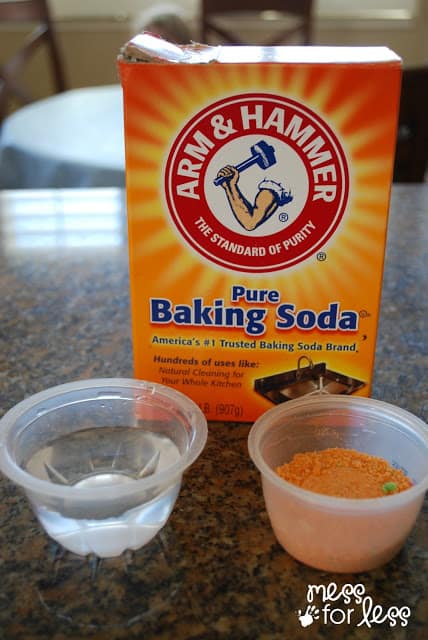 We used about a ¼ of a small applesauce cup of crushed cereal for each color of sand dough that we made. The amount of baking soda and water you use will vary depending on how much dough you wish to create.
Pour the crushed cereal into a container with some baking soda and stir to combine. My kids had mixed some cereal colors the day before, so our red has a few other colors mixed in. Slowly add water to the baking soda and cereal mixture. You will want to be sure to add a little water at a time and mix it in well. If you add too much at once it could cause the baking soda to dissolve. You are going for a texture that is somewhat moist and can be molded, but can also be crumbly.
We made 5 colors of sand dough - red, orange, blue, green and yellow. Because our red had other colors mixed in, it was not as vibrant as the other colors.
The dough turned out super soft and very mold-able just like we were hoping. It even smelled good because of the fruity cereal.
The sand dough provides a great sensory experience for kids. You can just dump some in a bin and let them start enjoying the texture. You can also add props to the sand dough as well, such as glass beads, rocks, small cups and small toys. You will be surprised at what they come up with.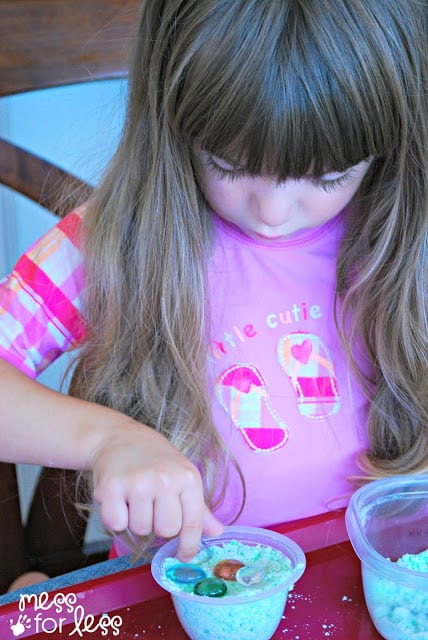 Like an animal birthday party.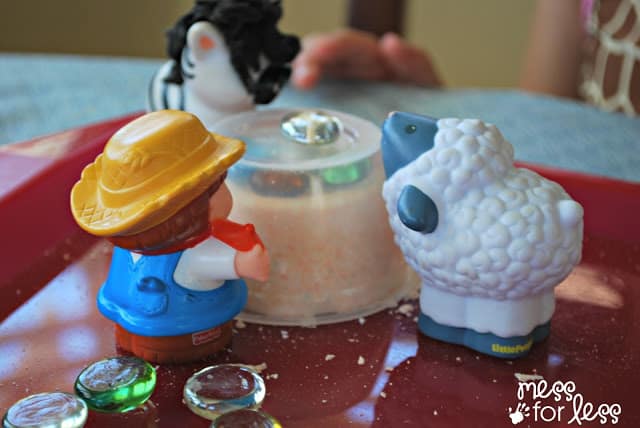 The great thing about sand dough is that it holds its shape when molded so you can create something like this. Love how you can see the little flecks of cereal in there.
Then all that's left to do is decorate.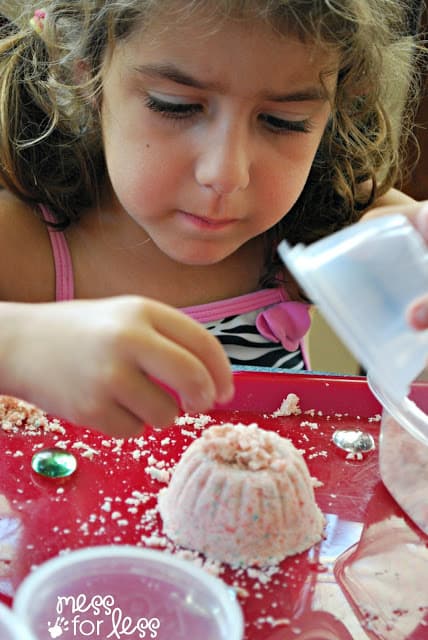 Store the sand dough in an airtight container. We have been using ours for over a week and it is still good.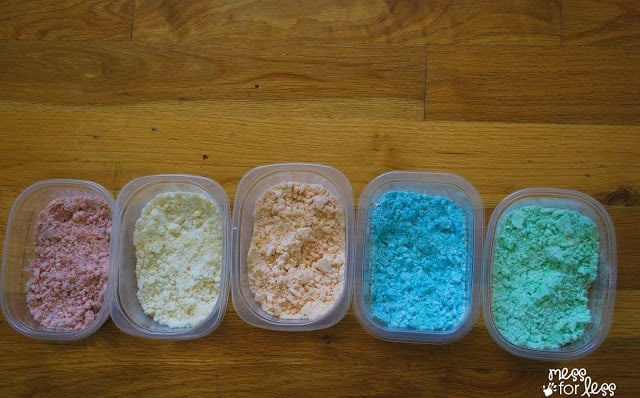 For more sensory recipes check out: