My youngest daughter wants to be a firefighter when she grows up, so I created these fun Firefighter Kindergarten Worksheets for her. My daughter is starting Kindergarten next week and we are working on some basic skills to help get her ready. You can use these free printables with kids in Preschool and Kindergarten or incorporate them into your homeschool curriculum. They will help kids learn valuable skills such as letter sounds, pre-writing practice, matching, pattern making and visual discrimination.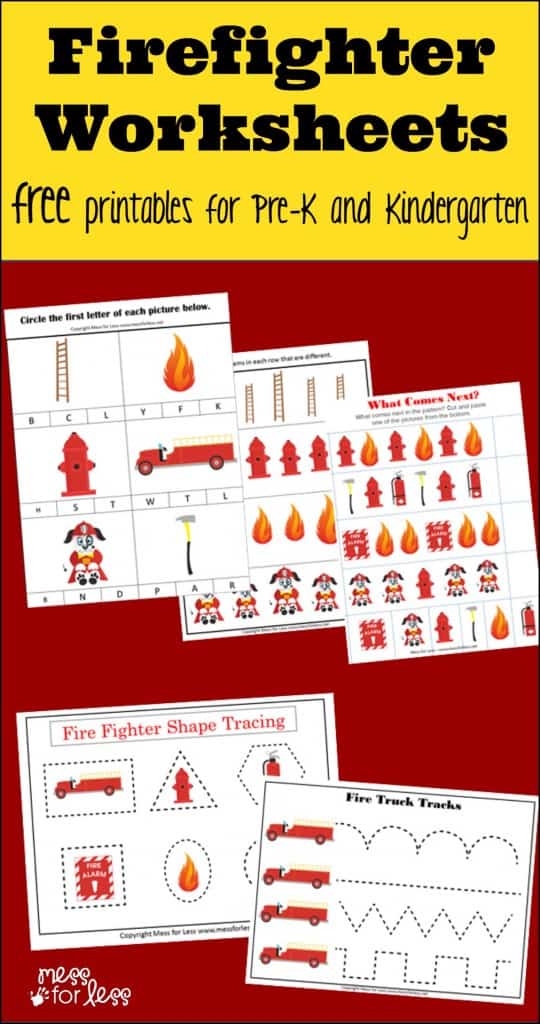 This firefighter kindergarten worksheet set includes Fire Fighter Shape Tracing, Fire Truck Tracks (fine motor pre-writing activity), Beginning Letter Sounds Activity, Visual Discrimination Activity and What Comes Next Pattern Making. These free printables would go wonderfully with a firefighter theme or study. I just made them because my daughter loves firefighters and thought they were cool.
Terms of use
These free worksheets may not be copied and sold or reproduced in any way. They cannot be changed or altered by you in any way and then sold as your own. If you are sharing these printables, you must direct people to my website and not to a link for the PDF. Do not store these on your website, on a file sharing website or on Facebook or Dropbox. These free worksheets are copyright Mess for Less.
You can get the firefighter kindergarten worksheets by clicking here.
For more free printables check out: