This post brought to you by Stride Rite. The content and opinions expressed below are that of Mess For Less.
My girls are very rough on their shoes. If you think that only boys put a ton of wear and tear on their shoes, then I am here to tell you that girls do just as much! My kids play hard and do so on all kinds of surfaces - blacktop, grass, gravel, bark, and sand. Any shoes they own need to be durable in order to last a long time. My youngest daughter is usually the receiver of hand-me-downs and frankly she doesn't get a lot of shoes handed down because her older twin sisters just destroy them. Stride Rite Made 2 Play Collection shoes are perfect for outdoor play. They are designed with dirt-shedding soles so kids aren't tracking so much dirt into the house. Read on to learn more about them and to get your free shoe matching memory game.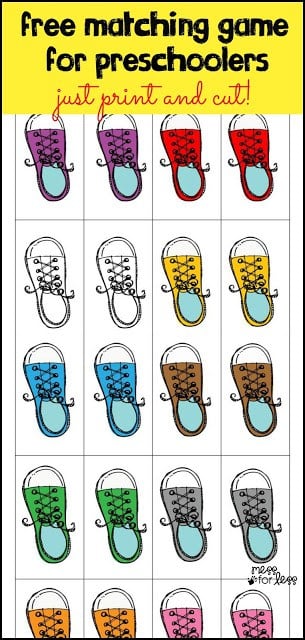 Stride Rite
is a brand that parents have loved and trusted for years. Stride Rite is known for their high quality, comfortable, and stylish shoes for children 0 to 8 years old. I have fond memories of taking my babies to Stride Rite to be fitted for their first pair of shoes. Through the years, we have returned there because the shoes are made for every milestone in a child's life! Our newest pair of Stride Rite shoes are these Scarlet Mary Jane's from the Made 2 Play Collection. As soon as my daughter saw the bright pink and purple, she was sold. While Stride Rite shoes are a kid favorite, they are loved by moms as well who consistently give them 4.5-5 star reviews!
The soles do a terrific job gripping surfaces while kids are playing.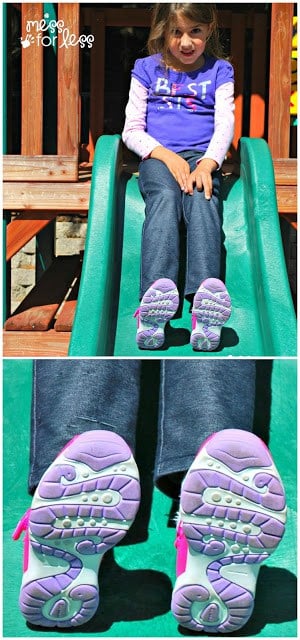 The Made 2 Play collection has lots of features that moms and kids love. If your kids get as messy as mine do, you will appreciate the fact that they are machine washable. After a busy day of playing in all sorts of muck, you can just toss them in the washing machine. The reinforced toe provides durability while they have added memory foam for extra comfort. Stride Rite gets moms. That is why the Made 2 Play collection features anti-stink lining which helps keep them odor free. No more stinky shoes!
While Made 2 Play shoes are perfect for busy active kids, you can wear them when you want to be a little dressier as well. My daughter loves wearing dresses but doesn't like sandals so much because they slow her down. Her new shoes are not only stylish, but let her run and play to her heart's content.
All this talk of shoes inspired me to create a fun shoe themed matching game for little ones. My kids love playing memory and this game, with its colorful sneakers, works on color recognition, visual discrimination and one to one correspondence.
You can get the free memory game by clicking here.
I recommend printing it out on white card stock so you will have thicker, more durable cards.