Are you looking for a mess free sensory activity for your child? We all know that sensory play is important and necessary for a child's development, but sometimes because of our situation or season in life, we need to keep activities more contained. I get lots of requests for mess free sensory play and this Glow in the Dark Sensory Bottle certainly fits the bill. You can make it ahead of time, and watch as your child delights while it glows.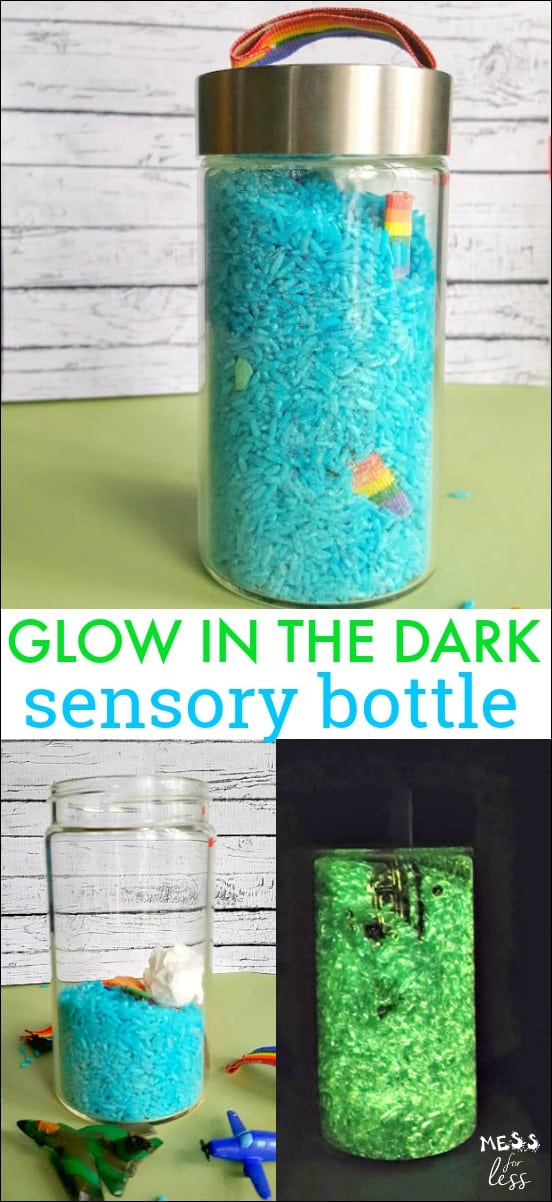 Always supervise your child when they are playing with this sensory bottle. If you are using a glass bottle, make sure your child is using it on a soft surface.
Glow in the Dark Sensory Bottle
Supplies:
Glass or clear plastic bottle with lid. I love these Voss bottles, but if you are concerned about using glass, use plastic.
Glue
3 coffee filters
Scissors
Paper Towel Roll
Sky Toob Toys
⅞ inch Rainbow Ribbon
Glow in the dark rice
For the glow in the dark rice you will need:
Hand sanitizer, 1 tablespoon
1 cup of rice; uncooked
1 teaspoon of glow in the dark pigment - I used blue
Zip top bag
Newspaper or paper towels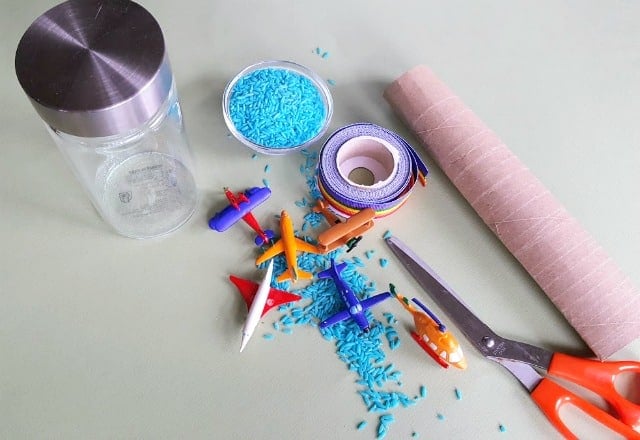 You will want to make the glow in dark rice ahead of time. Place uncooked rice in a zip top bag. Add the hand sanitizer and zip. Shake well to coat. Open bag and add the glow in the dark pigment and shake until the rice is evenly coated. Pour the rice onto newspaper or paper towels and allow to dry for 45 minutes.
To make the rest of the filling for this Glow in the Dark Sensory Bottle, you will cut off sections of the paper towel roll to fit the width of the ribbon.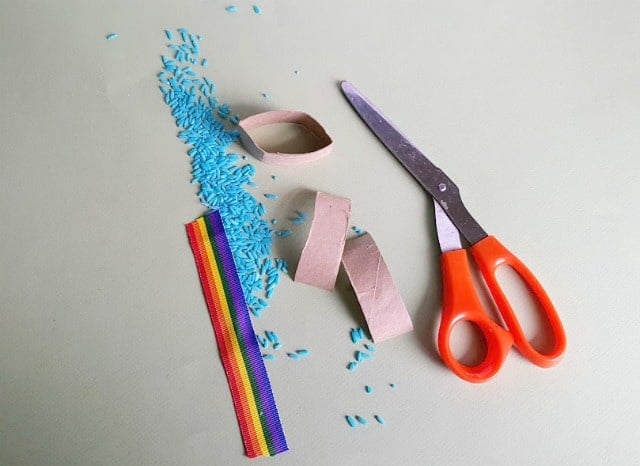 Once you have cut off the sections of the paper towel roll, they will kind of look like a lemon. You can then cut them in half. Wrap the ribbon around the section of the paper towel roll and glue it on.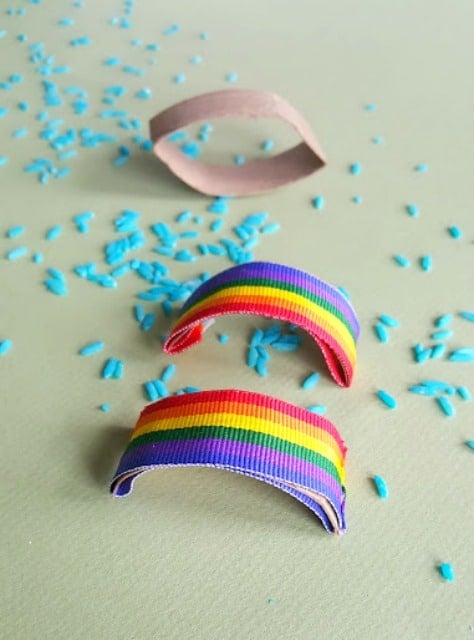 Once you have made the rainbows, you can begin layering the dried rice and Toobs planes into the bottle.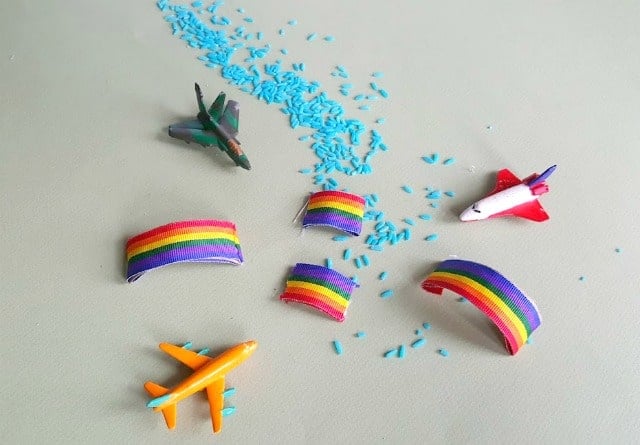 To add some clouds to the glow in the dark sensory bottle, roll up the coffee filters into balls, and add these in layers with the rice, ribbon rainbows and Toob toys.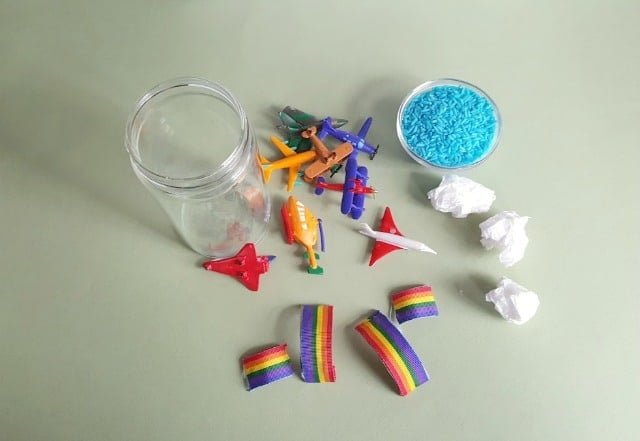 As the bottle fills up, secure the lid tightly so kids can't get it open. I have also occasionally hot glued my lid in place to make sure the contents stayed put. You can also hot glue a rainbow to the top as a decoration. Do not use this to hold the bottle though since it cannot support it.

Turn off the lights for a glow in the dark sensory experience, or use the bottle as an I Spy toy in the daylight hours. Sensory bottles can provide hours of fun for kids and they shake, listen and discover. This Rice Sensory Bottle from Mama Instincts is great for babies and toddlers.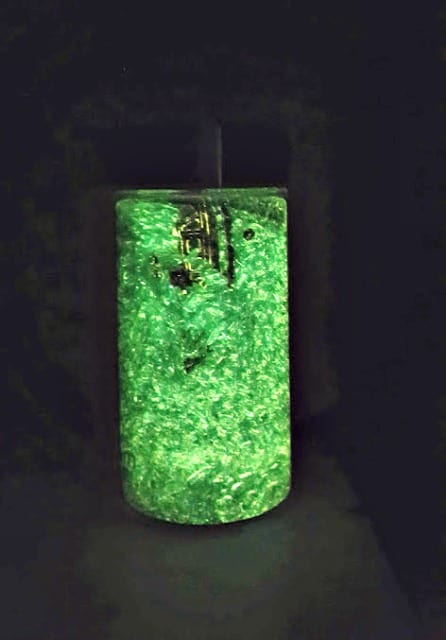 If you are looking for more fun activities for kids, check out Green Kid Crafts, an earth friendly monthly craft subscription box for kids that sparks creativity while teaching kids a respect and love for the environment. These boxes are themed and each month will be filled with fun projects and creative activities than can be enjoyed by kids from ages 3-10.
Since Green Kid Crafts is an earth friendly company, they use sustainable, safe materials in all of their products. They also give a portion from each sale to environmental non-profits. Learn more about a monthly subscription of fun!
If you liked this glow in the dark sensory bottle, you'll also enjoy: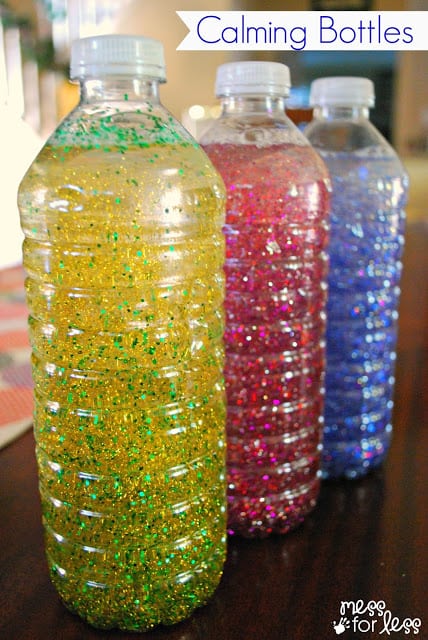 Sensory Bags for Babies and Toddlers