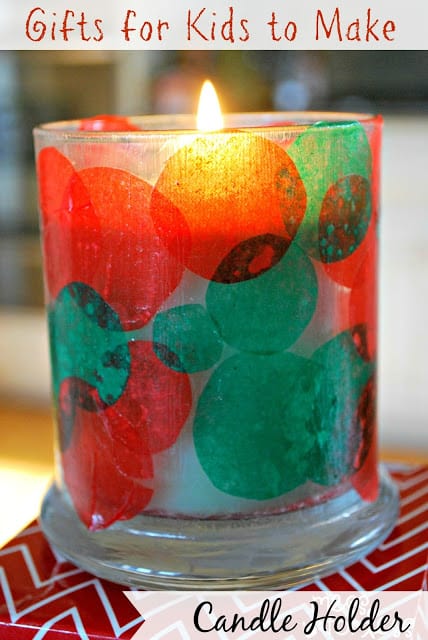 Making candle holders with my kids is one of my favorite holiday projects. You just need a few items and can change up the look of the candle holder depending on the color of tissue paper you use. In the past we have made a
St. Patrick's Day Votive
and an
Inexpensive Valentine Gift
. This simple
Kids Christmas Craft
makes a great holiday gift as well. Let's just say that Grandma and former teachers have a few of these candle holders. There are few things better than a child made gift, are there? If you are still looking for more fun DIY gifts, check out
Homemade Christmas Gifts Kids Can Make
.
You will need:
White glue
Red and green tissue paper
Plastic cup
Glass candle holder
Scissors
Mod Podge (optional)
I found the glass candle holders at the dollar store. They have a variety of sizes and they sell candles there too that you can gift with the holder.
Because the kids Christmas craft involves glass please supervise your child at all times. I did this with my three year old but I kept an eye on her the entire time.
Cut various sized circles out of the green and red tissue paper. Provide your child with the circles, a mix of 50% water and 50% white glue, a sponge brush and a glass candle holder. If you place all the materials on a tray, you can contain the mess.
Have your child spread some of the glue mixture on the glass and stick a red or green circle on it. They will continue to do this, alternating red and green circles, until they have filled the outside of the glass votive.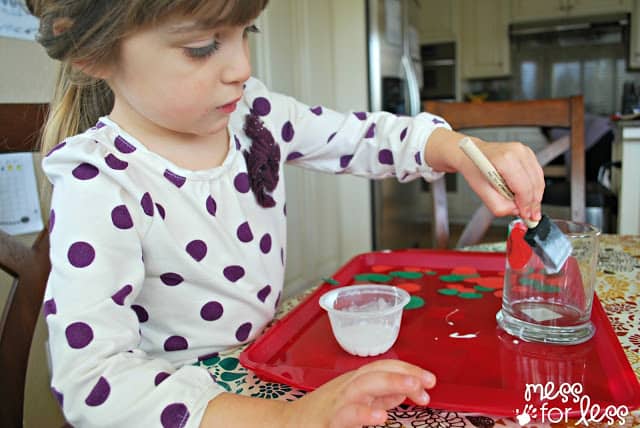 My daughter was very intent on making patterns of red and green on her votive.
She worked hard to fill as many of the blank spaces with colored circles as she could.
The next step will be easier for an adult to do. When your child finishes decorating the candle holder, you will want to paint a layer of glue over the entire decorated surface. This is easier for an adult to do since if it is done too roughly, the brush will lift up the tissue paper circles. Allow to dry for a few hours.
You have an option here to cover the candle holder with a final layer of Mod Podge. The candle holder on the left is dried with the glue and water mixture. It may be difficult to see here, but it dries with a frosted effect. The candle holder on the right was coated with a final layer or Mod Podge and has more of a shiny effect. They both look great and it is up to your personal preference.
For more Christmas crafts check out:
Want more Mess?