Are your kids getting excited for the Olympic Games yet? The Rio 2016 Olympic Games are happening this summer and we have been excitedly preparing to cheer on the athletes with some fun crafts and activities. Recently, we made a colorful Kids Olympic Games Craft using tissue paper and glue. This activity is fun but messy, so I'll be sharing some quick cleaning tips in addition to a tutorial to make this craft. This post has been sponsored by Bounty, but all opinions are my own.
The Olympic Games Craft
You will need:
Tissue paper squares
White 12x18 construction paper
White glue
Black marker
Cup or glass to trace
Bounty for quick clean up
Turn over a cup or glass and trace circles in the shape of the Olympic Games rings onto the white construction paper. You will trace 3 circles on top and 2 on the bottom. The top three circles are close to each other but not touching, while the bottom two circles intersect with the top ones. You can see this in the photos below.
Have your child trace the circles with white glue. Put glue and tissue paper on one circle at a time to prevent the glue from drying out. This is great fine motor practice for kids because it requires small muscle strength to squeeze the bottle and control the glue as it goes around the circle.
Since this projects involves glue and kids, things will get messy. No problem when you have Bounty on hand!
Your child will choose tissue paper in the same color of the rings of the Olympic Games. The colors for the top row are blue, black and red and the bottom row is yellow and green. The tissue paper gets squished between fingers and stuck onto the glue circle.
My daughter was very determined to complete this project. She would accidentally dip her fingers in the glue so we did keep some Bounty nearby.
Now we are all ready for the Olympic Games!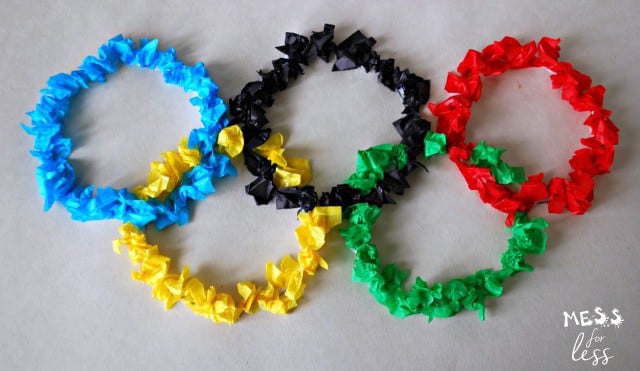 This kids Olympic Games craft is fun to do as you prepare for the Olympic Games, but it is not mess free. In addition to glue on fingers, we had a few glue spills as well. But Bounty made quick work of our messes. Since Bounty is more absorbent, the roll can last 50% longer.
When doing a messy craft with kids, here are come quick cleaning tips:
Have Bounty, the Quicker Picker Upper on hand while working on the craft. Messes will occur while crafting and fingers will get sticky. Keeping some Bounty nearby allows kids to wipe up and continue crafting.
Encourage kids to clean up their own mess when done with the activity. Make it a game and set the timer and see if they can clean up in a specified time.
Use Bounty wet or dry. Some messes need a little water or a squirt of cleaner and Bounty handles both of these like a champion.