What if I told you there were a variety of lunch ideas that even picky eaters would enjoy? Would this help your stress level? Well, help is here mama! These School Lunch Ideas for Picky Eaters may just turn your mornings around.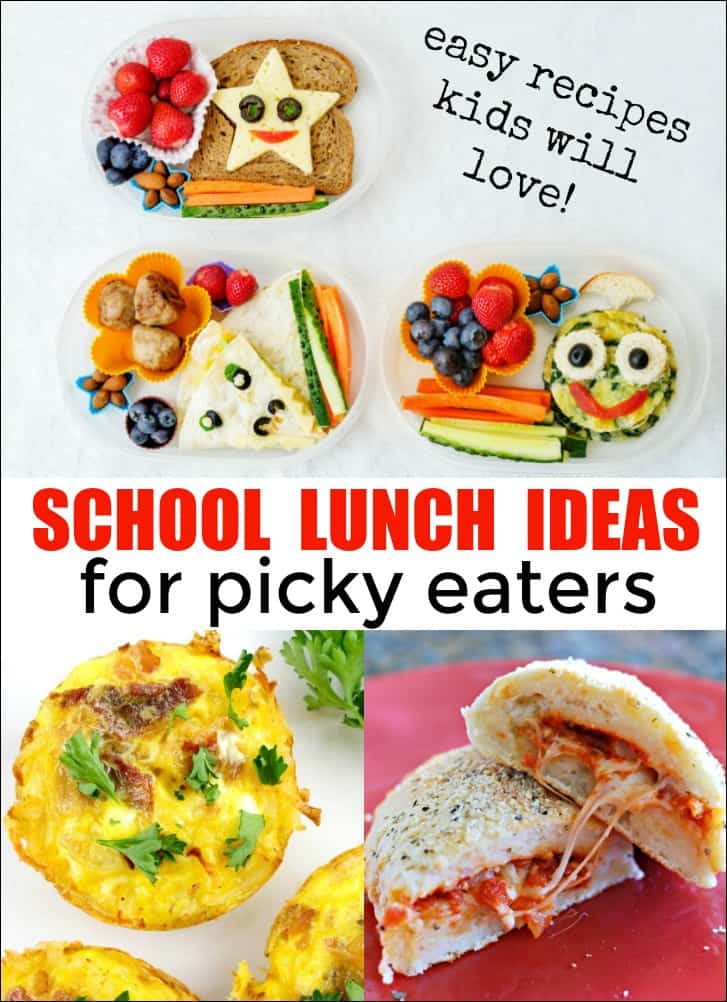 Jump to:
Do you have a picky eater?
If you have a picky eater, than packing school lunches can be your most dreaded time of the day. You either struggle to give your child something they will eat, or just pack the same thing every day.
Picky eater lunch ideas
These School Lunch Ideas for Picky Eaters are easy to make. They are so easy in fact, that kids can even help make them themselves with minimal supervision. That will make your morning a lot easier.
Make it a wrap
A quick and easy alternative to a sandwich is a wrap. Grab some tortillas and fix your child's favorite sandwich as a wrap. A lot can be done with a tortilla which is why I buy them in bulk at Costco. You can switch things up daily to make lunches even a picky eater will like. Here are some wrap ideas to get you started:
How to make tortilla roll ups
PB & J (feel free to substitute sunflower butter in any of these if nut allergies are a concern)
• Whole-Wheat Tortillas
• 2 tablespoon Peanut Butter
• Banana
• 1 Tbsp. Jelly
Nutella and PB
• Tortilla
• 2 tbsp. Peanut Butter
• Banana
• 1 tbsp. Nutella
Fluffer Nutter Roll-Up
• Tortilla
• 2 tbsp. Peanut Butter
• Banana
• 1 tablespoon Marshmallow Fluff
Directions:
Spread peanut butter over the tortilla. Peel banana and put it at the edge of the tortilla. Spread the banana with your optional topping (jelly, Nutella, marshmallow fluff) and then roll up the tortilla. Fold the ends to hold all the ingredients inside.
Snack foods and DIY lunchables
My kids love Lunchables. But between the cost and the food options they offer, I have decided to make my own version instead with fresh ingredients and food that I know my child will eat. To make your own Lunchables, start with some sandwich meat and cheese cut into bite-sized pieces. Add some fresh raw veggies like sliced cucumber, cherry tomatoes, and baby carrots - whatever your picky eater will have. Throw in some fresh or dried fruit and you have a delicious, healthy, homemade lunch.
Of course you can turn any of your child's favorite snack foods including popcorn, trail mix, crackers, cheese, fruits and veggies and the likes into lunch. Grab a container with lots of little dividers (bento boxes, like this one are perfect) and fill them up with kid-friendly favorites.
Easy school lunch ideas
Here are some of our other favorite lunches. They are easy to make and kids can help prepare them.
Italian Sausage & Broccoli Egg Muffins
Ingredients:
• 1 lb. Italian Sausage
• 8 Large Eggs
• 1 Cup Broccoli Florets
• ½ tablespoon Vegetable Oil
• ¼ Cup Milk
• ½ tsp. Baking Powder
• Salt & Pepper to Taste
• Freshly Grated Parmesan Cheese
Directions:
In a large pan, fry up the sausage until it's no longer pink. Remove from heat and add broccoli florets
In a medium bowl whisk together eggs, milk, oil, baking powder and salt and pepper.
Lightly spray a 12 cup muffin pan with oil. Spoon the sausage mixture evenly into each tin. Pour the egg mixture over the top and sprinkle with Parmesan cheese.
Bake for 15-20 minutes at 375 F
Refrigerate lunch portions overnight and add heat up in the morning and serve in a thermos.
Serve with:
Jello with fruit at the bottom
Apple slices
Milk
Ham & Mozzarella Sticks
Ingredients:
• 4 Ham Slices
• 2 String Cheese Sticks
Directions:
Take two ham slices and wrap around one cheese stick. Easy peasy!
Serve with:
Red Seedless Grapes
Mini Pretzels
100% Real Juice Box
Mini Calzones
Ingredients :
• 1 tube pre-made biscuit dough
• ½ Ricotta Cheese
• 2 Cups Shredded Mozzarella
• 2 teaspoon Grated Parmesan Cheese
• Dash Salt
• Dash Garlic Powder
Directions:
Open the biscuits and roll each one out flat with a rolling pin. If the dough sticks to the rolling pin take a little bit of flour and sprinkle over the rolling pin.
For each biscuit add a ¼ tsp. of Parmesan cheese onto one half of the flattened biscuit. Then add 3 Tbsps. of mozzarella and a tsp. of ricotta. Sprinkle with a little salt and garlic powder. Fold the biscuit over on itself. Crimp with a fork.
Cook at 350F for 14-17 minutes or until the biscuit is golden brown. These are good warm or cold.
Serve with:
Spaghetti sauce for dipping
Green salad with dressing
Iced tea
Pizza Muffins
Ingredients:
• 2 Cups All-Purpose Flour
• 1 Tbsp. Baking Powder
• ½ teaspoon Baking Soda
• ¼ Cup Sugar
• 1 tsp. Each Salt and Dried Basil
• 1 Cup Cheddar Cheese, cubed
• 2 Eggs
• 1 Cup Yogurt
• ¼ Cup Butter, melted
• ¼ Cup Pizza Sauce
• ½ Cup Mozzarella, shredded
Directions:
Line 12 muffin cups with paper liners. In a large bowl, combine flour, baking powder, baking soda, sugar, salt, and basil. Stir in cheddar cubes.
In a medium bowl, whisk together eggs, yogurt and butter until smooth. Stir into flour mixture just until well combined and no dry spots remain. Add batter into muffin cups, dividing evenly. Spoon 1 teaspoon of pizza sauce on top of each muffin; sprinkle each with shredded mozzarella.
Bake at 400 F for 20 minutes or until golden and a toothpick inserted in center of one of middle muffins comes out clean. Let muffins cool in the pan for at least 5 minutes before removing, then let cool completely on a wire rack. (You can freeze muffins in an airtight container for up to 1 month; defrost at room temperature.)
Serve with:
Spinach salad with dressing
Fruit punch
Hopefully you have found some School Lunch Ideas for Picky Eaters that your child will eat. If they are not fond of something the first time they try it, keep trying. Studies suggest it takes up to 10 tries to decide if you really like a new food. Happy packing!
Related posts