It's back to school time, perhaps the most exciting time of the year for parents. Kids are excited too as they get ready to meet new teachers and friends. But along with excitement, back to school time comes with lots of preparation. By now you've probably been shopping for school supplies. I have always loved the new supplies associated with the start of a school year. Empty notebooks, freshly sharpened pencils, and unused crayons all full of possibilities for the year ahead. If you're sending your kid back to school with new clothes and supplies, don't send them back with the same old lunches. Here are some back toschool lunch ideas that will start the year off right. Another way to start the year off right is by Creating a Stress Free Morning and After School Routine.This is a sponsored post and contains affiliate links.
Back to School Lunch Ideas
When a child starts in a new class they might be a little apprehensive or miss being home. This first lunch idea sends a little reminder of your love to school with your child. It's super easy to do. Use a heart cookie cutter (dust that thing off from Valentine's Day) and cut two hearts out of sandwich bread.
Many schools no longer allow nut products because of allergies. If your kids love peanut butter and jelly sandwiches, this can make lunch times difficult. I have found a nice substitution to be cream cheese and jelly sandwiches. Spread cream cheese on one of your hearts and jelly on the other and you will have a sweet sandwich that will warm your child's heart. Add some carrots and hummus, a cupcake and an apple for a lunch that will be a big hit.
My kids really loved the next lunch. They have actually asked me to make it again with their names. I made ham and cheese roll ups. Use a tortilla and stack some ham and cheese. Cut the roll up and pop a fancy toothpick on top for some added fun. I sliced some yellow peppers and put them in a Glad Mini Round container. I used some Cheez-It Scrabble Junior letters to spell out the word "read." Want to know how I got them to stick? I used a tiny bit of frosting on the back of each cracker. It worked like glue to hold the letters in place even when being moved about in a lunch box.
Add some grapes to round out this healthy lunch.
Eat at Home Meal Plans
Have you heard about Eat At Home Meal Plans? If the cost of eating out or the decision of what to make for dinner each night is stressing you out, then you must try these. When you sign up, you get access to four separate meal plans each month (Traditional, Wholesome Traditional, Slow Cooker, and No Flour/No Sugar). All you do is print the plans, color-coded grocery lists, and recipes you want for that month. Don't worry, there are lots of options, so even picky eaters will find something they like.
Then when it is time for dinner, make that night's recipe (choices include make-ahead, freezer meals, slow-cooker recipes, and other time-saving strategies).
That's it! Dinner is on the table and you can enjoy a home cooked meal with the family – without the stress!
We all have more important things to do than meal planning. Let someone else do it for you with Eat At Home Meal Plans. Monthly, quarterly and annual plans are available.
This First Day of School sign printable is perfect for celebrating the 1st day of school. Print out the sign that corresponds to your child's grade level and have them hold it for a back to school photo. Since this printable bundle contains 16 grades, you can buy this once and use it over and over again through the years. Get your 1st Day of School printables here.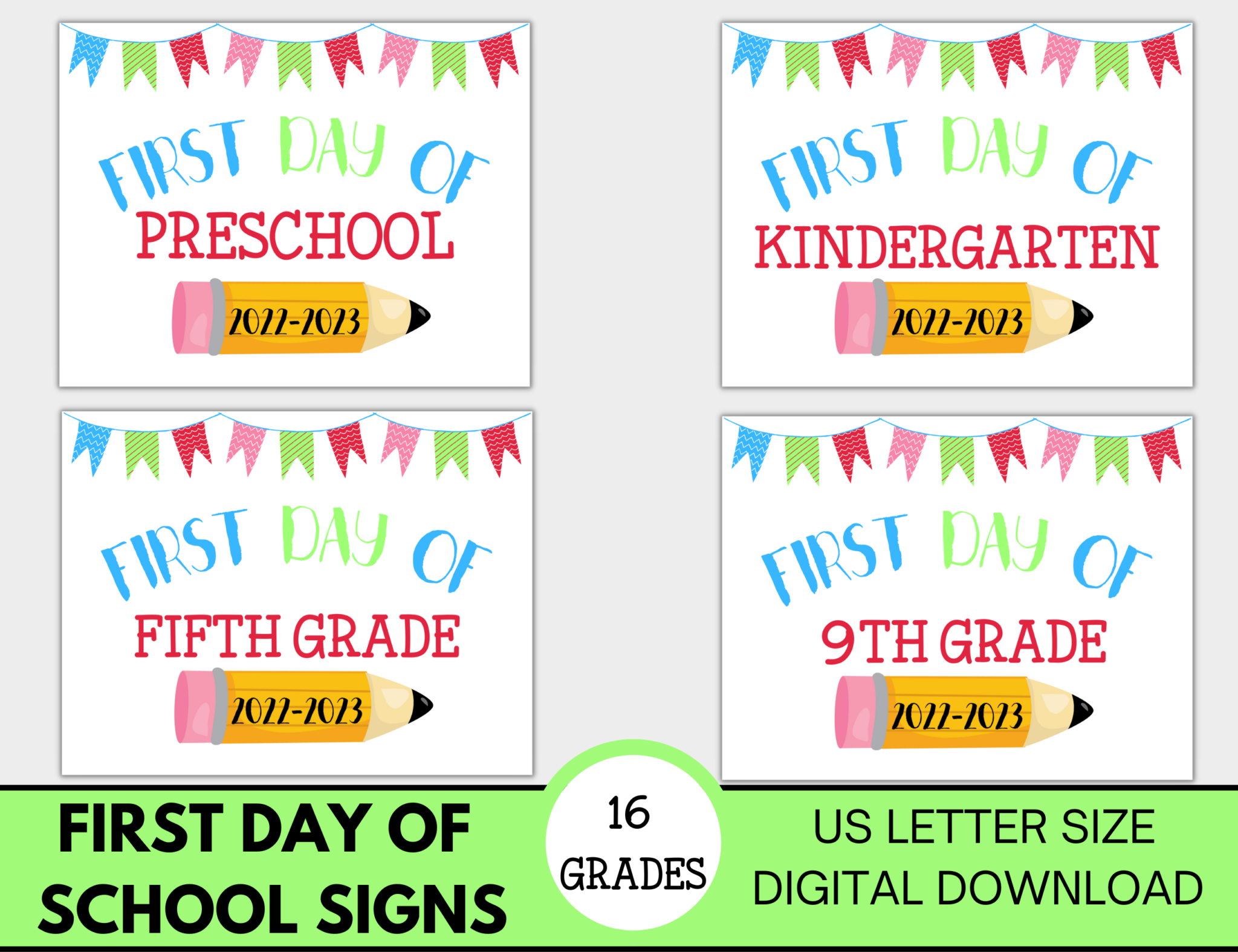 If you enjoyed these back to school lunch ideas, check out: